Audi A3 Sportback 2.0 TDI Sport review
Impeccable build quality inside and out puts the A3's rivals to shame
August 2004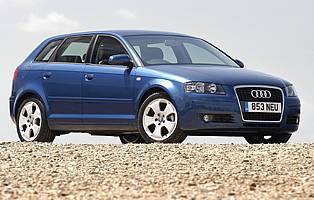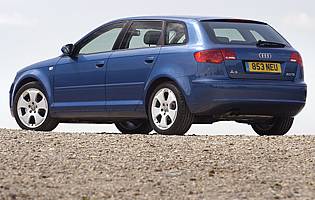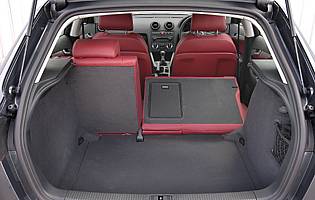 Overall rating

Likes:
Impeccable build quality inside and out puts the A3's rivals to shame
Standard specification levels more generous than some of the competition
Rewarding to drive - for an Audi - and blessed with an impressive engine line-up, especially the diesels
Rear accommodation is generous enough to accommodate two adults in reasonable comfort
Gripes:
Desirable options such as climate control and sat-nav are costly
Ride quality on Sport-badged variants around town will be too harsh for some
Claimed extra practicality is actually only a modest increase over three-door A3
Bold frontal styling could put off Audi purists seeking a less radical alternative to BMW's 1 Series
Building on the success of its first generation A3, Audi's second-generation five-door model is clearly pitched at buyers seeking the premium feel of much larger cars, but who don't want all the negative aspects associated with owning a luxo-barge. True to form, Audi's A3 'Sportback' majors heavily on refinement and premium feel, and adds a welcome extra level of practicality to the three-door car's already desirable formula.
Audi can claim to be something of a pioneer in the compact premium hatch segment, having kick-started the trend back in 1996 with the first-generation A3. By the time the five-door model appeared in 1999, the car was a frequent sight on the roads and a popular choice of company car user choosers who didn't fancy joining the massed ranks driving Volkswagen's Golf.
The perfect foil to BMW's 3 Series Compact, the original A3 built on Audi's reputation for offering excellent build quality, classy cabins plus both quattro and performance variants - something BMW couldn't do.
Second time around and the latest-generation five-door A3 Sportback is an athletic-looking machine, boasting an even more impressive cabin and higher levels of build quality than before. With question marks over BMW's design direction and the quality of its low-end models, Audi appears to have stolen the high ground with relative ease. Not even the presence of BMW's radical-looking 1 Series seems to have dented either Audi's confidence or the A3 Sportback's visual appeal.
And while the Sportback offers only a modest increase in loadspace over its three-door cousin, the five-door format and some clever juggling of the car's internal dimensions has meant that it can accommodate four adults in reasonable comfort - something that the 1 Series cannot do. That the A3 Sportback range also includes a number of quattro four-wheel drive variants and a potent V6 performance model proves how serious Audi is about luring enthusiastic drivers away from the BMW marque.
Our verdict on the Audi A3 Sportback 2.0 TDI Sport
Over and above its modest extra load carrying skills and the presence of two extra doors, on a practical note Audi's A3 Sportback offers little extra that can't be had in the three-door A3. That said, the Sportback's striking A6-style nose does lend the car an air of superiority over its three-door cousin and its longer, sloping roofline imparts a greater visual impression of athleticism.
Costs
Although reasonably well equipped for a premium hatch, the A3 Sportback is hardly dripping with kit - making the need to tick a few choice options boxes a costly but necessary activity. List price aside, diesel A3s will be much cheaper to run than their petrol equivalents, which should help to offset the car's higher than family hatch insurance and servicing costs. Given Audi's brand reputation, future resale values are likely to better than that of the mass-market competition.
Space and practicality
With its extra two doors and a modest increase in rear loadspace, part of the A3 Sportback's appeal centres on the perceived increase in versatility over its three-door cousin. In truth, the Sportback's extra 20 litres of space is hardly revolutionary, but is a welcome improvement nevertheless. More likely to appeal to buyers is the ability to transport two adults in the back with minimum fuss and discomfort thanks to those two extra doors and improved levels of rear legroom. Elsewhere there's the usual smattering of trinket trays and practical door pockets. Do remember, though, that selecting the CD changer will mean a severe reduction in glovebox space.
Controls and display
Audi is starting to get a reputation for producing cars with exceptional instrumentation - and with good reason. All the A3's important dials are clear and easy to read from a variety of seating positions, while the rev counter and speedometer are split (depending on the model) by a concise trip computer. The same level of clarity is true of the car's optional sat-nav system, which borrows heavily from the acclaimed system in Audi's flagship A8. The only disappointment is the car's ventilation panel, which relies too heavily on small buttons for major functions. At least the all-important rotary temperature controls cannot be confused with anything else.
Comfort
Pick a base or SE specification car and at least you're guaranteed a more comfortable ride than what a Sport-badged car can deliver. That aside, the A3's seats are supportive but not too firm, while there's plenty of leg and headroom for front seat passengers. Conditions at the back are also good, with surprisingly decent levels of head and legroom available despite the car's compact dimensions. Granted, tall adults will struggle, but anyone of average height will have few problems getting comfortable on a long journey.
Car security
As you would expect with a car of this standing, remote central locking is a standard feature. Taking into account the A3's obvious desirability, the remote locking is supplemented with a Thatcham approved Category One alarm and immobiliser.
Car safety
Given the Sportback's 'sporting' remit, it's good to know that the car comes with all the usual electronic safety aids such as ABS, brake assist, electronic brakeforce distribution and traction control. Inside the cabin, occupants are protected against an impact by twin front, side and head airbags, while ISOFIX child seat mountings are present along with ability to deactivate the front passenger airbag when using a rear-facing child seat.
Driver appeal
With the arrival of the A8, then the A6 and more recently the A3, Audi is gradually proving that it's lost none of skills it used to develop the groundbreaking original Quattro. And with four-wheel drive available on selected models, Audi is keen to promote the fact that performance is once again on the firm's agenda. While most variants posses a decent turn of speed and hold the road in an entertaining manner, it's the flagship 3.2-litre model that delivers the most thrills. Good though the A3 is, BMW's 1 Series is the more rewarding car. Furthermore, the ride of Sport specification A3 variants will prove too harsh over urban undulations for some - worth noting if you spend most of your time in the city.
Family car appeal
While not directly targeted at families, the Sportback should cope admirably with the demands of a small family. The five-door format aside, the car's modest boot should have no trouble swallowing the weekly shop. Pushchairs and other such items might prove awkward given the compact nature of the A3's boot aperture, though. Also, being pitched as a premium hatch means the car's upmarket trim will be vulnerable to the actions of small children, making light colours a definite no-no.
First car appeal
With the base A3 Sportback priced at similar levels to well-equipped family hatchbacks, assuming you've got the money there's no reason not to look at the Audi. You don't get as many toys to play with, but the A3's superior build quality should encourage a novice driver to take even more care than usual when behind the wheel. Another upside is the fact that base A3s lack the performance of the more costly variants - just as well if it's a first purchase - although servicing and insurance costs will be higher than a comparable hatch from Ford or Vauxhall.
Quality and image
Audi has, in recent years, become synonymous with premium levels of quality and has been able to cultivate an image comparable to that of its nearest rival, BMW. Of the two, many people see Audi as a firm that prefers to concentrate on the total ownership experience - not just a car's ability to entertain the keen driver. If a BMW fails to deliver there's not much else on offer aside from the badge. With Audi there's the car's build quality, superior attention to detail and a less radical exterior design philosophy.
Accessibility
The three-door A3 might have the luxury of oversize doors, but you'll be hard pushed to notice the difference when accessing the front cabin of the Sportback. Once inside, it's easy to locate the seat controls - with the ratchet-style height adjuster especially straightforward to operate. Back seat passengers, understandably, have to negotiate a smaller opening, but only occupants with severely restricted mobility are likely to struggle. Getting out is not the work of a moment no matter how nimble you are, as the door's lower sill will cause you to pause a second while you make a dignified exit. At least the A3's boot opening is of a reasonable size and the tailgate requires little effort to lift and shut.
Stereo and ICE (In car entertainment)
The car's standard fit radio/single CD player is decent enough unit, and its controls are well laid out if a little on the small side. Go for the CD changer option and you'll have to sacrifice precious glovebox space, although it's a better solution than mounting it in the car's boot. Audi's sat-nav/combined audio solution may be a costly one but it is good. Boasting a widescreen display and control interface similar to that of its A8 flagship, mapping details are exceptionally clear, while the stereo is a noticeable improvement over the standard item. Of questionable use, though, is a pricey TV and Teletext bolt-on option.
Colours and trim
Look past the predictable light metallic hues and the A3 is one of the least colour sensitive cars around. Deep blues and, even, reds work well - especially the latter on the racy 3.2 quattro variant. Certainly, the distinct lack of complex exterior curves, a factor that troubles BMW's 1 Series, helps boost the Sportback's photogenic qualities. Inside, it's business as usual if you're an A3 fan. Perversely, light-coloured fascia plastics exude a more pronounced luxury aura than dark ones, although the silvery trim decorating Sport interiors can be a unnecessary distraction. If you can stretch to it, opt for leather over cloth seats.
Parking
Thanks to the A3's variable rate power assisted steering, slow speed manoeuvring requires little effort. Aiding your progress in tight spaces is good forward visibility - even if you have the driver's seat set to its lowest position - and a light clutch pedal with a broad biting point. Rear visibility isn't as good, but is adequate once you become familiar with judging the car's extremities.
Spare wheel
Standard issue is a steel spacesaver located in the car's boot.
 
Range information
Engine range consists of 1.6 (102PS); 1.6 FSI (115PS), 2.0 FSI (150PS), 2.0 FSI Turbo (200PS) and 3.2 V6 (250PS) petrols plus 1.9 TDI (105PS) and 2.0 TDI (140PS) diesels. Standard transmissions are varied: 1.6 petrol and 1.9 TDI diesel get five-speed manual; all other power units get a six-speed manual gearbox. Exceptions are as follows: 2.0 FSI Turbo quattro variant gets six-speed manual but front-wheel drive model gets Audi's Direct Shift Gearbox (DSG). Latter gearbox is option for 3.2 V6 quattro model; standard fit is a six-speed manual. A conventional six-speed Tiptronic auto is an option for 1.6 and 2.0 FSI. Trim levels are base, SE and Sport. SE focuses on comfort while Sport models boast a lower ride height and a number of other sport-themed additions.