Audi A3 Sportback review
Smart and sophisticated image
July 2016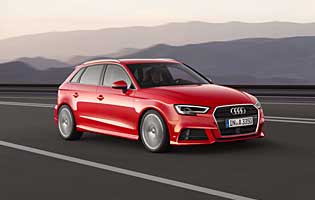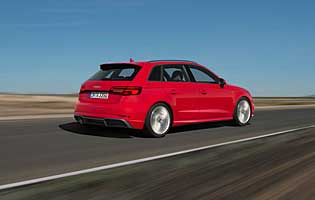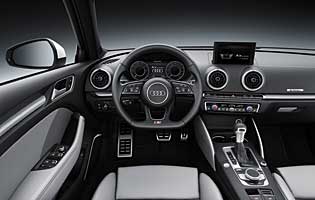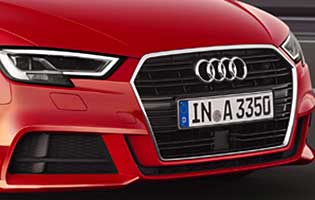 Overall rating

Likes:
Smart and sophisticated image
Pleasing to drive with predictable handling
Comfortable cabin
Range of body styles and engines
Gripes:
One of the more expensive hatchbacks
Not as versatile as larger Audis
Smaller engines lack enthusiasm
All the best bits are expensive options
The A3 began life as an upmarket alternative to the Golf, Volkswagen's ubiquitous family hatchback that has ruled Britain's middle-class streets for decades. Audi's attention to detail, plush interiors and generally well-regarded image made it a real star of the segment, and with around 50,000 UK sales every year, this latest upgrade - little more than a facelift - is likely to be popular. It's an attractive hatchback, with strong lines and a distinctive Audi flavour that still sets it apart from the cheaper and sometimes more practical rivals from Asia. Most of the visual tweaks will fly under the radar of the casual observer, except for the speedy S3 model which has received a more significant freshen-up. The A3 Sportback is the roomiest version and probably the best value implementation of the model. The A3 has a curious range of trim levels and engine types, starting with the entry-level 1.0-litre and culminating in the high-performance RS3. There's pretty much everything to choose from in between, so buyers have the full range of automotive capabilities at their disposal when browsing the Audi catalogue. While the small engines still make the car feel slow, a surprising amount of power has been squeezed out of their tiny displacements. Also available alongside these engine choices is the Cabriolet, a soft-top convertible that neatly fills a niche not tackled by any other manufacturer. The engines available in the Cabriolet make it a viable choice for both private and company car buyers, so it's worth taking one for a test drive if you think you'd like the wind in your hair. There's also a neat saloon version, which is unlikely to be popular in the UK. One of the main advantages of the A3 over its equivalents in the Volkswagen Group or from further afield is the badge. It's probably the most premium hatchback, and buyers will enjoy Audi customer service, Audi maintenance and Audi kudos with every purchase. Depreciation is likely to be more manageable, too, especially if you plan to keep the car for more than a few years.
Our verdict on the Audi A3 Sportback
The A3 is an affable car, with enough flexibility to be the perfect hatchback for a well-heeled family in search of something premium. While Asian rivals beat it on price, the interior fit and finish - and those four rings on the front - set it apart from key competitors and make it a very desirable thing to own.
Costs
The A3 occupies nearly the entire range of hatchback price points, starting with an entry-level car and continuing to a high-performance enthusiast model. The cheapest A3 is relatively accessible to most buyers, but without the addition of expensive optional extras, is significantly worse-equipped than non-premium rivals.
Space and practicality
Boot space is adequate in all models, with the Sportback offering the most compelling amount of luggage litreage for family use. The rear seats fold down to provide a good, somewhat flat loading area for occasional large loads, though there are much better cars in the Audi range for buyers looking for more versatility.
Controls and display
Audi has an excellent new infotainment system that combines the amenities of an always-connected car, such as live Google Earth imagery, with the instrument binnacle. That means that advanced navigation information can be summoned to the screen behind the steering wheel with a few touches of a button. Menus are intuitive and the screens work in bright sunlight.
Comfort
The seats are supportive and soft in the front and back, but rear passengers get significantly less generous legroom. The overall quality of the interior is much nicer than that of rivals, especially on more expensive models, which makes the A3 a comfortable place to be for long-distance drivers.


Car security
The A3 is a secure car, though Audi warns that the keyless entry system is susceptible to 'hacking' by criminals and unscrupulous firms. There are arguments that state that a hatchback is fundamentally less secure than a saloon, though in reality the differences will be minimal.


Car safety
There's no reason to suspect that the A3 is anything other than a safe car, with a history of excellent Euro NCAP ratings and significant improvements to driver aids. The A3 is a smaller car than many others on the road, though, so families should consider the implications of buying a hatchback when the roads are full of SUVs.


Driver appeal
Behaviour on twisty roads is generally good, with no surprises and not much to excite. The more expensive performance models add enough poke to be entertaining in short bursts, but the main attraction of the A3 is dependability rather than thrills.


Family car appeal
The A3 is a brilliant family hatchback, albeit a slightly more expensive one than many equally good competitors. Wealthier buyers who enjoy a premium interior and a desirable badge will be attracted to the A3 over similarly useful cars such as the Hyundai i30, Mazda3 and Volkswagen Golf.


First car appeal
The new 1.0-litre A3 would make an excellent first car, thanks partly to its easy on-road manners and docile engine. However, it's an expensive car to buy and is likely to attract a premium when it comes to insuring it - a learner may find that cheaper, mechanically similar models offer better value.
Quality and image
The A3 is a premium hatchback that sits comfortably above the Golf and Fabia in terms of desirability. Main rivals include similarly-proportioned cars from BMW and Mercedes, though neither the A Class nor the 1 Series offer significant advantages over the A3 except on badge appeal.


Accessibility
The door apertures are wide at the front and the back, and the boot opens comfortably wide enough for most shopping trips. However, many buyers prefer the upright stature of an SUV - they're easier to get in and out of, and much more comfortable to install child seats in.
Stereo and ICE (In car entertainment)
Sound quality is good across the range and is excellent when you invest in the expensive audio upgrades. The interface is intuitive and the hands-free system is good at counteracting road and wind noise. Many of the most attractive stereo and ICE packages are very expensive, however, contributing to the overall cost of this car.


Colours and trim
Audi makes good-looking cars and generally supplies attractive paint colours. A trend among the German brands to focus heavily on silvers and greys might make commercial sense, especially in the fleet market, but leaves little room for private buyers to express themselves. Make use of the brighter colours available on the A3 and S3, though beware of depreciation.


Parking
Most drivers will find it easy to park the A3 thanks to strong all-round visibility and a good seating position, however the model has grown steadily since it was introduced and - as with all cars - has swollen to become slightly hard to navigate in old-fashioned carparks. Reversing sensors and a rear-view camera make it easier to move around tight spaces, though.


Spare wheel
Emergency tyre repair kit supplied as standard.


Range information
Petrol engine options - 1.0-litre (115PS), 1.4-litre (150PS), 2.0-litre (190PS). Diesel engine options - 1.6-litre (110PS) 2.0-litre (150PS, 184PS). Transmission options: six-speed manual or seven-speed automatic. Trim levels: SE, Sport, SE Technik, S Line, Nav