Audi A3 2.0 TDI 150 Cabriolet Sport review
Elegant looks provide hints of Mediterranean glamour
March 2014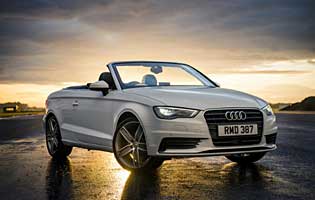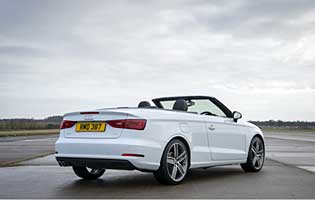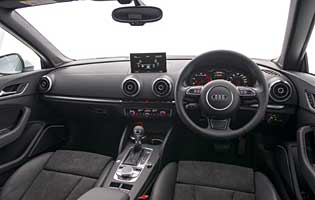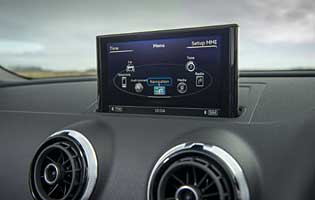 Overall rating

Likes:
Elegant looks provide hints of Mediterranean glamour
Nicely shaped seats offer good basic comfort
Plenty of steering wheel and driver's seat adjustment
Neat sat-nav screen rises up from the dashboard
Gripes:
Many desirable features are expensive options
Satellite navigation could be a little more reliable in its instructions
Roof takes up some of the boot's space
Big wheels compromise ride comfort
Audi's range offerings have become a little predictable, and it was only a matter of time before a convertible A3 joined the existing three-door hatch, five-door hatch and saloon to form a four-pronged model assault on the compact luxury car market. The A3 Cabriolet carries forward a canvas roof, but is newly developed to be lighter and quieter than before.
The A3 is a justifiably popular car across its body styles, with no particular shortcomings in any area despite it being a somewhat safe and unadventurous choice. The Cabriolet features an electrically folding canvas roof that stows neatly behind the rear seats, giving up to four occupants a clear view of the sky above and forming a persuasive selling point.
Audi's intention is to offer an affordable way into open-air Audi motoring, and while this new A3 isn't cheap, buyers could pay a lot more for a good soft-top. Its chief rival is the BMW 1 Series Convertible, while Mercedes, Jaguar and Lexus are yet to offer a comparable car. That leaves the A3 Cabriolet in a convincing position to secure lots of sales through the spring and summer months.
To maximise parts-sharing and profitability, the soft-roofed A3 is available with engines simply pilfered from the rest of the A3 range, making each powerplant a known quantity, and a series that customers may well be familiar with. This clever decision from Audi means that current owners are in a comfortable position when it comes to upgrading or switching sideways within a range.
While the Cabriolet is unlikely to be a big seller compared to the hard-tops, it does add prestige to the model and offers a desirable offshoot that can help draw people into the A3's sphere of influence. If the Cabriolet gets buyers' attention but they end up buying a cheaper three-door A3 hatchback instead, Audi won't be too upset about it.
Our verdict on the Audi A3 2.0 TDI 150 Cabriolet Sport
The A3 Cabriolet is a predictable, unthreatening soft-top choice that boasts a greater level of prestige than its three hatchback and saloon siblings. Simple but elegant styling looks equally at home on a British high street as it does on the French Riviera, and it's a model that doesn't need to be explained to friends or appreciative neighbours. All round it's a very accomplished, if slightly dull, car.
Costs
The entry-level 1.4-litre SE model seems to offer a relatively attractive price, but in truth it lacks much of the A3's tech highlights. The desirable versions are on the expensive side, even though fuel consumption and road tax bills are both impressively low. Residual values should be kept strong by the model's popularity, and the higher-end models have advanced safety gadgets that help to lower insurance premiums.
Space and practicality
There isn't a great deal of space in the Cabriolet, except for a few storage solutions in the cabin. The rear is cramped and it's clear that practicality was not a key concern. The saloon-style boot is wide but not very long, having given up a chunk of its space to the compartment into which the roof folds. If practicality is important, either a bigger convertible or one of the hard-top A3 models would be better.
Controls and display
Owners of any recent Audi will be instantly familiar with the instrument cluster design. It's not new but it still looks as good as ever, and it certainly does the job efficiently, with clear fonts and enough contrast to be read at a glance. The highlight is the main interface screen, which rises out of a slot at the top of the dashboard neatly, quietly and elegantly, giving a very premium impression.
Comfort
The sports seats fitted to this model are on the wide side, and only broad people are likely to feel truly snug. Engine noise is impressively minimal, though, thanks to the latest advancements in refinement. The front two seats offer very good shapely support for lower backs, but that is unfortunately spoiled by the large wheels, which help create an over-firm ride quality that doesn't suit the Cabriolet's more relaxed demeanour.
Car security
Audi's security systems have proved impregnable in recent years, and generally the firm puts maximum effort into preventing the theft of any of its models regardless of price. Few concrete details are actually available to prevent criminals gaining an insight into what they're dealing with, but there's remote central locking, an alarm and a secure boot that can't be accessed from inside the car when the locks have been activated.
Car safety
Audi takes safety very seriously, but even so there are a number of active safety systems that are left to the options list. Modern essentials like stability control, anti-lock brakes and pedestrian-friendly front end design are standard. Passive safety is of the highest calibre with plenty of airbags and advanced construction techniques. Audi will not permit its cars to be built any other way.
Driver appeal
Convertible cars like this have a clear advantage in terms of driving appeal. Open-air motoring is a fantastic treat in good weather and the A3 Cabriolet can take full advantage. The latest version has a little communication and involvement that previous versions have lacked, which immediately makes it more appealing from behind the wheel. The diesel engine is strong and smooth, but the noise still doesn't quite suit a convertible.
Family car appeal
The convertible suffers quite badly in terms of family suitability. In truth it's the A3 Sportback, with its five doors, that makes the better car for a young family. The Cabriolet's boot is likely to be too small, and the rear seats have been moved forward to a point that negates rear legroom. Child seat mounts are present to account for the family buyer, though, and the front passenger side airbag can be switched off to allow babies to be carried safely in rear-facing seats.
First car appeal
It's easy to see why the A3 Convertible could be a target first car, with its combination of familiar ergonomics, driver-friendliness and style. It's certainly very easy to pilot, even around town, and owning one might be a dream come true for some novice buyers. The problems are mainly financial, with the cheapest model still around double the price of a typical first car and the associated insurance grouping will be out of a new driver's reach.
Quality and image
Audi seems to occupy a position that is immune from the negative results of reliability and satisfaction surveys. Such is its sway with buyers that not even unimpressive results in high-profile ownership analysis have dampened the public's desire for cars bearing the famous four rings. The car itself exhibits occasional poor panel alignment and inconsistent fit, perhaps revealing where costs have been squeezed, but on the inside the car feels more premium.
Accessibility
This open-top A3 is based on the three-door body, so there are long doors that create wide apertures but are harder to pull shut than the equivalents on four- and five-door models. With the roof in place getting into the rear seats is a bit of a squeeze, but it's much easier with the roof down.
Stereo and ICE (In car entertainment)
When starting the car the main display screen rises quietly and neatly up out of the top of the dashboard, presenting a large and clear surface on which music data is displayed. The Audi MMI system controls the music menu navigation for both the standard stereo and the optional upgraded one, but while the system is not the most intuitive while trying to navigate large lists, simply changing the music source and playing an album is easy.
Colours and trim
The A3 Cabriolet, thanks to advanced technology for the roof framework, has neat and natural proportions with the roof up or down, and as such isn't too sensitive to colour choice. The styling is quite understated, but blue and red are particularly good choices. Grey also suits it, while the interior takes care of itself with high-quality and attractive trim. The hidden display screen allows the dashboard trim to stay neat and appealing.
Parking
The A3's modest size is the main reason it's so easy to park. It's not a wide car and fits into most bay spaces easily, and with the roof down the visibility is obviously fantastic. It's more of a problem with the roof up, though, thanks to thick rear quarter 'pillars'. Rear parking sensors are standard-fit to help drivers judge distances, with front sensors and a pair of cameras for the front and rear available as options. Variable-assistance steering turns low-speed manoeuvres into light work.
Spare wheel
Emergency tyre repair kit supplied as standard.
 
Range information
Petrol engine options - 1.4-litre (138bhp); 1.8-litre (178bhp). Diesel engine options - 2.0-litre (148bhp). Transmission options: six-speed manual gearbox, DSG twin-clutch automatic optional. Trim levels: SE, Sport, S line.