Alfa Romeo Giulietta Super 1.6 JTDm-2 120hp
Classic Alfa good looks
September 2016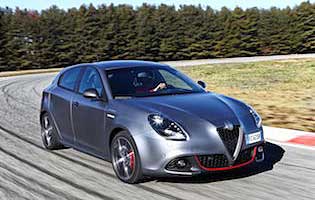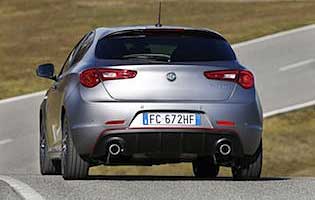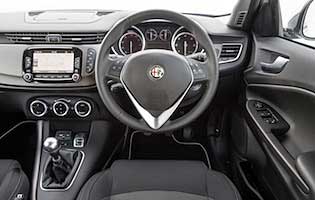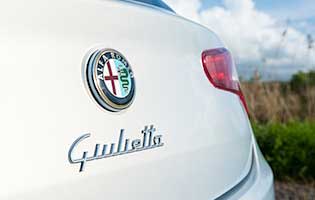 Overall rating

Likes:
Classic Alfa good looks
Range of economical JTDM-2 engines
UConnect infotainment system allows easy smartphone integration
Punchy diesel engine
Gripes:
Steering wheel obstructs instruments
Dull interior
Foot pedals too close together
Slightly cramped interior
The Alfa Romeo Giulietta – the Italian marque's practical family hatch – is up against some stiff competition from the Volkswagen Golf, the Ford Focus and the Seat Leon, all of which are incredibly competent cars. However, the Giulietta is, after all, an Alfa Romeo, meaning it should offer buyers a package that is a bit more special than its rivals.
From a looks point of view, this is certainly true. A recent facelift has ensured that the Giulietta remains one of the best-looking cars in the hatchback category – to some people, at least. However, while the Giulietta may be nice to look at from the outside, unfortunately the same can't be said of the car's interior, which feels altogether quite dull.
In addition to being a rather bland place to sit, the cabin of the Giulietta is also fairly cramped, and space in the back of the car is fairly limited because of the car's swooping roof line. The Giulietta's good looks come at a price, then. Boot space is okay, with 350 litres of storage room available.
Thanks to a rather large and awkwardly shaped steering wheel, a fairly significant chunk of the instrument binnacle is obstructed from view, which makes checking your speed while on the move slightly difficult. Rounding out the list of gripes are foot pedals that are ever so slightly too close together, making for a less-than-desirable driving position.
However, the Giulietta is still quite a likeable car. It offers a good driving experience if you throw it at a windy road, and the 118bhp diesel engine feels a lot brisker than its power figures suggest it should. If you purchase a Giulietta with one of the JTDM-2 diesel engines, you will find it is quite economical, too.
Our verdict on the Alfa Romeo Giulietta Super 1.6 JTDM-2 120hp
All in all, while the Giulietta may have a few issues leaving a mark against its name, its good looks, economical engines and entertaining drive mean it is still quite an appealing proposition. Its immediate rivals may do certain things slightly better, or offer greater levels of practicality, but the Giulietta is still worth considering, nonetheless.
---
Costs
If you decide to opt for one of the JTDM-2 diesel engines, the Giulietta shouldn't prove to be too expensive to keep fuelled. All of these engines, regardless of power output, return fuel consumption figures greater than 65mpg on the combined cycle. The 118bhp diesel cars also emit 99g of CO2 per kilometre, meaning they are free of tax. While the petrol engines may be a dash more exciting, you will end up paying a fair amount more to keep them topped up with fuel.
Space and practicality
Even though this is a five-door hatch, the Giulietta isn't terribly spacious inside, and a general cramped feeling permeates throughout the car. Headroom in the back is compromised because of the car's swooping roof, and leg room leaves a little to be desired. The boot offers up 350 litres of space, which is more than a Ford Focus (which has a 316-litre boot) but slightly less than a Volkswagen Golf, which has 380 litres. A high boot lip also makes it difficult to load heavy items into the Giulietta.
Controls and display
Thanks to an awkwardly shaped steering wheel, the speedometer and rev counter are practically impossible to read. Depending on your seating position, a fair proportion of both dials are obstructed, meaning you can't simply glance to check your speed as you can in most cars. This is annoying at best, and dangerous at worst. Other than this, the car's controls are laid out in a sensible manner, and the Uconnect infotainment screen, while small, is clear and easy to read.
Comfort
Unfortunately, the Giulietta isn't the most comfortable car in the world. The seats are rather firm, and the pedals are rather close together. The suspension set-up is, for the most part, capable of soaking up smaller lumps and bumps, it isn't that great at dealing with larger ones that so often appear on British roads. That said, the Giulietta tackles longer motorway journeys with aplomb – although again, those seats and driving position may leave you feeling a little stiff.
Car security
As you would expect from a modern car, the Giulietta come with an array of security features to ensure peace of mind when you leave it locked up overnight. A load cover will ensure that any valuables you have stored in the boot will be out of sight from passers-by, and an audible beep that sounds when you lock the car will mean you will always be certain you've left the vehicle secure. However, the premium badge may make the Alfa a target for thieves.
Car safety
If safety is a primary concern, the Giulietta will definitely make you feel at ease. It received the maximum five-star rating when it was crash-tested by Euro NCAP – with a score of 97 per cent for adult occupant protection. The Alfa scored 85 per cent for child occupant protection, while pedestrian protection was marked at 63 per cent.
Driver appeal
Alfas have always been famous for being drivers' cars, and while the Giulietta may not quite live up to this reputation in the spec our test car had, it was nonetheless a largely entertaining car to drive. Alfa Romeo's 'DNA' drive-mode toggle switch is fitted to the Giulietta, and in Dynamic mode the throttle response is stepped up, while the steering becomes heavier for a more exciting driving experience. The 118bhp diesel engine on our car also felt more powerful than its official numbers led us to believe it was.
Family car appeal
As a family car, the Giulietta makes a much stronger case for itself. Its five-door layout means it will be more than capable of carting children about, and its 350-litre boot is fairly capacious, too. If you opt for a Giulietta in Veloce trim, not only will you find yourself with a practical family runabout, you will also be the owner of a fairly raucous little hot hatch that is perfect for the odd blast down a country road.
First car appeal
As far as badge appeal goes, the Giulietta does make for an appealing first car. Equipped with one of the JTDM-2 diesel engines, it is also pretty economical – with even the 173bhp power plant returning a claimed fuel consumption figure of 65.7mpg on the combined cycle. That said, 173bhp might be considered slightly too much power for a first car. Considering the Giulietta starts at GBP18,700 for the entry-level model, it may also be slightly too expensive to make it a serious option.
Quality and image
Image-wise, an Alfa Romeo is always going to score well in the points department. The Giulietta is, arguably, one of the best-looking cars in the hatchback segment. However, move inside and you will find the dramatic looks of the exterior are replaced by a dull and uninspiring cabin. Cheap-looking materials really take away from what is otherwise a premium-looking vehicle.
Accessibility
At first glance, you might mistake the Giulietta for a three-door hatch with rear seats that can only be accessed after a series of awkward manoeuvres, but you'd be wrong. This is in fact a five-door car, but Alfa has cleverly disguised the rear door handles within the bodywork as it does on the majority of its cars. Getting in and out of both the front and the back is, therefore, a breeze.
Stereo and ICE (In car entertainment)
All cars in the Giulietta line-up feature a Uconnect system with Bluetooth connectivity, DAB radio and auxiliary and USB ports that allow you to plug in your smartphone. Giuliettas in Speciale and Veloce trim gain a 6.5-inch touchscreen with satellite navigation as standard. The touchscreen display is clear and easy to read, and navigating your way through its various menus is a stress-free process. The Giulietta's speakers offer a decent level of sound quality.
Colours and trim
The colours available on the Giulietta aren't terribly exciting or out there – but they do look smart. Buyers will be able to choose from a selection of classic greys, silvers, whites and blacks – as well as a deep shade of blue. For proper Alfa enthusiasts, the classic 'Alfa Red' is available, as is 'Competizione Red'. There are four trim levels to choose from: Giulietta, Super, Speciale and Veloce. Veloce is the 'fast' Giulietta, and features the engine from the 4C sports car.
Parking
With rear parking sensors coming as standard on all cars except the entry-level Giulietta, parking the Alfa shouldn't cause you too much stress. Visibility out of the car is decent, and thanks to the fact that the Giulietta isn't ridiculously massive, it will fit into the vast majority of parking spaces. The only thing it could really do with to make parking easier is a rear-view camera, which is unfortunately not available as an option.
Spare wheel
Space saver wheel supplied as standard
Range information
Petrol engine options: 1.4-litre TB MultiAir (118bhp, 148bhp, 168bhp); 1.7-litre 1750 TBi (237bhp). Diesel engine options: 1.6-litre JTDM-2 (118bhp); 2.0-litre JTDM-2 (148bhp, 173bhp). Transmission options: six-speed manual gearbox depending on model, plus six-speed twin-clutch gearbox depending on model. Trim levels: Giulietta, Super, Speciale, Veloce.
---
Alternative cars
Ford Focus Good-looking and fun to drive, but not as practical as some rivals
Mini 5-Door Hatch The Mini offers a great driving experience, and plenty of clever tech
Audi A3 The Audi A3 boasts a classy interior, and a range of economical engines
Volkswagen Golf The classic family hatchback, the Golf is a serious contender in this market segment