Alfa Romeo Brera 2.0 JTDm
Beautiful styling
September 2010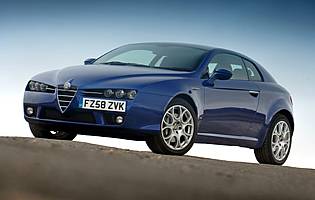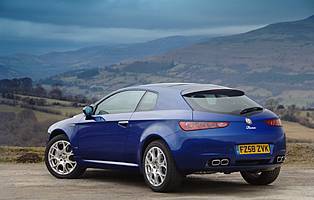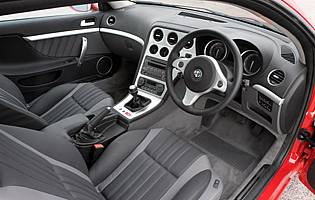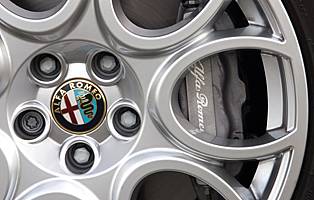 Overall rating

Likes:
Beautiful styling is a joy to behold
Good balance of economy and performance
Sporty feel from multi-gauge dash layout
Generous standard specification
Gripes:
Poor rear three-quarter visibility
Tendency to snatch steering under heavy braking
Rear seats not suited to passengers
Questionable build quality in places
Even with its timeless coupe styling the Alfa Romeo Brera is not invulnerable to ageing, so the Italian manufacturer has updated the range with new engines including a smaller, more efficient diesel option.
One of the most elegant, stylish and universally appealing pieces of car design presently available form any manufacturer, Alfa Romeo's Brera remains a welcome sight on the UK's roads. Although famed for its advanced, high performance petrol engines, the Alfa Romeo range including the Brera is no stranger to diesel power. The coupe and its convertible equivalent the Spider have been available with a 2.4-litre diesel unit for some time.
Alongside a new 1750cc turbocharged petrol unit, Alfa Romeo has introduced a new 2.0-litre turbocharged diesel to the range, offering reduced CO2 emissions and improved fuel consumption without unduly sacrificing performance. The 2.0 JTDm uses direct injection and turbocharging technology to produce 170bhp and deliver 265lb/ft of torque between 1750 and 2500rpm, meaning the Brera reaches 62mph in 8.8 seconds and a top speed of 135mph.
Despite the changes under the bonnet, the Brera retains its glamorous styling, accentuated by an attractive range of paint choices and large diameter alloy wheel options. The two-plus-two configuration inside offers a driver focus, with the dials and gauges angled towards the driver's seat and a racy, cockpit feel to the cabin.
Standard specification remains generous, too, with a host of electronic aids and equipment present of the base model. An extensive list of options allows Brera customers to personalise the model with some high-end equipment, while a new trim level, Brera Italia Independent, features styling upgrades for additional exclusivity.
Our verdict on the Alfa Romeo Brera 2.0 JTDm
As the Brera has traditionally traded as much on its great looks as on the driving experience, it loses less of its appeal that might be imagined when equipped with a smaller capacity diesel engine. Performance remains adequate but running costs are improved, meanwhile the exterior appeal remains high. Build quality is not as consistent as some premium rivals, but the package remains alluring.
---
Costs
The initial purchase price for the Brera makes it a considerable outlay, but the standard equipment levels improve the value for money. Regardless, it's easy to rack up the price with the many options available. Naturally, the diesel engine reduces running costs over the period of ownership.
Space and practicality
In space terms the Brera's cabin is modest in size but makes the most of it proportions. The lack room of legroom in the rear means the seats are likely to serve as additional storage space and, although shallow, the Brera's boot is more generous than some rivals. Rear seats do fold flat for increased practicality. The cabin is reasonably wide so there's little need to rub elbows in the front and glovebox, door pocket and cubby hole storage is adequate.
Controls and display
Clear main dials and a centre console boasting large, intuitive controls are a good start. Supplementary controls on the steering wheel are a welcome bonus. The centre console location of the fuel, temperature and turbo boost pressure gauges is a neat, traditional and sporty touch. A precise throw on the gear lever is pleasant and the column switchgear boasts a unique but ultimately user friendly layout. The quality of the stalks themselves s not the best, however, with a somewhat flimsy feel. Although there's an engine start and stop button, the key still needs to be inserted into the dash.
Comfort
Front seat occupants fare reasonably well in the Brera, the seats are comfortable and supportive. Headroom is not great though, thanks to a low roofline. Road noise is well suppressed and the ride is reasonably supple, although the diesel unit is rougher than the smooth petrol options. The rear seats are very cramped however, and only really suitable for small children. Twin-zone climate control is standard equipment.
Car security
Given the Brera's substantial kerb appeal, it's good to see a comprehensive alarm and immobiliser system present. Remote central locking is via the key fob.
Car safety
You get all the usual safety features with the Brera, which means airbags and a plethora of electronic stability aids. Hill hold assist is also useful as are follow me home headlights, adjustable from the Brera's central computer.
Driver appeal
Although it's initially something of a surprise to hear the sleek and sporty Alfa start with a diesel rumble, it takes little getting used to particularly as performance remains impressive. There's a degree of turbo-lag from the 2.0 JTDm unit but the mid-range torque delivery is excellent and the unit responds quickly to throttle input on the move. The steering is particularly well weighted and the Brera holds it's own through the corners competently, although there's more body roll than some sportier rivals. A tendency to snatch at the steering when braking heavily in a straight line is the only major flaw.
Family car appeal
This is not a family car by any stretch of the imagination. The boot might be able to hold a few shopping bags but a pushchair would be stretching things. There's also the issue of restricted space in the rear – which wouldn't help when attempting to belt in a toddler. If you like the Brera's looks, Alfa's 159 saloon or estate would be a better option.
First car appeal
The Brera is one of those cars that looks good but wouldn't be practical to own. It's not a difficult car to drive, it's just likely to be expensive to run as a first car, even in diesel form. It's also not that easy to reverse park, thanks to wide pillars and small glass areas. And it's not a slow car, which means novice drivers would be better off looking at a Mito.
Quality and image
The Alfa Romeo badge remains one of the most desirable of the affordable marques thanks to its sporting history and effortlessly graceful Italian design. The Brera is a car that any driver would be proud to have on the drive, but it is let down in places by some questionable build quality that results in squeaks, rattles and some less than perfect fit and finish inside. It's not sub-standard, but will not give the German premium manufacturers any sleepless nights.
Accessibility
The Brera's big doors open wide but the car's low roof means it can be a squeeze to get in if you're tall. On the plus side getting out is a little easier. At the rear the car's hatch opens to reveal a surprisingly spacious boot, although the load lip is very high.
Stereo and ICE (In car entertainment)
The audio unit takes pride of place in the large fascia. It boasts large buttons and an easy to see display. Minor controls are duplicated on the steering wheel for ease of use. Satnav is available as an option as is the Windows Blue and Me system which incorporates hands-free telephone integration and a USB port in the glovebox. Sound quality is good, aided by the compact cabin.
Colours and trim
The standard 2.0-litre JTDm powered Brera comes in a single, well equipped base model with an extensive list of options available including bold alloy wheel designs and some highly attractive paint options. The deep metallic blue is particularly appealing. Inside, leather upgrades are expensive but offer a more premium feel but there remains a lot of plastic incorporated into the dashboard.
Parking
Rear three-quarter visibility is the main bug-bear when it comes to parking, although standard rear parking sensors help remove some of the strain. The Brera is quite a bulky car making choice of space crucial, but the model is easy to manoeuvre none-the-less.
Spare wheel
Space saver spare wheel fitted beneath the boot floor.
Range information
Petrol engines: 1.7-litre (200bhp); 2.2-litre (185bhp); 3.2-litre JTS (260bhp). Diesel engine: 2.0-litre (170bhp); 2.4-litre (200bhp); 2.4-litre (210bhp). Transmission options: six-speed manual gearbox, optional Q4 four-wheel drive system with 3.2 litre petrol and 2.4-litre diesel. Trim levels: Brera (extensive options list available), Brera Italia Independent.
---
Alternative cars
BMW 3 Series Coupe Excellent driving dynamics but potentially expensive
Peugeot RCZ Powerful diesel option from the stylish newcomer
Volkswagen Scirocco Great value coupe with efficient engine and gearbox range
Audi TT Refined, well built, good to drive and diesel engine options