Alfa Romeo 156 2.4 JTD Veloce
Stunning roadster interior
May 2004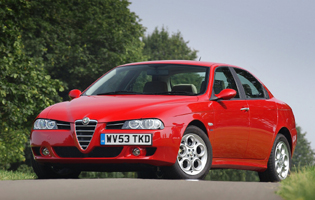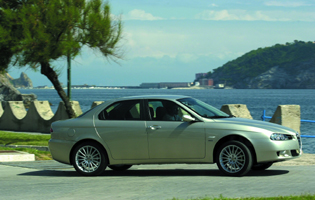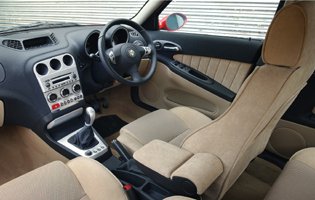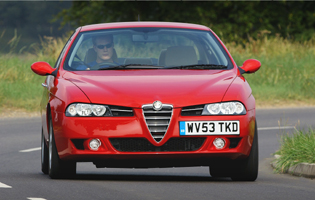 Overall rating

Likes:
Stunning looks and a cabin influenced by racy roadsters
A comfortable driving position that owes little to Alfa's from the past
Despite being front-wheel drive, the 156 is entertaining to drive
Performance and refinement are outstanding
Gripes:
Snug cabin and rear legroom are due to the compact dimensions
An entertaining drive, but the firm ride will not be to everyone's taste
Manoeuvring in tight spaces is hard work
Centre console plastics detract from an otherwise well-built fascia
Always a favourite with enthusiasts, Alfa Romeo's compact executive 156 has, since its debut, gradually become more mainstream in its appeal as the marque slowly shrugs off its poor reliability tag. A late 2003 facelift has done wonders for the car's image, while the introduction of revised diesel engines has put the range on an equal footing with fellow European rivals.
After suffering at the hands of critics in the 1980s and early 1990s for producing what were generally perceived to be entertaining but flawed and fragile sporting saloons and hatches, Alfa redeemed itself – and its battered reputation – when it launched the 156 in 1997.
Overnight the critics fell silent and confidence in the brand rose to new heights, as the Italian car maker managed to pull the proverbial rabbit of the hat with a car looking the complete opposite of its ultra-conservative German rivals. That it drove as well as it looked and offered enthusiasts a real alternative to BMW's all-conquering 3 Series was a bonus.
It wasn't all plain sailing for Alfa Romeo though, as the firm hadn't quite grasped the finer points of build quality and reliability. Although many of the early problems were of the minor electrical variety, engine and transmission maladies were not unheard of – especially ones caused by the firm's F1-style Selespeed gearbox.
Time has proven to be a great healer for the company though, and the cars are much better now. It's fitting, then, that this corner-turning approach was punctuated by the arrival of a facelifted car boasting a new nose, detailed quality improvements and more potent diesel motors. With the Alfa's charismatic 2.5-litre petrol V6 now absent from the line-up, flagship duties this side of the firm's outrageous GTA variant have gone to the car's five-cylinder, 2.4-litre JTD diesel. In the real world it's more user friendly and kinder on the wallet than the 3.2 V6, yet delivers a performance that belies its diesel origins.
That the 156's chassis can't quite keep up with the 2.4 sums up the car's personality: flawed but immensely enjoyable. The same is true inside the 156, as the car's compact shape makes carrying a full load something of a squeeze. And yet, the fascia design is typical Alfa and full of enthusiastic details. For some this Alfa is something of a 'nearly car', while for others it's a welcome alternative to BMWs, Mercedes' and Audi's.
Our verdict on the Alfa Romeo 156 2.4 JTD Veloce
A dramatically styled car from a country famous for its grandiose gestures, the refreshed 156 is a rare head turner in a sector where conservatism rules. Looks aren't everything though, and the 156 can't quite deliver a driving experience to match that of the class leader, BMW's 3 Series. It's a close run thing, and the upside is a selection of tuneful petrol engines and outstanding diesel motors, a sportscar-influenced interior and that attention-grabbing nose.
---
Costs
To some, Alfa's 156 is a difficult car to pin down; its pricing strategy stretches from Mondeo territory to the dizzy heights of BMWs and the compact executive market. That you can get an entry level 156, complete with all the style and kerbside appeal of something more expensive for the price of an average family saloon will no doubt tempt buyers away from rep specials. Pick a diesel and fuel costs will be pleasingly low, with the added bonus of no trade off in terms of performance. If there is a downside to Alfa ownership it's that residual values don't come near to that of cars from Germany. For the enthusiast, higher specification levels, more distinctive styling and, in some cases, better engines, are often enough reasons to help offset any financial losses.
Space and practicality
If there's one area where the 156 shows its age, it's in the space department. With the likes of latest generation models such as Ford's Mondeo and Vauxhall's Vectra noticeably larger, the 156 struggles to offer similar levels of practicality. For many this won't pose a problem as the 156 was never meant to be a family car, but for the company car driver it may prove problematic when chauffeuring clients. Elsewhere you get the usual number of useful cubbyholes, although the door pockets are on the shallow side. The boot is also a modest size – in line with the 156's compact nature – but its usefulness is boosted by the ability to split or fold the rear seats.
Controls and display
Unlike other cars in this sector, Alfa Romeo has thankfully restrained from plastering its car's fascia with all manner of buttons and switches. In a refreshing departure from the norm, the centre console's controls are sensibly placed. Top marks goes to the intuitive ventilation dials, which each contain a graphical representation of their current status. The audio controls don't quite follow company policy, but the main functions are replicated on the steering wheel. Reinforcing the car's sporting status, the main dials are housed in separate, race car-style hooded binnacles. They're easy to read, too, and the same can be said for the comprehensive trip computer.
Comfort
The 156 is never going to match the hushed ride and soft damping of, say, a Jaguar, but for a car marketed as a sports saloon, this Alfa delivers a more compliant ride than most in its class. That said, the 156 is still on the firm side, which means urban undulations are never quite tackled with the same aplomb as certain rivals. The payoff is a taut, assured ride when cornering at speed. As for the driving position, the days of the infamous cramped Alfa set-up are long gone. The steering wheel and seat offer a good range of adjustment, although tall drivers could do with a touch more headroom. The same is true in the back, while the modest levels of legroom could cause discomfort on long journeys.
Car security
No futuristic anti-theft devices here unfortunately, just the usual remote locking system activated by a button on the car's key fob. The system does comprise an immobiliser and alarm, but there's no option to upgrade the system to include a hi-tech tracking device.
Car safety
Despite the car's emphasis on performance, the 156's passive and active safety measures are at least equal to those of its class rivals. Twin front, side and curtain airbags are standard across the range, along with ABS, electronic brake-force distribution (EBD), emergency brake assist for when a rapid stop is required and Alfa's stability system, Vehicle Dynamic Control (VDC). More powerful xenon headlamps can specified as an option. Those of a cost conscious disposition should be aware that a centre three-point belt, along with a centre seat headrest, isn't standard on the base-spec 156. It is a cost option, though.
Driver appeal
While the 3 Series can still lay claim to the top position, the 156 is a surprisingly sharp tool. With drive going to the 156's front wheels – not the rear as is traditional – the Alfa is, like most other car's, slightly compromised. However, piloting a 156 is great fun. The enthusiastic driver will revel in the car's taut ride plus responsive and quick steering. Push too hard, though, and it's then that the car show's its age – despite the facelift. By way of compensation, the engine line-up is perfectly judged. The petrol motors provide ample power and a pleasing racing-car soundtrack in the case of the 3.2 V6. But it's the diesels – especially the 2.4 JTD – that deliver the best combination of performance and economy.
Family car appeal
It may have five seats but the 156 is no compact people carrier and, as such, cannot hope to match the flexibility of the current crop of mini people movers. That said, the Alfa's lack of rear legroom won't be an issue for small children. Just be sure to specify the optional ISOFIX child seat mounts when you order the car. Mum – or dad – might struggle to slide a buggy through the car's modest boot aperture, but at least the 156 doesn't suffer from the same level of snobbery that affects owners of MPVs and it will look more classy in the office car park.
First car appeal
There would be little reason to panic if given a 156 as not only your first car but your first company car. Save for the minor parking issues, visibility is good, the car is of a manageable size and, assuming the fleet manager opted for a low power variant, the car's performance is unlikely to scare novice drivers. Also, all the controls are light and easy to operate. The only word of caution would be regarding Alfa's 1.9 JTD diesel, as its modest on-paper power output masks a performance most ex-learners would not have experienced. If you possess the means to buy and run the car there's no reason why you shouldn't.
Quality and image
Detractors who equate Alfas with rust and flaky trim will be shocked by the high build quality of the 156. While not quite able to match the likes of BMW's 3 Series or Audi's A4, this Alfa's interior is sufficiently well trimmed to banish previous complaints. If anything does spoil the party it's the car's silver centre console, which, on close inspection, could be better finished. Alas, question marks also remain over reliability and the quality of service from the dealer network. Saying that, Alfa Romeo is always keen to stress that both issues are being constantly addressed.
Accessibility
Unable to offer the same generous levels of space as a more run-of-the-mill Vectra, the 156's cabin is definitely on the 'snug' side. Regrettably there's a trade-off between the car's pert kerbside stance and the amount of space it can offer to occupants, and it shows in the amount of rear legroom, cabin width and the modest amount of space allowed for access to the rear seats. Front seat occupants are better looked after, although if you're not terribly limber you might struggle getting out of the seats when set at their lowest setting.
Stereo and ICE (In car entertainment)
Standard equipment is a radio with a single CD player. Located above the ventilation controls, the unit's display can be read easily from either front seat. The controls are on the small side – especially the volume – but you can opt for the most common controls to be replicated on the steering wheel. Upgrades include a CD changer located in the car's boot, and a 'premium sound' upgrade boasting improved audio quality. A basic sat-nav solution is also on the upgrade list, with a full-blown telematic solution called Connect a more costly alternative.
Colours and trim
Just as Ferraris look their best in red, Alfas of all shapes and sizes still never fail to catch the eye when selected in such a bright colour. Don't worry if red isn't your favourite, as the 156 can look equally stylish in the ubiquitous silver or in an attractive shade of metallic blue. Inside, the car's standard cloth upholstery is pleasing enough, but if funds allow it's worth spending the extra on leather as it adds another layer of quality to the cabin's ambience. If you're feeling particularly retro in outlook, you can even specify a wood-trimmed steering wheel and a two-tone fascia trimmed in contrasting light and dark colours.
Parking
As familiarity grows, reversing the 156 becomes less of a chore. Granted, the lower than average seating position can restrict your view rearward, but once you learn to gauge where the car's stubby tail ends it becomes easier. The view forward is much the same – the end of the bonnet isn't visible either, but you soon get used to it. Fore and aft parking sensors are optional on the Veloce and Lusso. The one fly in the Alfa's ointment is its poor turning circle. It may possess one of the quickest steering locks around, but don't expect to navigate tight car parks without more than a fair bit of arm twirling.
Spare wheel
Standard space saver wheel is located in the boot.
Range information
Alfa's 156 range comprises seven engine options; four petrol and three diesel. Petrol: 1.6 T Spark (120bhp), 1.8 T Spark (140bhp), 2.0 JTS (165bhp), 3.2 V6 (250bhp). Diesel: 1.9 JTD (115bhp), 1.9 JTD 16V (140bhp), 2.4 JTD 20V (175bhp). Five speed manual gearbox standard on 1.6 T Spark, 1.8 T Spark and 2.0 JTS. Latter can also be had with 'semi-automatic' Selespeed 'box. 1.9 JTD comes with five-speed manual, but 1.9 JTD 16V and 2.4 JTD fitted with six-speed 'boxes. Six-speed manual standard on flagship petrol 3.2 V6 GTA, with Selespeed 'box optional. Trims levels: 'base' spec reserved for 1.6 T Spark, then rising from Turismo to Veloce and finally Lusso.
---
Alternative cars
BMW 3 Series Self-appointed 'Ultimate Driving Machine' delivers a first rate driving experience, but can be costly. Also, four-cylinder diesel could be more refined
Audi A4 As the other German compact exec with sporting pretensions, the A4 scores well for build quality and image but can't quite deliver in terms of driver involvement
Lexus IS200 Pitched as a cut price 3 Series, the IS200 is well-equipped, good value and fun to drive. There's no diesel option though, and it can't compete with the Germans for image
Jaguar X-Type 'Baby Jag' is a strong performer. Diesel variant surprisingly refined and sporty, although exterior styling can look awkward from certain angles