Log in or register
close
My AA Account
Sign in to see your cover and request assistance online
Don't have a My AA account?
You'll need your policy or membership number
Alfa Romeo 147 1.9 JTD Lusso 5dr
Racy kerb appeal
March 2005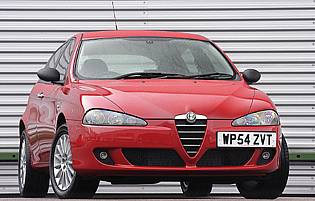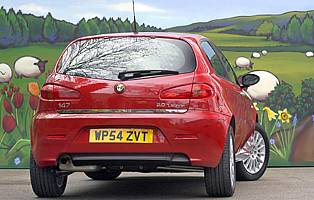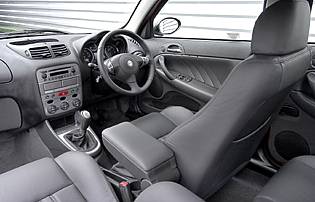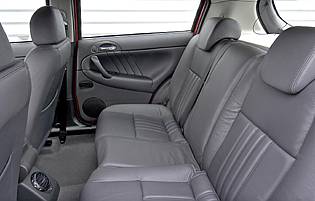 Overall rating

Likes:
Racy-looking 147 has tremendous kerb appeal
Flagship diesel's performance rivals conventional hot hatches
Cabin design is distinctive but also functional
More affordable than many similarly equipped rivals
Gripes:
Driving position could be better – steering adjustment is modest
Fidgety on motorway as ride is biased towards a sporty experience
Super-quick steering takes some getting used to
Compact size means rear legroom is tight for adults
Alfa Romeo's stylish 147 has been given a new lease of life with a modest facelift and revisions to its sports-biased handling. Although still the same charismatic car as before, its temperament has been tamed slightly and it has gained a new high-power diesel engine. This combination alone makes the car an attractive, if unusual, alternative to a conventional petrol-powered hot hatch.
Pigeonholing Alfa Romeo's 147 along with the likes of Ford's Focus has always done the characterful Italian hatch few favours. It lacks the cabin space and versatility of a conventional family conveyance, and is likely to cost more to buy and run – especially if you opt for a few of the tempting options.
However, treat the 147 as a less expensive – but more stylish – alternative to the traditional premium hatch offerings from Audi, Mercedes-Benz and BMW and the Alfa starts to make sense. Few prospective buyers at this level have a family, making criticisms regarding the 147's modest cabin and boot dimensions redundant.
Predictably, the 147 should be looked upon as a purchase made with the heart. Its extrovert design is perfectly in keeping with its feisty Latin personality. You don't go wafting down to the shops in the 147, you drive with a verve and purpose that's difficult to replicate when piloting something from a rival company.
Alfa Romeo hasn't ignored the rise in popularity of the German premium hatches though and, keen to appeal to a wider audience, has smoothed the rough edges of the 147's handling traits. Enthusiasts should welcome the move as the car is now much less tiring to drive quickly; it fidgets less on the motorway and no longer jostles you about around town.
Combine this single but important improvement with the inclusion of a high-power diesel motor – one that shames even Alfa's own petrol GTA for outright performance – plus a subtle updating of the Alfa nose, and the revised 147 has become a more credible choice without sacrificing any of its unique charm.
Our verdict on the Alfa Romeo 147 1.9 JTD Lusso 5dr
Always a striking-looking car, the 147 now sports a revised nose which has become the new 'face' of Alfa Romeo. Still a car for buyers seeking an alternative to conventional premium-class hatchbacks, the improvements to the car's ride are immediately obvious and welcome. The 147 may never directly challenge the likes of Audi's A3 or BMW's 1 Series but, for less money and with more style, Alfa's premium compact is an appealing alternative to high-spec models from the volume producers such as Ford and Vauxhall.
---
Costs
If considered as a premium hatch, the 147 is good value for money. It's priced lower than most comparable models from rival manufacturers. The trade-off comes in the shape of lower residuals – the German cars nearly always come off better. Pick a diesel 147 and you'll save a few pounds at the pumps, though. The car's high level of standard equipment should soften the resale blow, too.
Space and practicality
You don't buy a 147 to carry out mundane family duties – the car is more of a selfish purchase. One of the last of the traditional compact premium hatches, even in five-door form the car is no match for the latest generation of larger family cars. That said, the rear seats are fine if you're comfortable with the car's limitations. Coping with a busy family life and lots of associated baggage will but a strain on the car. Treat it as a compact lifestyle vehicle and the ownership experience will be a happier one. The cabin itself is roomy enough – up front and the boot is a reasonable size. The former possesses a few modest storage options, while the latter is mildly compromised by a relatively high and narrow load aperture thanks to the design of the tailgate.
Controls and display
The 147's fascia looks stylish but is also surprisingly functional. The cowled instruments are easy to read and are separated by a comprehensive trip computer display. The computer's functions are accessed via a button on the end of the right main column stalk – one of four. The quartet of stalks on the Lusso models look odd as the functions could easily be condensed. That said, Lusso variants gain steering wheel audio controls – something the Turismo-spec cars don't. The rotary ventilation controls are more straightforward, and combine a digital readout for temperature and fan speed.
Comfort
The revised car's suspension has been improved and the ride is more accomplished but some urban undulations still get through. The upside is a car that barely pitches or rolls. Also good is the general absence of engine noise – even from the diesels – although wind noise has not been totally banished from the cockpit. Seat-wise the standard chairs do a good job and come with a reasonable level of adjustment, although more under-thigh support would be welcome. Steering adjusts for reach and rake but more reach would benefit taller drivers.
Car security
As befits the car's premium status, the 147 comes with both an alarm and immobiliser. The latter utilises a rolling code function, which makes it even more difficult to crack. The former detects both movement inside the car and whether anyone is trying to move it from the outside. All of this is armed in conjunction with the car's central locking from the key.
Car safety
Standard fit on the 147 are six airbags – twin front, side and curtain. A commendable effort considering that some cars are still offered with only four as standard and you have to pay extra for the curtain airbags. Active safety features run to anti-lock brakes with electronic brake-force distribution. However, the entry-level models are denied the fancy hi-tech stability aids.
Driver appeal
Revised suspension settings are the key improvements the 2005-model year 147, and the car is noticeably more composed on the road. Now less nervous and 'busy' on less than poorly surfaced roads, the 147 is easier to drive quickly and more rewarding. Talking of quick, the car's steering is an acquired taste as it's only 2.2 turns lock to lock. Little effort is required to tackle twisty roads, but around town there's no need for large wheel movements, either. On the engine front, new is a 150bhp version of the Alfa's JTD Multijet diesel. It shades the 3.2 V6 petrol in the torque stakes and is far more economical but no less exhilarating when driven hard. If that's too much the lesser powered diesel makes the petrol engines largely redundant. That said, if diesel is a turn off, the revvy 1.6 petrol motor is an affordable and entertaining alternative.
Family car appeal
Unless you have a small family the 147 is unlikely to pass muster as a proper family car. The boot is modest as is rear seat space for lanky teenagers, making it better suited to the role of second car. Also, Alfa's typical flair for lavish upholstery treatments will have you wincing each time little Johnny rubs chocolate into seats.
First car appeal
The low-end petrol or diesel models the 147 would make a decent first car if you fancied an upmarket hatch and had the requisite funds. Running costs are unlikely to be too high, but some insurers are more sympathetic to owners of the high volume marques – hence the recommendation to go for something at the lower end of the 147 spectrum. Living with the car will be easy, however, as it's small enough to park yet big enough to cope with both the urban commute and motorway trips.
Quality and image
Image is something Alfa Romeo is gradually clawing back after years of being in the doldrums. The company's 156 can take most of the credit or this, although the 147 has also been a positive influence on the brand. Key to the recent upturn has been a noticeable improvement in perceived and actual quality. Cabin fit and finish is good – if not equal to the German competition – while Alfa's extrovert styling direction has attracted new fans to the marque.
Accessibility
Front seat occupants will have little trouble getting in and out of the 147. The doors open wide and the seats are a reasonable height so you never 'drop down' into the cabin. Three-door models, predictably, offer added benefits but rear seat occupants understandably don't fare so well. Access to the rear of the five-door is not that great, either. The door aperture is modest with legroom the same. With no external release, the tailgate is opened via a button on the fascia or from the keyfob. Although hardly cavernous, it's a practical size. The load lip could be lower and wider, but would then spoil the attractive line of the tailgate.
Stereo and ICE (In car entertainment)
One benefit of the revisions is that all cars come with a radio and CD player as standard. Eight speakers also come as standard, although the base 1.6 TS model makes do with six. The audio unit is not the easiest to use as its buttons are small and the display is easily obscured in direct sunlight – Lusso models include steering wheel controls. Options include a 10-disc CD changer and a full-blown telematic system comprising audio, satnav and a concierge service. This unusual feature allows you to, among other things, book hotels and the like with an operator.
Colours and trim
When buying a 147 you've got to at least consider a red one. Aside from all the Ferrari comparisons, red suits the little Alfa's racy personality. If you don't fancy a bright hue, the colour palette includes more subdued shades that give the car a more mature stance. Inside, you can choose from a number of different trims – standard and optional. Cloth is the default specification, but Lusso models offer a more plush variation that's straight out of a 1970s Maserati. For more money there's always leather, which does add a welcome premium feel to the cabin.
Parking
The 147 isn't a big car, making parking a straightforward exercise. In its favour is a steering system that boasts only 2.2 turns lock to lock. Forward visibility is also good, but the car's external mirrors could be larger and the rear screen makes judging a reverse park manoeuvre a little tricky. At least rear parking sensors appear on the options list.
Spare wheel
Space saver fitted as standard.
Range information
Six engine options: 1.6-litre (105bhp) petrol; 1.6-litre (120bhp) petrol; 2.0-litre (150bhp) petrol; 3.2-litre V6 (250bhp) petrol; 1.9 JTD (115bhp) diesel; 1.9-litre JTD 16V (150bhp) diesel. All models fitted with five-speed manual gearbox, except JTD 16V and GTA which boast a six-speed manual gearbox. A clutchless 'Selelspeed' automated manual gearbox is available on the 2.0-litre petrol engine. Trim levels: TS, Turismo, Lusso, GTA.
---
Alternative cars
Audi A3 Better built and possessing a better image, but more costly
BMW 1 Series A real driver's car. Looks and lack of cabin space count against it
Mini Cooper Three-door only Mini is sporty and distinctive – like the 147
Ford Focus Best of the mainstream competition is a great all-rounder but lacks visual sparkle