Abarth 695 Biposto Record
Intoxicating performance
December 2016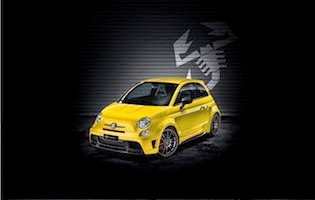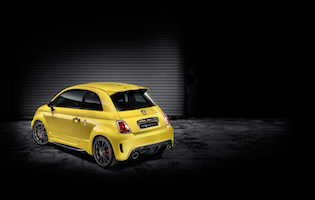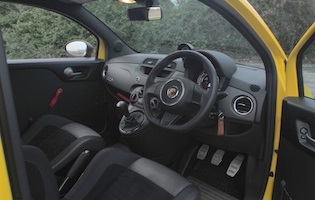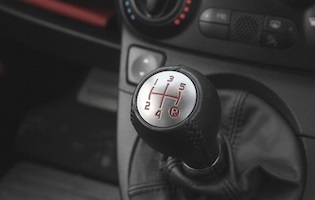 Overall rating

Likes:
Intoxicating performance
Raucous exhaust note
Sharp handling
Striking appearance
Gripes:
Rock-solid ride
No radio
Noisy cabin
No rear windscreen wiper
The Abarth 695 Biposto Record is a limited-edition version of the regular 695 Biposto. It was launched to celebrate the 50th anniversary of Carlo Abarth's record-breaking quarter-mile sprint in a Fiat Abarth Class G 105HP back in October 1965. Just 133 examples of the 695 Biposto Record will be produced.
Setting the Record edition aside from the regular 695 Biposto is its striking Modena Yellow paint job with 18-inch Tar Cold Grey Oz racing wheels, and special Record badging. There are no back seats, no radio and no real air conditioning system. This is a proper track-focused car that is incredibly fun to drive.
Performance-wise, the 695 Biposto Record edition is still equipped with the same 1.4-litre, 187bhp engine as the regular 695 Biposto. This enables the little pocket rocket to sprint from 0-60mph in just 6.1 seconds, before hitting a top speed of 143mph. This is a car that is designed to be driven hard and fast, all the time.
In theory, running costs shouldn't be too prohibitive for the Abarth 695 Biposto Record. Abarth claims the car is capable of achieving a combined fuel consumption figure of 45.6mph, although in reality this is likely to be a lot lower. Residual values should be strong, too, owing to the fact that only 133 examples of the car will be produced.
Practicality is not this car's strong suit. There are only two seats in the car, so it is unlikely to appeal as a family car. Because of its huge asking price and outstanding levels of power, this is also not a car tailored to young drivers. The majority of buyers will likely have one or two more sensible cars in their possession.
Our verdict on the Abarth 695 Biposto Record
The Abarth 695 Biposto Record isn't really a car that you buy with your head. It isn't practical or comfortable, it's hugely expensive and probably rather difficult to live with on a daily basis. That said though, it is a huge amount of fun to drive, and this more than makes up for its shortcomings.
---
Costs
There's no arguing against the fact that £37,000 for what is essentially a jumped-up Fiat 500 is a huge amount of money. That said though, the production run is limited to 133, so it is exclusive, meaning it should hold its value. Fuel economy is rated at 45.6mpg on the combined cycle, although in reality it will likely be a lot lower than that. It's much more fun to drive this car uneconomically, after all.
Space and practicality
This is a strictly two-seater car. The rear seats that are fitted in the regular Fiat 500 and less-powerful Abarth 595 have been done away with in the 695 Biposto Record. That said, room up front is decent, and you don't feel cheated in the headroom department. The boot is a reasonable 255 litres, and a luggage net prevents any rogue bags from flying into the cabin.
Controls and display
The 695 Biposto Record digital display is clear and easy to read in the vast majority of conditions. The only time it may cause a bit of a problem is if the sun is positioned directly behind the car, which makes the display nearly impossible to read. Controls are minimal, owing to the fact that features are minimal, but they are all easy to see and reach, and are large and chunky in design.
Comfort
Comfort isn't a word that is in the Abarth 695 Biposto Record's vocabulary. The seats are rock-hard, although very supportive, it crashes over practically all surfaces, and the amount of road noise that makes its way into the cabin would be unbearable on long-distance drives. At the end of the day, though, long-distance cruising is not what this car has been designed to do, so it'd be unfair to criticise it too much because of this.
Car security
The Abarth 695 Biposto Record comes equipped with remote central locking as standard, so would-be car thieves won't be able to just drive off with your pride and joy. However, because of the car's eye-catching, sporty appearance, it will likely attract a fair deal of attention if left parked on the street. It would be wise to leave the Abarth 695 Biposto Record in a garage.
Car safety
The Abarth 695 Biposto Record hasn't been crash-tested by Euro NCAP, so it would be difficult to properly gauge just how safe it would be in an incident. It does come with driver assist features such as ESP and ABS, though, so you aren't completely without safety systems.
Driver appeal
Once you've had a go in the 695 Biposto Record, you'll be hooked. It is a properly addictive thing. From the sound its 187bhp 1.4-litre engine makes, to the way it goes around corners, it's all exciting. The only thing you will likely dislike is the bone-shattering ride, which does get exhausting after a while. The lack of sound dampening in the cabin also means you wouldn't want to take this car on a long journey. Then again, this is a car designed to be used on track.
Family car appeal
This would also be difficult to justify as a family car. It only has two seats, so as a school-run wagon it's practically useless. This is more likely to be a car bought by an enthusiastic parent to sit alongside a larger primary family car, to only be used exclusively at the weekend. Again, a regular Fiat 500 – or even an Abarth 595 – would make much more sense as a family car, as they have rear seats that small children can use.
First car appeal
While a 17-year-old may find the idea of having a 695 Biposto Record as a first car a massively appealing idea, in reality this is unlikely to happen. Ever. For one, it costs £36,610 to buy. It's also hugely powerful for a car of its size, and young drivers would likely find it close to impossible to find an insurer willing to sign up to any contracts. Better to go for a regular Fiat 500 then.
Quality and image
With its eye-catching Ferrari-yellow paint, generous levels of carbon fibre and squat stance, the Abarth 695 Biposto Record is a truly desirable-looking car. Next to a regular Fiat 500, it looks absolutely bonkers. Inside, however, it sings a rather different song. Cabin materials are incredibly spartan in nature, with cheap-looking plastics festooning the dash. So it's not the nicest car to sit in, but chances are most customers won't get too hung up on this after driving it.
Accessibility
The 695 Biposto Record is no more difficult to get in and out of than a regular Fiat 500. Sure, the Abarth racing seats do come with a bit more bolstering, but the doors open wide and the seats aren't terribly low in the car. You won't have to worry about any difficulty associated with getting kids in the back seat, as there aren't any fitted. The boot opens wide, although there is a bit of a lip.
Stereo and ICE (In car entertainment)
Because of the 695 Biposto Record's stripped-out, track-focused nature, you won't find any stereo system or in-car entertainment whatsoever, which does seem odd for a car that costs around £37,000. This won't really matter too much, though, as the sound that comes out of the car's Akrapovic exhausts provides more than enough entertainment.
Colours and trim
The Abarth 695 Biposto Record is available in one colour only, but boy, is it a great shade. The Modena Yellow paint scheme that graces this savage little hatchback's exterior is the same colour used by Ferrari on its high-end supercars. Not only does it look fantastic on the 695, it also means you have something to brag about to your friends.
Parking
While this might be a hardcore, track-day weapon of a car, it pays to remember that the 695 Biposto Record is still based on the Fiat 500. This means that parking isn't too difficult, although the steering and clutch are considerably heavier than they are on the standard car. You'll also likely find yourself wary of scraping the low carbon front and rear splitters, however, as well as kerbing the lightweight OZ alloy wheels.
Spare wheel
Puncture repair kit supplied
Range information
Petrol engine options: 1.5-litre SKYACTIV-G (129bhp). Transmission options: Six-speed manual. Trim levels: Icon.
---
Alternative cars
Volkswagen Golf Clubsport S A stripped-out, hardcore version of the famous GTI.
Peugeot 208 GTI PS Not quite as raucous as the Abarth, but still a fun little car.
DS3 Performance Black The DS3 has good looks and plenty of power.
Ford Fiesta ST200 Arguably the best hot hatch on the market.