Lotus Elise S
July 2012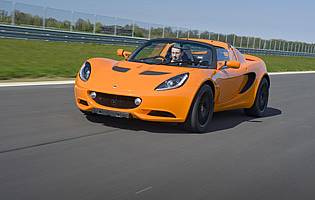 Bold styling and purposeful stance hints at car's potential
Ratings
Overall rating
Value for money
Costs
Space and practicality
Controls and display
Comfort
Car security
Car safety
Likes
Handling and grip levels are outstanding
Engine is tractable and feels unburstable
Stripped down exterior is refreshing
ProBax seats are surprisingly comfortable
Gripes
Noise levels remain high at motorway speeds
Heavy steering at low speeds can feel intimidating for inexperienced drivers
Entry and exit are a challenge, even for agile passengers
Storage room is limited
Despite the company's various ups and downs, Lotus' most enduring product in recent years has been the Elise. Subtly revised in early 2006, the range has steadily expanded to attract keen drivers of all abilities. This S model has been engineered to offer a potent blend of accessible performance and day-to-day refinement.
From the outside there are few visible clues as to the car's potential. It retains the trademark Elise low stance and curvy shape that makes it quite unlike any other sports car on the road. Subtle badging sets it apart from the rest of the model family.
Inside the stripped-down cabin remains, which includes the use of ProBax seats on all models. Designed specifically with posture and comfort in mind, they claim to put the spine in the correct position, improving comfort and blood flow to the benefit of alertness. The simple interior has small, chunky steering wheel with a high quality instrument pack, and a minimum of supplementary controls.
In practical terms the Elise is a strict two-seater, and offers little in the way of storage space. The boot is between the mid-mounted engine and the rear of the car, and although the area is a reasonable size and shape, the aperture is actually smaller than the space, making it difficult to carry rigid items.
The key changes to the Elise S are in the engine and chassis departments. The former is a supercharged version of Toyota's oft-used 1.8-litre four-cylinder unit. In this guise it outputs a healthy 220 horsepower plus a substantial helping of torque which, combined with the car's weight offers drivers a supercar-rivaling experience.
Our verdict on the Lotus Elise S
The Elise is already a critically acclaimed driving experience, and this S model lifts the car's potential to new heights. Not to be confused with any previous 'S' models, this supercharged variant delivers an experience to worry anything from Germany and put a smile on the face of keen drivers who appreciate fuss-free brisk motoring.
Costs

High performance cars are rarely described as bargain propositions, but the Elise S is a rare exception. The combination of lightweight, agility and a forced induction engine combine to deliver relatively sensible running costs when you're not pushing hard. And when you do choose to 'press on' you can be confident knowing that you've spent far less than some to experience such high levels of performance.
Space and practicality

There's little doubt that you have to pack light when you're an Elise owner. The car's compact dimensions and intimate cabin leave little room for anything other than the two occupants. Once inside head and legroom are surprisingly good, although elbowroom is modest. A small storage area behind the seats and a boot behind the engine do give some room for luggage, but nothing larger than a sports bag will fit.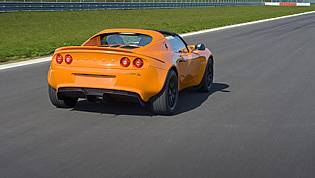 The view most people will have of the Elise S
Controls and display

The minimalist nature of the Elise is as much a functional statement as a design-led one. The car's centre console houses only the ventilation controls. Their deep-set location sometimes makes it difficult to see the top of the graduations, however. A small series of simple push buttons to the right of the steering wheel controls the lights, while the speedometer and tachometer are simple and elegant. The car's slick, short-throw manual gearlever is as you'd want it to be, with the Elise's slim pedals offering plenty of scope for heel and toe work.
Comfort

While the Elise was never designed with comfort as a priority, the car's, ProBax seats deliver respectable comfort levels and help reduce fatigue. At lower engine speeds there is little noise from the engine but exhaust drone, tyre rumble and wind noise do build up as speed rises.
Car security

The Elise might appear to be a basic car but there's no shortage of protection on offer. The standard fit immobilizer package will ensure you car stays where you parked it, although the car's fabric roof can't possibly match the protection offered by a metal alternative. Anyone serious about theft prevention should consider an aftermarket tracking device as a secondary line of defence.
Car safety

Despite boasting outstanding grip, acceleration and braking performance, the Elise is a stable and confidence inspiring car - unless you behave irresponsibly. An electronic stability and traction control package offers peace of mind, yet manages the seemingly impossible by work with the driver instead of creating frustration.
Driver appeal

There's only one reason to buy an Elise, and that's for its performance. A no compromise sports roadster, it has the potential to deliver an engaging and rewarding experience if you're prepared to make an effort. The snug driving position, modest luggage spare and unassisted steering won't appeal to everyone, but for the keen driver these are minor distractions. In revised 'S' guise this Elise's supercharged Toyota motor's elastic power delivery, almost unburtsable nature conspire and nimble chassis conspire to entertain and reward in equal measure.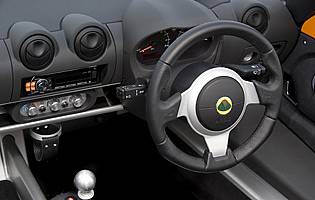 The Elise S is a handsome car with the roof off
Family car appeal

A very small and enthusiastic family may enjoy the Elise's performance, but only as the second car in the household. In all other respects a two-seat car such as this is unlikely to serve the needs of a family on its own.
First car appeal

It's no surprise that the Elise isn't going to be a sensible choice for a novice driver. Along with its considerable performance potential, the heavy steering and driver aids tuned to help exploit low grip situations, there are more appropriate alternatives for new drivers keen to build on their limited experience.
Quality and image

The standout feature of the Elise is its lightweight construction, and this has ensured a level of performance and usability the opposition has found hard to match. The downside is that rattles and road noise is more obvious than in cars with more sound proofing, but the Elise's exposed cabin structure is one of its selling points. Over time a loyal following has also done much to boost the Elise's appeal.
Accessibility

With its high and wide sills, getting in and out of the Elise is quite a challenge and requires practice, as the door aperture is narrow and the car is very low to the ground - the roof is at waist height on most people. Once mastered it is less difficult, but still much more taxing than an ordinary car. Access to the boot is simple, although the aperture is much smaller than the boot itself.
Stereo and ICE (In car entertainment)
Despite the predictable focus here being on performance, Lotus hasn't forgotten on essential creature comfort. The stereo unit fitted provides excellent sound quality and good station reception, although its regular size and mounting away from the driver can be a hindrance. Also, when driving quickly it can easily be swamped by engine and road noise.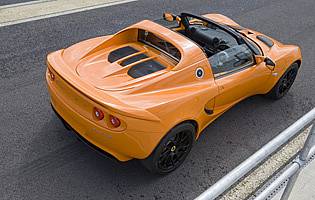 Clean and uncluttered cabin is functional and comfortable
Colours and trim
With a wide choice of exterior colours to choose from, it's hardly surprising that the popular choices are often the brightest. Inside the Elise, the majority of the surfaces are black or silver, in plastic or bare aluminium, all of which are pleasant to touch, if a little cold when the outside temperature is low.
Parking
The Elise isn't the easiest car to accommodate when it comes to parking, most notably the predictable restricted rearward vision. Forward vision is much better, but the steering is heavy at parking speeds, and that can make maneuvers quite taxing for the driver.
Spare wheel
Emergency tyre inflation kit included.
Range information
Petrol engine options: 1.6-litre (134bhp); 1.8-litre (220bhp). Transmission options: six-speed manual gearbox for all variants. Trim levels: base, CR, S (1.8-litre only).
Alternative cars
Caterham CSR 200 Even more basic, but delivers incredible driving experience
BMW Z4 Roadster Better blend of comfort and fun, styling not to all tastes and performance is modest by comparison
Porsche Boxster Impressive handling from benchmark premium roadster but an expensive option
Audi TT Roadster Another premium alternative that packs a powerful punch but can match Elise for thrills
Over 1,200 more car reviews online
All the reports since 1990 are available on this site, just search by make and model below.
Other products & services
Related information
july 2012