Mercedes-Benz SL-Class SL 500
May 2012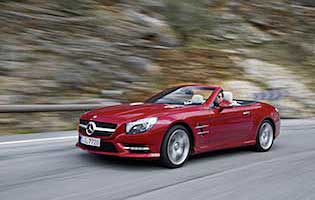 New Mercedes design language means SL is now a shaper-looking roadster
Ratings
Overall rating
Value for money
Costs
Space and practicality
Controls and display
Comfort
Car security
Car safety
Likes
Smooth and flexible engine range
High quality cabin feels luxurious and comfortable
Surprising agility for such a big car
Hard top roof works well up or down
Gripes
Automatic gearbox feels slow when pressing on
Need to choose exterior colour carefully to flatter car
Despite weight-saving measures can still feel big and heavy when on the move
An expensive car to buy and run even within its class
The SL is a cornerstone of the Mercedes range, with the car offering a blend of performance, luxury and hassle-free open top motoring in one elegant package. This latest generation SL adds more technology and a greater focus on economy to this mix.
With Mercedes boasting of a concerted weight reduction plan in a bid to make its SL more agile, engaging to drive and, crucially, more fuel efficient, the German firm's flagship convertible looks to further improve on an already popular concept.
Displaying a more angular and modern exterior than its predecessor, this latest SL takes many of its design cues from the smaller SLK and SLS halo model. That said, despite the contemporary exterior, the SL remains a car for wafting in not thrashing around the countryside.
With that sentiment in mind, the SL remains a petrol-only model range, which appears to fit well with its decadent, premium-level standing in the marketplace. Although the six-cylinder car is likely to be the most popular thanks to its affordability, the eight-cylinder SL 500 offers a fine balance of pace and refinement.
As befits a flagship model, the SL can be had with a vast array of hi-tech comfort and safety kit. From the car's photo-reactive glass roof to the high-end entertainment options and intelligent safety kit, part of the SL's role is to be a rolling showcase for the Mercedes brand.
Our verdict on the Mercedes-Benz SL-Class SL 500
While Mercedes would like you to think of the SL as a premium sports car, the reality is the car is happier when wafting - be that to the shops, country club or cross-country to your holiday hideaway. It might not be the last word in high performance but it does a good job of cosseting its occupants, and there's no question that the folding metal roof adds to the coupe-like cabin refinement.
Costs

Despite the efforts to reduce weight and improve engine efficiency the SL remains a large, heavy car and its fuel economy and emissions profile reflects this. You also can't ignore the purchase price and, crucially, the premium level running costs associated with a luxury car like the SL.
Space and practicality

With seating for just two people there is no shortage of space in the SL for two adults. Disappointingly oddment space is a little lacking, although there is plenty of storage behind the two seats but this is difficult to access on the move. The boot is a good size with the roof up although this is obviously reduced if you wish to have the roof down.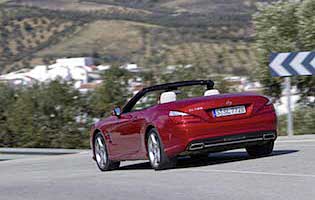 Roof down the SL is an attractive sight
Controls and display

Mercedes' trademark clear instruments grace the SL and are complimented by a colour screen between the main dials that offers a wealth of information. The steering wheel has numerous buttons to control various aspects of the car, supplemented by the control wheel in the centre console. Despite this, navigating around the systems can be a little fiddly at times, and the SL lags behind some rivals in this respect.
Comfort

Considering most models will ride on large alloy wheels the SL is still capable of delivering a soothing ride. The car's seats are supportive and can be had with a multitude of adjustments and the option of heating and ventilation. Roof up noise levels are low too, while there is little wind intrusion with the roof down.
Car security

Aside from a standard immobiliser and alarm package, the fact that the SL has a folding metal roof as opposed to a fabric one is arguably just as important in security terms. An optional tracking device would also be a wise investment.
Car safety

The SL is one of the safest of open top cars out there. The car is packed with safety features, including the Pre-Safe system, which prepares the car for an accident if it believes one is imminent by tightening belts and closing windows prior to an impact. This is backed up by a comprehensive package of electronic stability aids.
Driver appeal

In contrast to the performance orientated AMG variants, the regular SL might still be a quick car but the focus is very much on refinement. You can hustle the SL but it's clear that a more measured approach delivers more refined and pleasing results. This is in tune with the car's light steering, smooth auto transmission and plush ride.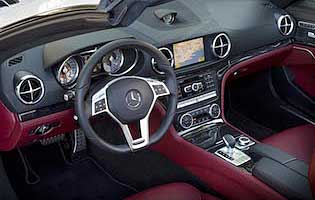 High quality cabin is a pleasure to be in
Family car appeal

The SL isn't really suited to family use, mainly because it can only carry one other person besides the driver and its boot isn't that big. Plus, the car's plush upholstery isn't exactly childproof.
First car appeal

The SL may be easy to drive but it is not really suitable for a novice driver. With too much power even in base trim and an insurance bill that would be beyond almost anyone, you'd need to have deep pockets to run an SL.
Quality and image

Inside and out the SL is finished to a high standard, all the controls operate with an assured solidity and the materials used are pleasing to the touch. Image-wise the SL is often viewed the preserve of mature buyers partly due to its price tag and its bias towards refinement over outright performance.
Accessibility

With only a single, long door on each side and no rear seats it's easy to access the SL. Only the relatively low roofline may hamper the very tallest of occupants. The same goes for the boot, which opens and closes electronically. Another clever feature is that with the roof folded into the boot, pressing a button raises the roof mechanism to allow easier access to the load area.
Stereo and ICE (In car entertainment)
Unsurprisingly the SL is fitted with high-end audio equipment as standard. Accepting a multitude of inputs the system can be controlled with the main push and turn wheel, although it is not as intuitive as some rivals systems. Sound quality is good and this can be further improved upon with a range of audiophile-like options.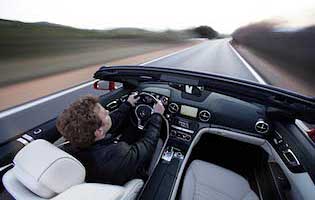 Even at speed with the roof down, refinement levels are high
Colours and trim
The SL can be a little colour sensitive. The car works better in traditional subdued hues rather than bolder, brighter choices as they do much to flatter the car's size. Inside you can opt for a variety of trim materials and, again, conservatism rules if you want to make the right statement
Parking
The SL is a long and low car, which makes its extremities relatively hard to see. There are also large alloy wheels as standard, all of which means some care is required when parking, although a sophisticated parking sensor system is fitted as standard with the option of an automated parking system for maximum ease.
Spare wheel
Tyre inflation kit fitted as standard.
Range information
Petrol engine options - 3.5-litre (306bhp); 4.7-litre (435bhp); 5.5-litre (537bhp); 6.0-litre (630bhp). Transmission options: seven-speed automatic gearbox. Trim levels: dependent on choice of engine.
Alternative cars
BMW 6 Series Cabriolet Bold-looking and capable but doesn't have the image of the SL
Jaguar XK Convertible Showing its age but characterful and fast
Porsche 911 Cabriolet More driver-focused and less of Grand Tourer but still usable every day
Audi R8 Spyder Supercar is sufficiently usable but only boasts fabric hood and marginal luggage space
Over 1,200 more car reviews online
All the reports since 1990 are available on this site, just search by make and model below.
Other products & services
Related information
May 2012