Saab 9-3 Convertible 1.8t Vector
January 2006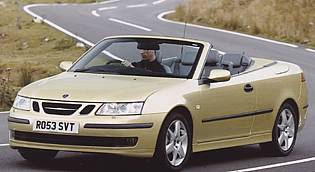 Hood down, the 9-3 Convertible is an attractive car
Ratings
Overall rating
Value for money
Costs
Space and practicality
Controls and display
Comfort
Car security
Car safety
Likes
Attractive yet understated styling
Cabin ergonomics are first class
Roof can be raised or lowered quickly and with minimal effort
Driving experience is refined when used as a long distance cruiser
Gripes
Not the sharpest handling of cars when pushed hard on twisty roads
Rear seats unusable with wind deflector in place
Location of ignition by the handbrake can be an annoying Saab quirk
Auto gearbox can be sluggish
The Saab convertible has been a huge success for the Swedish firm since the first car appeared back in 1986. Since then, anyone looking for something sophisticated, but not from the big German car makers, had another choice. Saab's 9-3 continues the trend; it might not be the sportiest on the block, but its looks, ergonomics and reliable nature have won it many fans.
For a company that is not always the first choice when it comes to executive saloons, Saab has managed to do well in another area - the premium convertible market. Yes, the Swedish firm's other cars have staged something of a resurgence in recent years, but its success in the drop-top business has been consistent and impressive.
New for 2003, the firm's 9-3 Convertible took its design cues from the then new 9-3 compact executive saloon. All the traditional Saab elements are present, and the overriding impression is of an understated look. For many buyers this is exactly what they're after. It would appear that the brash rivals from Germany attract and repel potential owners in equal measure.
This 9-3's driving experience is also understated. The range may boast 'hot' Aero versions packing tuned suspension, subtle bodykits and serious horsepower, but the car is often overwhelmed by the performance on tap. Crucially, this is one area where the competition has the 9-3 beaten.
Such a revelation shouldn't be cause for alarm, as the 9-3 does a number of more important things better than its rivals. Saab has always scored well in usability tests and the car's cabin is a lesson in good ergonomic practices. The 9-3's seats are also impressive and prove comfortable over long distances, while the powered hood requires little human intervention and can be raised or lowered quickly.
Our verdict on the Saab 9-3 Convertible 1.8t Vector
There are better convertibles on the market - better in terms of offering a sporty drive, that is. However, Saab's 9-3 combines good looks with ease of use and the simple fact that it's not an Audi A4, BMW 3 Series or Mercedes CLK. For many, this last factor is reason enough to go for the Saab. The 9-3's relaxed nature is ideal for anyone who doesn't subscribe to the 'look at me' culture championed by its rivals.
Costs

Of all the premium convertibles, Saab's 9-3 is one of the better value options. Standard equipment levels are generous and, thanks to high demand, residual values are good. Less impressive is the petrol engine range's thirst, especially when optioned with an auto gearbox. On a positive note, reliability is rarely an issue, ensuring garage visits are usually only of the scheduled kind.
Space and practicality

While obviously based on its 9-3 saloon, the convertible variant isn't quite so commodious. Front seat occupants fare well, as space is not in short supply. Rear seat passengers get the short straw, though; access is over the folding front seats and once past that obstacle the room available is modest. With the roof down and the wind deflector screen erected, the rear seats are effectively out of bounds. And with the roof up it's got to go somewhere, which is why boot space is reduced when the screen is stowed.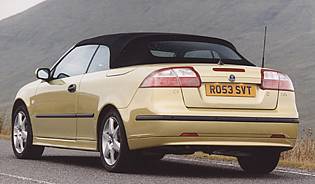 With the hood up, reverse parking can be tricky thanks to a restricted rear view
Controls and display

Saab has a reputation for designing cars with good ergonomics, and the 9-3 continues that trend. The main instruments are clear, easy to read and devoid of any design frills for the sake of it. The fascia houses the audio and ventilation units, each of which sport big buttons and clear displays. There's even a button to turn off all bar the speedometer at night to avoid any unnecessary distraction. The only minor gripe is the location of the ignition barrel down by the handbrake; it's not the most obvious place and can prove annoying if you're in a hurry.
Comfort

Saab's 9-3 drop-top is very much biased towards comfort. That much is true from the car's relaxed approach to road surface imperfections. The Swedish firm is famous for making comfortable seats, and the ones in the 9-3 are testament to Saab's expertise. On the downside, wind noise can be a problem with the roof up.
Car security

As desirable cars go, the 9-3 Convertible is at the top of the list. While the weak link in all convertibles is the fabric roof, the 9-3 comes with a comprehensive immobiliser and alarm system boasting motion and tilt sensors. Remote locking is also present, though an aftermarket tracking device would make a sensible investment.
Car safety

Safety has always been a core Saab value, and the 9-3 Convertible follows this up with twin front and side airbags. Rollover protection is also standard thanks to pop-up roll bars, as are the familiar active safety systems, ABS and electronic stability programmes.
Driver appeal

Despite the car's sporty looks and Saab's numerous references in its advertising to the aerospace industry, the 9-3 Convertible falls a little short in the driver appeal department. Granted, it can be swift and is an accomplished motorway cruiser, but it comes unstuck on twisty roads and can't match BMW's 3 Series Convertible.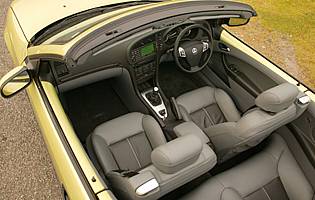 Sensible cabin design and comfortable seats make the 9-3 an attractive place in which to spend many hours
Family car appeal

This is an area where the 9-3 Convertible doesn't score well. Although it comes with four seats, the rear ones are only really suitable for the very small - and that's only if you elect not to use the wind deflector which occupies the rear part of the cabin when in use. Things don't get much better concerning the boot, which is small even when it's not storing the disassembled deflector.
First car appeal

Although it might look appealing, Saab's convertible is probably not a good idea. It's a costly car to own and run by novice standards, and there's a fair chance some insurers might refuse cover on the ground of its perceived high risk status. While not a difficult car to drive, the modest rearward vision available with the hood up could prove a problem for some drivers.
Quality and image

The 9-3 Convertible is one of only a few cars that have enjoyed a positive image in the face of stiff competition from the likes of Audi and Mercedes. Although often perceived by critics to be one step below the Germans, the drop-top Swede has done well for itself - helped in no small part by the success of its predecessor, the 900. Saab also scores highly in the quality department, as the car feels sturdy and durable.
Accessibility

Front seat occupants will have no trouble getting in or out. The doors open wide and the height of the roof is no obstacle to egress and access. Rear seat passengers aren't quite so lucky; clambering over the folded front seats is one thing, but once installed the amount of space available is modest at best. Opt to erect the wind deflector and rear access is out of bounds. Thankfully access to the car's boot is straightforward.
Stereo and ICE (In car entertainment)
The standard set-up is a good one, with both radio and CD player performing well. The unit is conveniently located within easy reach of front seat occupants, boasts intuitive controls and a clear display. Upgrades include a CD changer, sat-nav and Bluetooth to link your own phone to the car for handsfree operation.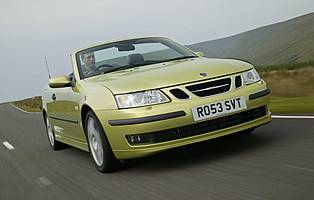 More cruiser than B-road bruiser, the 9-3 is refined at speed but no sports car
Colours and trim
Attractive out of the box, the 9-3 looks good in most exterior colours. Silver is a particular favourite judging by the cars on the road. With one eye on resale values, it would be wise to select a metallic hue. Inside, the Saab's cabin is largely a dark and sensible place, although the odd flash of lighter trim does help lift the ambience when the roof is up.
Parking
With the roof up, rearward visibility could be better - blame the car's three-quarter blind spot. Roof down it's a different matter, and much better. Roof matters aside, the act of parking is straightforward; the car's steering offers plenty of assistance, its mirrors are a decent size and its easy to judge where the 9-3's bonnet ends.
Spare wheel
Space saver fitted as standard.
Range information
Petrol engines: 1.8t (150bhp); 2.0t (175bhp); 2.0T (210bhp); 2.8T (247bhp). Transmissions: five and six-speed manual depending on variant, plus optional auto gearbox. Trim levels: Linear, Vector and Aero. Latter is reserved for high-power sporty models.
Alternative cars
BMW 3 Series Coupe Biased towards delivering a sporty ride. Not cheap, but competent and very popular
Mercedes-Benz CLK-Class Cabriolet Comfortable and big enough to seat four but pricey in this company
Audi A4 Cabriolet Practical A4 is a full four-seater although, like the Saab, it's not famed for its driving dynamics
Nissan 350Z Convertible Value for money two-seat Nissan is a proper drivers' car. Cabin quality could be better, though
Over 1,200 more car reviews online
All the reports since 1990 are available on this site, just search by make and model below.
Other products & services
Related information
January 2006