Vauxhall Zafira Club 1.9 CDTi (120PS)
June 2005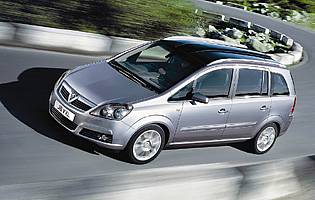 Zafira looks sharper and more potent than predecessor
Ratings
Overall rating
Value for money
Costs
Space and practicality
Controls and display
Comfort
Car security
Car safety
Likes
New look manages to be striking without seeming faddish
Cabin fit and finish among the best in its class
Simplified range structure is easy to understand
Panoramic sunroof unlike anything else being offered
Gripes
Some optional extras are simply too expensive
Still lacks prestige status of some rivals
1.6 petrol engine too weak for family use
Seats cannot be removed entirely
The first Zafira created the modern compact MPV almost single-handed, proving that seven seats could fit into a compact platform without completely compromising interior space. The second-generation Zafira performs exactly the same feat with even greater conviction.
Though not radically different to the groundbreaking first-generation car's formula, the latest Zafira is an improvement in every respect. It looks smarter, drives more keenly, is just as practical and represents better value for money than ever.
Impressive though rivals such as the Toyota Corolla Verso, Renault Grand Scenic and Mazda5 are, the Zafira has a justifiable claim to be the best compact seven seat MPV out there. Happily, the superb Flex7 seating system is retained because by their own admission, Vauxhall's engineers couldn't come up with anything better. Nor can rivals, whose own seating systems are invariably no more than variations on the Flex7 theme.
At the front the Zafira gains the same attractive nose as the Astra, differentiated only by larger and even more alluring headlights. The central 'fold' running along the entire length of the vehicle is another now-familiar Vauxhall design trait and with the optional Panoramic roof installed, the Zafira looks unlike any other car on the road.
But it's round the back that the Zafira is really striking. The old model featured a completely forgettable rump, but this one is easy on the eye with its huge rear window, broad tailgate and cleverly arranged taillights set in chrome mountings. These days, Vauxhall produces some of the most interesting and classy designs offered by a mass-market manufacturer.
Our verdict on the Vauxhall Zafira Club 1.9 CDTi (120PS)
Zafira remains perhaps the best all-round family vehicle on the market. At home in all conditions and roles, and fairly priced, there is no more flexible vehicle available today.
Costs

With a more generously equipped and technologically advanced line-up, Zafira prices should be higher than those for the model it replaces - but they aren't, thanks to the simplified specification list. Common low-speed shunts are cheaply repaired to keep insurance costs down. A main service is required only every two years or 40,000 miles, while the diesel models make a good case for themselves as work cars thanks to low emissions.
Space and practicality

The Flex7 seating arrangement has been left largely untouched - after all, why change a winning formula? With the optional Panoramic roof the Zafira delivers an incredible feeling of space, along with neat storage solutions in the form of overhead roof lockers. The rear tailgate has a low loading lip, while also having a wide aperture. Depending on specification, up to 30 different cubby holes and pockets are available in which to store the bits and pieces that go with family life.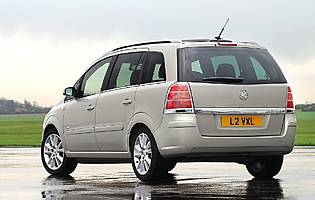 Wide tailgate features a low loading lip
Controls and display

The interior has an upmarket feel, with soft-touch plastics and gently-damped controls. A multifunction steering wheel, standard in all models from Club upwards, allows control of the stereo and infotainment functions without the need to take your hands off the wheel, while heating, ventilation and climate control buttons are simple and intuitive to use. The central display screen is mounted high up in the facia, making it easy to read without taking your eyes off the road.
Comfort

Seats in the old Zafira were prone to sagging after a while, but these feel far firmer and should last well. Passengers in the second rank of seats have only moderate legroom, but that is what allows passengers in the third rank to enjoy a better environment than they would normally expect. Headroom is superb throughout the vehicle and there's little or no noise or vibration through the cabin - yet another indicator of a high quality vehicle.
Car security

All models get remote central deadlocking. An alarm system is included only with SRi and VXR trim levels. The optional Keyless Entry and Start system means that if you have the key on your person you don't have to operate the remote control to get into the vehicle and drive off. It's worth the extra outlay for the convenience it provides.
Car safety

Twin front, side and head curtain airbags help cushion the impact of an accident, though it is disappointing that Vauxhall's acclaimed Active Head Restraints are not provided in all models. A seat occupancy detection system can work out whether the Isofix-equipped front passenger seat is unoccupied or fitted with a transponder-equipped child seat, and disables the airbag if necessary. Again, it's an option. While that long nose might look like it has been designed purely for style, it has a far more important purpose, making the Zafira able to comply with the latest European pedestrian safety guidelines.
Driver appeal

Sitting atop a version of the same chassis as the Astra, it's little surprise that the Zafira ranks among the more enjoyable drives in its class. Mind you, with a powerful VXR version in the line-up, it needs to have strong, responsive underpinnings. Vauxhall makes a lot of noise about its optional IDS-Plus system, which includes electronic Continuous Damping Control (CDC) and an optional sport chassis, but in all honesty the Zafira doesn't really need such expensive additions. Standard steering and damper settings are perfectly acceptable and a repositioned gearstick in manual versions makes quick shifts a cinch.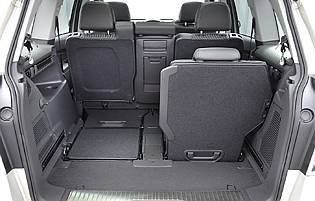 Flex7 system has been retained and it still works a treat
Family car appeal

Few cars can rival the Zafira for family-friendliness. While it's true that seven-member families are fairly rare, it's common for families to share school run duties or pick up each other's kids from football or netball practice, tasks at which the Zafira excels. And it's tough enough to carry on doing so for years.
First car appeal

First time buyers will be far more likely to gravitate towards a Corsa or Astra than a Zafira, as carrying several passengers will not be a priority.
Quality and image

Parent company Opel invested GBP300 million in a state-of-the-art facility in Bochum, Germany, where the Zafira is built. Happily, the money has not been wasted. Like the Astra, the Zafira feels like a far classier car than its predecessor. Despite that, the fact that it is such a ubiquitous sight on our streets means that it is unlikely to be regarded as an upmarket vehicle, however unjust it may be.
Accessibility

With car-like doors instead of sliding portals, some large MPVs are easier to get into and out of, but in terms of its class, the Zafira fares well. Doors are nicely balanced so that they require little effort to use and the estate-style tailgate allows huge loads to be carried with the rear seats folded flat.
Stereo and ICE (In car entertainment)
A single-slot CD radio is standard issue, though upgrading to one of the more expensive optional systems is quite costly. Audiophiles might consider the CDC 40 stereo radio with DAB and integral six-disc changer, while the Twin Audio system, which allows passengers in the back to listen to a different radio station or CD to those in the front, should help avoid arguments on long journeys.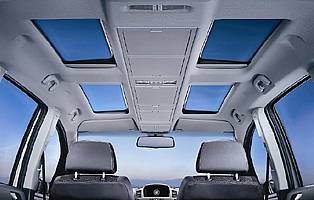 Optional Panoramic roof adds a dash of drama to the interior
Colours and trim
A welcome rationalisation of the Vauxhall line-up means it's now far easier to understand exactly what your money buys. In general, the Zafira comes with less kit as standard but prices are also lower and adding extras is straightforward. May options, such as the Panoramic sunroof and towing pack, are extremely attractive, though they can be expensive, so choose wisely.
Parking
It feels so spacious inside the Zafira, it is hard to believe it is based on the same platform as the Astra hatchback. The relatively small footprint aids parking, though the driver needs to factor in some substantial overhangs - particularly at the front - into his or her calculations. Sensors are a cost option, even on range-topping cars.
Spare wheel
Models with 16 or 17-inch wheels get a 15-inch steel spare, but models with 18-inch wheels have a repair kit instead.
Range information
Engines are 1.6 petrol (105bhp); 1.8 petrol (140bhp); 2.0i Turbo petrol (200bhp); 2.2i petrol (150bhp); 1.9 CDTi diesel (120bhp) and 1.9 CDTi diesel (150bhp). In addition a performance-oriented 240bhp VXR version will be offered. Range designators are Expression, Life, Club, Design and SRi and VXR.
Alternative cars
Toyota Corolla Verso Masterclass in interior packaging and reliable. Lacks big-car feel
Renault Grand Scenic Spaciousness is bought at the price of a compromised ride
Mazda5 Good all-rounder is let down by workaday dash and some flimsy controls
Volkswagen Touran Solid and safe but, it must be admitted, very dull
Over 1,200 more car reviews online
All the reports since 1990 are available on this site, just search by make and model below.
Other products & services
Related information
June 2005