Peugeot 1007 1.4 Dolce
April 2005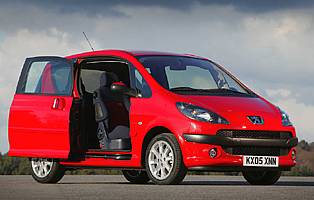 The 1007's sliding doors cannot be missed
Ratings
Overall rating
Value for money
Costs
Space and practicality
Controls and display
Comfort
Car security
Car safety
Likes
Sliding doors work effectively
Individual rear seats are comfortable
Able to fit into tight parking spaces
Reassuring sense of solidity
Gripes
Feels heavy, lacks urgency
Lots of wind noise at motorway speeds
Cabin fit and finish merely adequate
Only seats four, with little luggage space
Given some of the coverage the Peugeot 1007 has attracted, you might think it is little more than a couple of clever doors mounted on a chassis. It's definitely different, if not quite as revolutionary as Peugeot would have us believe, and should make its presence felt in a marketplace that includes the Renault Modus and Honda Jazz.
Instead of launching into an involved discussion of the pros and cons of the 1007's most obvious feature - its sliding electric side doors - it is really only worth noting that the system works well. That's hardly surprising as it's virtually the same as the system used for several years on the 807 people carrier.
It follows that many MPV-style benefits are available to the 1007 despite its relatively small size and the presence of only four seats. Older drivers and some disabled motorists will love not having to haul the doors open by hand and access to the front seats is simple as they are conveniently positioned at hip height.
There are also MPV-style drawbacks. All those extra electric motors add a good deal of weight. The MPV-like shape is rather dumpy and dynamically the 1007 is uninspiring and uninvolving, if perfectly able.
But there are also nice touches such as interior accents that can be changed to suit your mood, a generous standard specification and excellent crash test ratings. The majority of buyers are expected to be female, and women will appreciate the car's feeling of being safe and secure as well as its town-oriented driving set up and a capable automatic gearbox.
Our verdict on the Peugeot 1007 1.4 Dolce
Ignore the doors and you'll see the Peugeot 1007 for what it really is - a capable, safe, if slightly bland urban runabout with excellent accessibility. This relatively fresh sector of the new car market is already full of strong contenders, so securing a reasonable discount on the list price is probably necessary to make the 1007 seem more appealing.
Costs

A glance at the list prices seems to put the 1007 at a disadvantage compared to some competitors but as Peugeot is keen to point out, it does come with a good deal of standard equipment that not all rivals can match. Peugeot's reputation for reliability is average, but any repairs that are required tend to be cheap and the dealer network is well regarded. General running and insurance costs are low.
Space and practicality

This is strictly a four seater, so you might expect there to be plenty of extra room to play with. You'd be wrong. The boot is tall but does not extend far into the cabin. Rear seats can be folded behind the front seats but not removed completely. Doing so restricts front seat legroom as the seats cannot be pushed fully back. The range of storage areas around the cabin is good, though.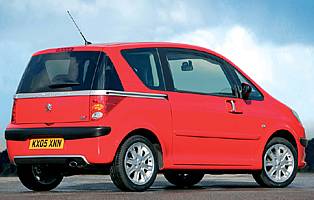 Doors' running rails spoil the looks somewhat
Controls and display

Peugeot dashboards aren't generally terribly inspiring and the 1007 is no exception. Everything is clear though, airflow is pleasantly regulated via some well-positioned vents and most of the main controls are chunky enough to be operated easily, the exception being the fiddly stereo/sat nav. Buyers get a free 'Cameleo' pack which allows them to change the colours of interior elements such as the air vents and tray mats.
Comfort

With pliable suspension settings, thickly bolstered seats and no danger or neck-snapping acceleration, the 1007 scores quite well for comfort. At motorway speeds however there is a good deal of annoying wind noise and if you invest in Peugeot's optional satellite navigation system it has an infuriating habit of whirring and clicking its disc constantly. Tall passengers are well served by ample headroom but need to ensure the front seats go far enough back for them.
Car security

Potential thieves will certainly face a new challenge if they want to get into the 1007 and drive it away. Deadlocks and remote central locking will help to stop them. Its distinctiveness is unlikely to make it a prime target for thieves, though the exposed spare wheel might get some attention.
Car safety

Safety concerns have centred on the reliability of the doors and their performance in a serious crash. In such an accident, they can be chopped off by firemen at three points. Peugeot is confident that they are just as safe as conventional doors. The 1007's official crash test performance was excellent and numerous important safety features are included as standard such as curtain airbags, side airbags, ABS with EBA and ESP.
Driver appeal

This is not a driver's car, but it is a car that's easy to drive. The diesel engine with manual gearbox is the most satisfying combination on open roads, possibly because of different weight distribution, but in the busy traffic that is likely to be the 1007's main environment the added practicality of the six speed automatic gearbox is hard to argue against. It can be operated in clutchless manual mode, though this is only really useful on steep inclines. Steering gives pleasant feedback but in other respects the 1007's demeanour is neutral.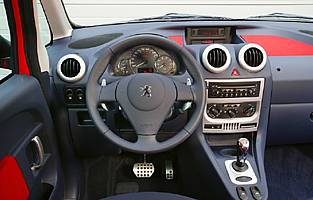 Coloured cabin accents help brighten the interior
Family car appeal

Again, the lack of a fifth seat and limited load space somewhat hampers the 1007's family appeal, though it could be usefully employed as a second car. Kids generally like having their own seat and parents will feel safer seeing them strapped into the chunky ones the 1007 has.
First car appeal

First time buyers are likely to prefer the smaller, perkier 107 city car. The similarity of the names is unfortunate and could cause some initial confusion at dealerships but when the cars are parked side by side there's little danger of confusing them. Latecomers to the motoring world might prefer the 1007.
Quality and image

It's difficult to pin down exactly how the 1007 will be regarded by the public and only time will tell whether it is viewed as a quirky one-off or - like the 206 CC with its folding hardtop - another case of Peugeot leading where other manufacturers follow. It's a shame that apart from ease of access, the 1007 has no really outstanding features. Much will also depend on the reliability of the doors' electric motors.
Accessibility

Because both rear seats are individual instead of being the bench style favoured by the Modus, rear passengers enjoy enhanced comfort levels. However, climbing into the back is tricky - because the doors must not extend behind the vehicle's rearmost point, the available opening behind the front seats is narrow. Fine for kids or teenagers, not so great for more mature or weighty passengers. Front seat comfort and headroom throughout is excellent.
Stereo and ICE (In car entertainment)
A very decent radio-CD player with six speakers is provided and gives good sound quality, perhaps aided by the 1007's high roof. Operating it from the dashboard is fiddly, so you'll quickly learn to master the integral steering wheel controls, which fall readily to hand. It is possible to upgrade to a JBL system with eight speakers and 240 Watts with a five-CD autochanger.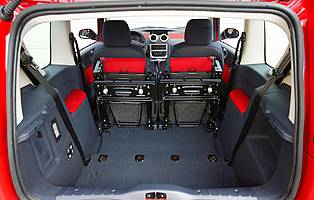 Without rear seats folded, boot is quite small
Colours and trim
Despite the name, Sport models are mechanically identical to Dolce models. Differences are largely cosmetic with slightly different headlights, grille, dials and interior detailing. You need to look pretty hard to notice many of them. All buyers get an extra 'Cameleo' kit, which allows them to change the colours of some interior elements to suit their mood.
Parking
Those sliding doors really come into their own in tight parking spaces, allowing passengers in and out when conventional hinged doors would make it impossible. They also remove the risk of poleaxing any passing cyclists when parallel parking. Steering lightens up nicely at parking speeds while the raised seating position, almost vertical rear end and good-sized mirrors make the 1007 perfect for unconfident parkers.
Spare wheel
A full-sized steel spare wheel is slung under the rear of the car.
Range information
A three-engine line-up comprises 1.4 (75bhp) petrol; 1.6 (110bhp) petrol and 1.4 HDi (70bhp) diesel. Trim designators are Dolce and Sport. A 2-Tronic automatic gearbox is available with petrol models only as an alternative to the standard six-speed manual gearbox.
Alternative cars
Renault Modus Cheeky character and seats five at a push
Honda Jazz Still fresh, spacious and ultra-reliable
Mitsubishi Colt Decent all-round effort
Smart Forfour Looks good but pricey and boasts a firm ride
Over 1,200 more car reviews online
All the reports since 1990 are available on this site, just search by make and model below.
Other products & services
Related information
April 2005