We're often asked about motoring trends and the next big thing around the corner.
With sales of new electric and plug-in hybrid vehicles doubling last year, the AA is keen to encourage the uptake of EVs and to develop partnerships to help develop and maintain infrastructure, training and servicing to help drivers make the most of the EV revolution.
To help bust a few of those myths, I'm going to be living with a number of different EVs over the next few months – using them for work and pleasure – and blogging here about my experiences.
With my initials, EVK, you could say I'm the right man for the job – Edmund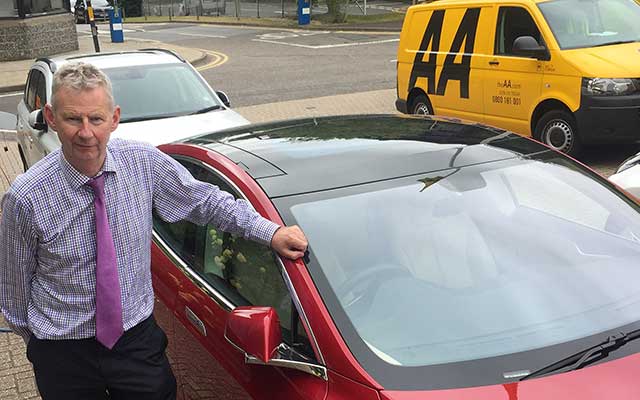 Read my latest blogs
10 August 2023
Once again, Edmund once again takes part in the EV rally, this time in World car of the Year, the Hyundai IONIQ 6
---
24 July 2023
Edmund and Greg drive a car designed for occupants, not onlookers
---
15 May 2023
Technical specialist Greg Carter tries out the new Renault Arkana hybrid SUV
---
20 April 2023
Edmund King OBE drives Toyota's first mass production, full BEV
---
14 February 2023
Citroen's electric quadricycle
---
24 October 2022
BMW's sporty EV is an impressive drive
---
01 October 2022
Driving the MG5 EV
---
20 September 2022
Driving Volkswagen's versatile ID5
---
6 May 2022
This appeared to me like a car that you should be driven in, rather than drive yourself.
---
10 February 2022
Great SUV but is it a Mustang?
---
21 November 2021
The impressive Polestar 2 copes well with the Scottish Highlands
---
1 November 2021
Driving 1200 electric miles to make a point
---
9 September 2021
Some 99% of drivers in our recent poll totally over-estimate the percentage of EV breakdowns due to running out of charge
---
17 June 2021
Guest blog - Public affairs technical specialist, Greg Carter on the Silence SO1 electric motorcycle
---
2 March 2021
"Electric vehicles are expected to overtake diesel cars on UK roads by 2030, according to our new study"
---
30 December 2020
"The plug-in hybrid is a real stepping stone to a pure EV. Hybrid drivers get used to charging up at charge points and tracking down appropriate charge points for their cars"
---
15 October 2020
Find out why I loved driving the Porsche Taycan Turbo S and rated it the best electric car I have ever driven.
---
29 June 2020
I'm thrilled to be able to announce that the AA is to be a World EV Day Founding Partner.
---
4 February 2020
My review of driving the lime green Hyundai Kona Electric Premium SE
---
2 December 2019
My view on how government grants for fleets can help spur EV uptake.
---
18 June 2019
I explore some of the barriers to EV adoption.
---
7 January 2019
My view on living with a Nissan Leaf long term.
---
28 November 2018
I have a chat with Spectator Podcast's editor Fraser Nelson about the challenges facing low carbon transport.
---
28 November 2018
I explore the confusing world of charging apps and top up cards.
---
9 November 2018
Find out what we've learned after 2 years of driving a Nissan Leaf.
---
10 August 2018
Soon it will be as common to ask 'do you have a charging point' as 'do you have WiFi'.
---
11 June 2018
We learn about the new version of the Nissan Leaf.
---
30 April 2018
I go for a spin in my son's SEAT Ibiza.
---
23 April 2018
I get butterflies teaching my son to drive.
---
16 April 2018
I discuss the options when choosing a car to learn to drive in.
---
14 March 2018
Find out what happened when test driving the BMW i8 plug-in hybrid supercar during the Beast from the East.
---
15 February 2018
I myth-bust some of the negatives around plug-in hybrids.
---
Visit the archive for more blogs about electric vehicles.
---