Bad timing or what? The day I took delivery of a BMW i8 plug-in hybrid supercar for a week was the beginning of the 'Beast from the East' snow storms.
So, the poor supercar sat on my driveway unused for four days and covered in snow, while I was busy appearing on TV and radio talking about record breakdown volumes and how to drive safely in the snow.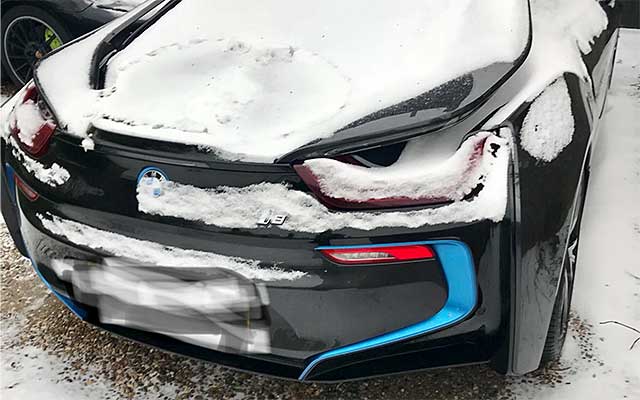 But boy, it does look like a fine car – even under the snow, and I couldn't wait to drive it.
The i8's rear-wheel drive when running purely on petrol, front-wheel drive in electric mode and when the foot goes down it can go into all-wheel drive. I tried to convince myself that for local journeys in electric mode I would be fine in the ice and snow, but knowing that it's a £100,000 supercar meant I couldn't risk it.
Quite a few people I spoke to were under the impression that the i8 is a pure EV rather than a hybrid, and were asking about its range. The zero emissions, pure electric range is about 20 miles, depending on temperatures and how you drive it, which many people seem to think is inadequate. It isn't. I got into the habit of plugging into my Chargemaster charge point every time I got home. That meant that all those short journeys – to the shops, to football, to the school, and generally being the parent taxi – could be in electric mode.
So what's it like?
I think it looks absolutely fantastic, especially in black. I had assumed it was a two-seater but it does have two 911 size seats in the back. OK for a very short journey with little people but not much more. It has impressive gull-wing doors that seemed to work even when I was parked fairly close to the next car.
What may surprise is that Its engine is 'only' a 1.5-litre three-cylinder petrol shared with the Mini, however, it is tuned to produce 228bhp. Another 129bhp comes from the i8's electric motors and their combined force means that 0-62mph in 4.4 seconds is possible.
The driving position, sat nav and especially the head-up display showing both your speed and directions are just great. I do feel more cars should display your speed on a head-up display as it saves looking down so frequently.
There are little touches such as the charging socket on the car lighting up when you open it which is very useful in a poorly lit area at night. The boot is pretty small but probably not for a supercar.
Compared to pure EVs such as the Tesla reviewed below, the sound's awesome. However, I did get a bit confused when I read in the handbook that a fake engine noise can be piped into the cabin through the speakers. Despite this, flooring it on a straight road with the windows open creates a great sound as the engine runs through the gears – something you'll never get in a pure EV as they don't have gears.
Power from the petrol engine is transferred to the rear-wheels using a six-speed auto and the front handles the electric motor using a two-stage automatic box. You can control the six-speed either by leaving it in auto mode or via the shift paddles on the steering wheel.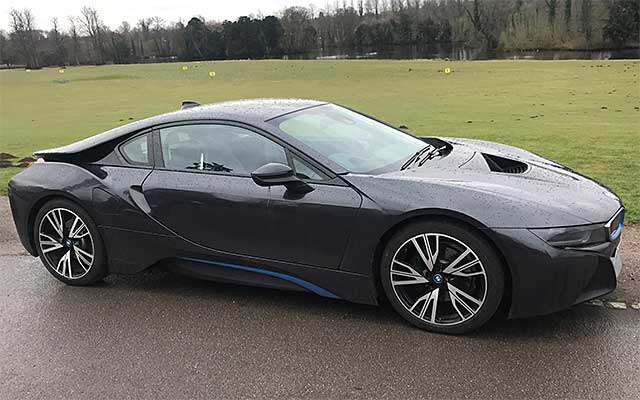 The official combined fuel economy figure is 134.5 mpg while the US EPA rated it at 91 mpg overall, and 34mpg on petrol alone i.e. after the battery's drained. I didn't have the time to verify these figures but the overall mpg certainly seemed very reasonable for the journeys I made and the miles I drove.
All in all, I really loved this car much more than I thought I would. It brought a smile to my face particularly on attractive rural roads. Even my mother, who is in her late eighties, managed to get in and out and loved the ride too.
Anything that is good for my mum is good for me.I want one.
This is one EV I could certainly live with.
---
Edmund (14 March 2018)