Our head of PR Ian Crowder, is looking to replace his family's two-year-old Nissan Leaf with the new version. He tried it at the EVEC in Milton Keynes:
The AA's PR and marketing teams organised their quarterly meeting at the Electric Vehicle Experience Centre in Milton Keynes the other day. Afterwards I took the opportunity to try out a couple of the EVs on the Centre's fleet. The Centre – an initiative of Chargemaster along with the forward-thinking Milton Keynes Council and Go Ultra Low – is designed to encourage the uptake of electric vehicles by providing information and the opportunity to test drive a range of EVs and plug-in hybrid cars.
As previously mentioned in this blog my wife Hilary drives a 30kWh Nissan Leaf which has proved to be an enjoyable and reliable family run-around. In fact I used the car to travel from home in Cheltenham to Milton Keynes, plugging in to one of the city's 200 charging points. The car is coming to the end of its two-year lease and I was keen to try the new 40kWh Leaf which is winning praise from all quarters for its style, performance and high spec.
The new car was everything that the media hype surrounding its launch promised and offers a much more engaging driving experience. Its acceleration is startlingly good (0-60 in 7.9 seconds); it is of course extremely quiet and has a more refined interior with less hard plastic than the model it replaces, although there are still an awful lot of buttons on the dash while the touch screen seems somewhat small compared with other EVs. One nowadays quirky feature is a conventional analogue speedometer which is evidently there by consumer demand. The new Leaf is certainly much better-looking than its predecessor, too. The greatest innovation on the 40kWh Leaf, though, is the one-pedal operation which works when you switch to E-pedal mode. And it is very easy to drive without ever touching the brake pedal, even in busy stop-start traffic. Take your foot off the throttle and the car smoothly slows to a complete stop using a combination of regenerative and friction braking.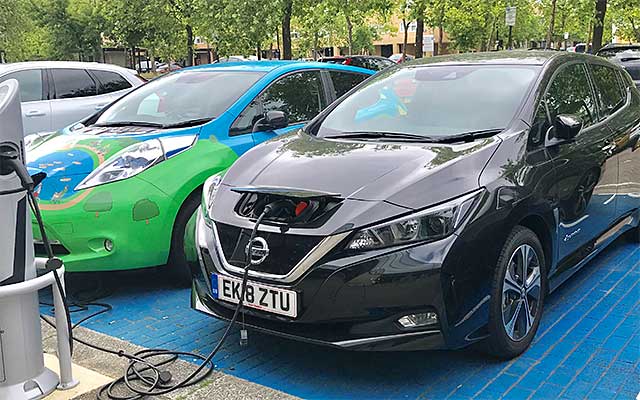 Other innovations include 'E-pilot' active cruise control with lane-keeping assist and intelligent emergency braking. This isn't a new concept of course but a welcome addition to the car's features, absent from the earlier Leaf.
The car has deservedly won What Car? Car of the Year as well as a five-star Euro NCAP rating.
Lewis, the enthusiastic and knowledgeable EVEC guru who took me out, explained that his job is to sell the concept of EVs – not the cars themselves. In fact he had a retail rather than car sales background and It transpires that his own car is an EV – a Renault Zoe – but admitted his favourite on the fleet was the new Leaf.
It was only a 20-minute drive but the new Leaf, while retaining some familiar features, is big advance on its now somewhat dated predecessor and, of course, has a greater range although the claimed 168 miles WLTP combined cycle is probably optimistic. We have found living with an EV to be a joy – but the new Leaf takes that enjoyment to a new level.
Now if you'll excuse me, we need to pop round to our local Nissan dealer…
Drive safely.
---
Edmund (11 June 2018)