The joy of driving
On the day this beast of a Porsche was delivered I was giving a lecture on driverless cars.
One of the points I made is that so many of us - 63% in fact - still really 'enjoy' driving. And it shows; the smile was still ingrained across my face after taking the Taycan for a spin that morning. I was still enjoying it in my mind.
This car captures the essence of that joy of driving. In some ways it doesn't even matter that it is electric, it is just a fantastic super-car. (I know that the 'turbo' is probably a contradiction in terms to both the petrolhead and electric-head, but who cares?)
High-tech spec
The version I had was teched up from £138,826 to £151,210 as it included extras such as 'night vision assist', ambient lighting and wheels painted in Satin Platinum. It looked the part in Jet Black Metallic which suits the lines of the car, but I also love it in white although it looks totally different.
Even the door handles and charge points (one on each side at the front in case you forget) are inviting and masters of design. The attention to detail really makes this car stand out.
As for the interior, where to start? Even though it's a four-seater, it feels much smaller than the Panamera and yet much bigger than a 911. The front seats are adaptive sports seats with an 18-way electric memory setting. I just sat in it and found it instantly comfortable but firm without any adjustment.
The two back seats come with decent legroom, but headroom is a struggle for anyone over 5ft 10.5 inches as the top of your head will touch the suede ceiling lining. The front head restraints also block your view somewhat, which might be a little claustrophobic on a long journey.
Flashy infotainment
Back up front, my son thought the clustered steering wheel and screen were very cool, like a sophisticated PlayStation. It felt like that at times. The screen and controls are basically intuitive, and it didn't take me 100 miles to change the radio station unlike another EV I have driven. The rear window is fairly small, so it takes a while to come to terms with the all-round visibility, but it has a great parking camera with rear and overhead shots which enhances any lost visibility. The radio, sat nav and indeed all the controls are stylish yet highly functional.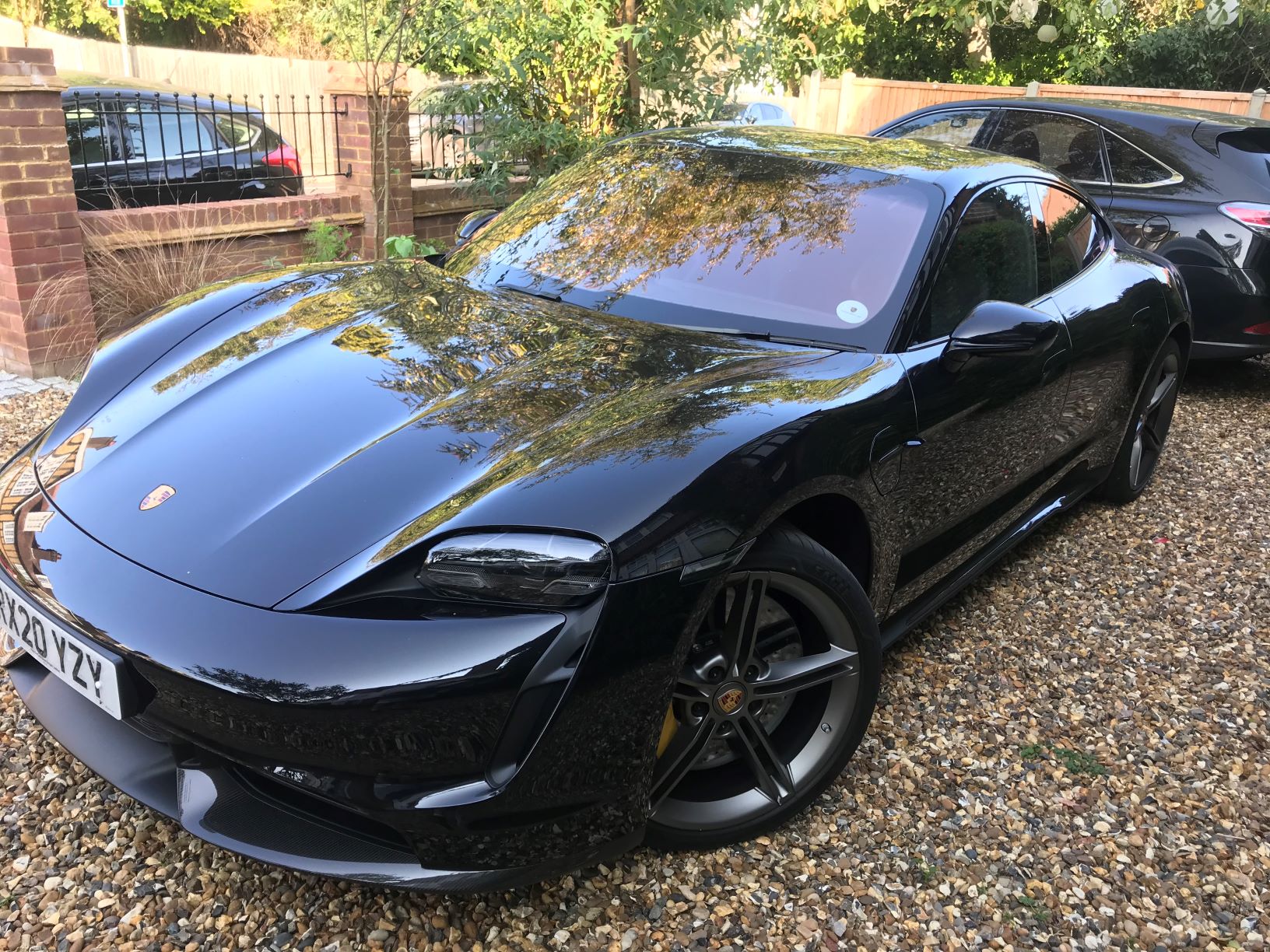 A driving dream
Onto the road. Given the sleek styling and low profile I was slightly worried about touching the spoiler on the pavement when pulling out of the drive, but I needn't have been concerned. You just press a switch to 'lift' the chassis, pull out of the driveway and put it back to normal or low chassis.
In normal mode, the Taycan sounds like a regular EV rather than a Porsche. It is only when in Sport Plus that it pumps up the volume and sounds gruffer, which I preferred. No matter what it sounds like, it drives like a Porsche. On winding roads, it just grips onto the road surface and corners beautifully. It is a joy driving at 30, 50 or 70mph. On the motorway it felt solid and sound-proofed.
The drive was a pleasure. In my mind I tried to compare it with driving a 911 Carrera S or a Panamera hybrid. Whilst being just as good as the 911 it was still a totally different experience – somehow more relaxed. Compared to the Panamera it felt lighter, more fleet-of-foot and nimble. I think 911 drivers will love it, but like me, they would probably prefer it with sound…
And yes, from a standing-start, it is like lightening – 0-62mph in 2.8 seconds with launch control. Even in regular mode it is ultra-quick. As you pull away you feel the seat-belt tensions. With acceleration from 49-74mph in 1.7 seconds and on a top speed of 161 mph on European roads where permitted – it is very fast.
A promising range
The dash in the car said it had a range of 220 miles when fully charged although the combined range is reported as 254 miles. I didn't really drive it enough to measure the exact range, but the 220 range would probably suit most drivers.
Several people told me that the Turbo S is absolutely brilliant, but that most people would be just as happy with the Taycan 4S, which starts at a slightly more modest £83,580 including VAT. I better start saving…
To me, the Taycan Turbo S is simply the best electric car I have ever driven.
---
Edmund (15 October 2020)