Eighteen years ago, I picked up the keys to my first EV (electric vehicle) from Mayor Ken Livingstone in Trafalgar Square. I was part of pilot scheme to trail this pioneering car for 6 months.
But, the first electric vehicles were around more than one hundred years ago, and an electric vehicle held the land-speed record until about 1900. Then the internal combustion engine kicked in and petrol and diesel have been the dominant source of road vehicle power ever since.
Now it is widely predicted that the tide is turning as the UK government has indicated that practically all new cars should be zero emissions by 2040.
The car I picked up almost 20 years ago was quite different from the electric cars of today. It was a Ford Th!nk City Car, body made of polyurethane with a top speed of 56mph and a range of about 37 miles. Back then charging was a bit of a problem as there were next to no public charging points. Somehow, I managed to persuade a private car park off Pall Mall to put in a charge point which was actually a 13 amp plug socket, but it worked.
A cable out of the window
I did though have a problem at home as I lived in a first floor flat in Islington. Running an extension cable out of the flat, down the wall and across the pavement wasn't ideal. The range of 37 miles was also testing as one night I discovered that didn't take account of the windscreen wipers, so I ran out of power in Radlett on my way to St Albans in the rain. Had to call the AA.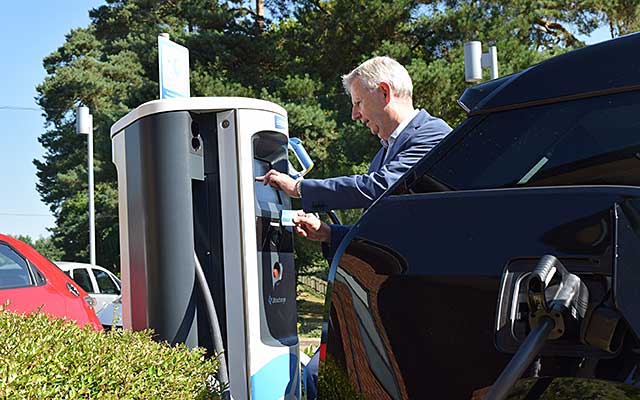 So almost two decades on how have things changed?
Practical measures
Well despite rhetoric and challenging climate chance targets, practical measures are needed before mainstream motorists will be convinced to buy electric vehicles.
At the AA we run a motoring panel with pollsters Populus and get responses from approximately 20,000 drivers every month. We use this data to inform our thinking on trends such as the take-up of EVs. According to our latest polls the biggest barriers to choosing an EV are price, range and the availability of charging points.
When asked 'what would it take for you to choose a battery electric vehicle?' our members say:
35% – EVs cost the same (or less) than petrol/diesel
33% – Real world range > 250 miles on a single charge
27% – A lot more charging points where I park
25% – Hundreds of rapid chargers along strategic roads
16% – More choice of cars
15% – Penalties for driving petrol/diesel become too high
Men are significantly more likely to be concerned about range while women are more likely to be concerned about charging points where they park.
New laws?
We have also recently tested support for possible regulatory ideas that could be implemented to try to encourage the take-up of plug-in vehicles – both Battery Electric and Plug-in Hybrid.
The most popular possible measures were:
68% support charge points installed as standard in all new homes with their own off-street parking
65% support charge points installed as standard for all new homes with allocated parking nearby
59% support home chargers defaulting to off-peak charging, but 75% say driver must be able to override to charge immediately
Regulatory ideas that our members were least likely to agree with were:
Only 14% agree that Plug-in Hybrid Electric Vehicles (PHEV) should be allowed to use bus lanes, and
Only 16% agree that Battery Electric Vehicles (BEV) should be allowed to use bus lanes.
Confusing
The real problem is that half of drivers find the whole subject of charging rather confusing due to the number of different types, speeds, payment methods and connectors. It's no surprise that more than three-quarters (77%) support the idea that there should be a uniform method of accessing public charging points.
The majority of EVs in the future will do their main charging overnight at home. Three quarters of AA members park their cars overnight off the road and on their own land (58% on the driveway, 16% in the garage) where, potentially, they could be charged. But that means one quarter of mainly city dwellers would not have access to their own charging point and hence we need more on street and off-street solutions perhaps utilising office or supermarket carparks not used at night.
Green number plates
The Government recently floated the idea of EVs having green number plates so that the public becomes more aware of the increase in EVs. Views are divided on this with around a third (37%) supporting the idea of green number plates, a third having no view, and a fifth (22%) being opposed to it. The cynic may argue that it would make it easier for local authorities to target non-green number plates with hiked parking or congestion charges. If it does then we can soon expect to see a black market in green plates.
It is easy to say that all new cars should be electric by 2030 or 2035 or any arbitrary date but the reality is that the legitimate concerns of drivers regarding cost and supply of vehicles, range and ease of charging need to be addressed.
The right car at the right price
The big game changer for a large majority (84%) of drivers will be when the car manufacturers can offer the right car at the right price. On average EV models are at least £10k more expensive than equivalent petrol or diesel models, even with the current Government EV grant of £3,500.
Throughout history we have seen certain iconic cars break the mould from the Model T Ford through to the Morris Minor, Mini or Beetle. Once we can buy an EV that is affordable, stylish, fun, economical to insure and run, with a decent range of at least 250 miles, then it will be that game-changer.
The electric revolution over the next eighteen years will have to be on a massive scale relative to the comparative slow progress over the last eighteen years if the Government's target is to be met.
Trying to achieve this by taxing or charging conventionally fuelled vehicles off the road wouldn't be acceptable without affordable alternatives. If car buyers are going to buy EVs in significant numbers, then we're going to need that game changer soon.
Watch this space.
(this article originally appeared in the New Statesman)
---
Edmund (18 June 2019)