We only have the SEAT Ibiza FR 1.0 litre 115PS so that my son can learn to drive a manual car but seeing it sitting there, I was tempted to take it for a spin.
Most of my recent cars have been Electric, hybrid or sports cars so driving the Ibiza was a different experience. It certainly looks stylish with its sharp bodywork creases and triangular LED lights.
The 8-inch touchscreen on this FR-spec model is impressive and, even for me, was intuitive to use.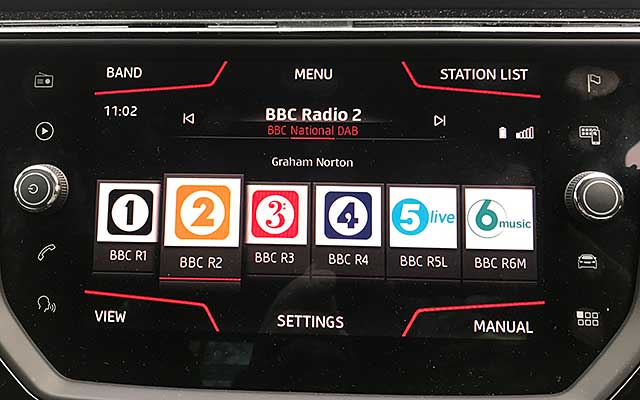 There are some controls on the steering wheel too, so you don't have to fiddle with the screen while driving.
Overall the dashboard looks smart and works well but I would perhaps prefer a slightly more prominent speedometer as it's very easy to inadvertently creep up to the speed limit.
I liked the eco features – it tells you what gear you're in and when to change gear and it even told me off with an eco-tip when I had the clutch in whilst braking.
Size doesn't matter
This was my first experience of driving a car with a small, turbo-charged, direct injection petrol engine. With its 113bhp this 1.0 litre three-cylinder engine's nothing like the old 1.0 litre cars I had years ago which were all under-powered. It sounds great and drives even better.
At low speeds, you hear the engine when accelerating but at cruising speeds on the motorway, it's almost entirely inaudible and smooth.
Impressive safety features
All Ibizas come with electronic stability control to help you regain control if the car skids. There are six airbags too.
More impressive is the range of active safety features including adaptive cruise control and front assist to warn you if you are at risk of hitting a vehicle in front. If you don't react it has autonomous emergency braking (AEB) that can automatically apply the brakes. This is what helps give it the top five-star score from Euro NCAP.
I really enjoyed driving it both on country roads and the motorway. It is amazing how small cars have improved so much in terms of performance, comfort and indeed safety in the last twenty years.
They are also much more sophisticated – I was impressed that the side mirrors turn in when you hold down the key fob to lock, which reduces the risk of damage in tight car park spaces.
My verdict? Fantastic
It's not an EV but the economy seems great. It is difficult to judge exactly with a learner driving mainly on slow, local roads but it certainly seems to be getting more than 57 mpg.
I'd be more than happy to drive this SEAT Ibiza every day but I guess I better get back to my EVs for this blog.
Drive safely.
Edmund (30 April 2018)