We're often asked about motoring trends and the next big thing around the corner.
With sales of new electric and plug-in hybrid vehicles doubling last year, the AA is keen to encourage the uptake of EVs and to develop partnerships to help develop and maintain infrastructure, training and servicing to help drivers make the most of the EV revolution.
To help bust a few of those myths, I'm going to be living with a number of different EVs over the next few months – using them for work and pleasure – and blogging here about my experiences.
With my initials, EVK, you could say I'm the right man for the job – Edmund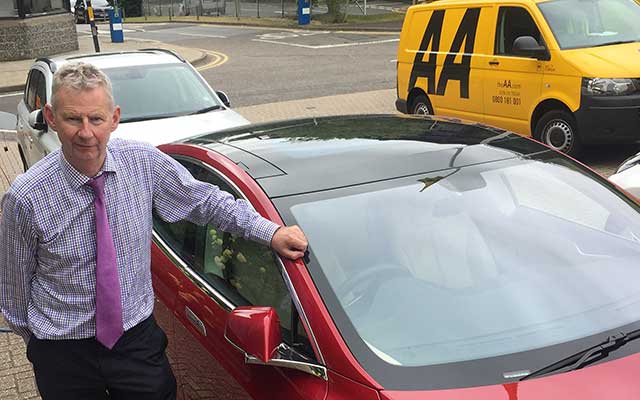 ---
Read blogs from the archive
Hybrid heaven
Can a plug-in be sporty?
Talk to EV Gurus
Drive Electric
ATTENT!ON
Admiring glances
Tesla Model X
Easy EV run to mark a significant milestone
Do first impressions really matter ?
Are 'Friends' Electric?
The long and winding road
PHEV myths
On the road
Controls?
When's an EV not an EV?
Focussed
Milton Keynes
Electric rain
On the road
Focus Electric
Back to petrol
Fast charging
Charging etiquette
Stuck in the middle with you
How does it feel?
Life in the fast lane
Tesla Model S
Testing times
Charge of the light brigade
Charging point
TH!NK
---
Hybrid heaven
It really is quite odd pulling away from stationary in a Porsche which is almost silent.
At first it doesn't quite feel right particularly when you're used to driving a 911 Carrera S with a noisy exhaust. Indeed, one has to be extra vigilant pulling out of driveways where the hedges hide pedestrians who certainly wouldn't hear you coming.
It takes a bit of time to get used to the car and the difference between electric and petrol power. But boy, when you do get used to it. Wow!
This Panamera manages to combine comfort, speed, power and efficiency.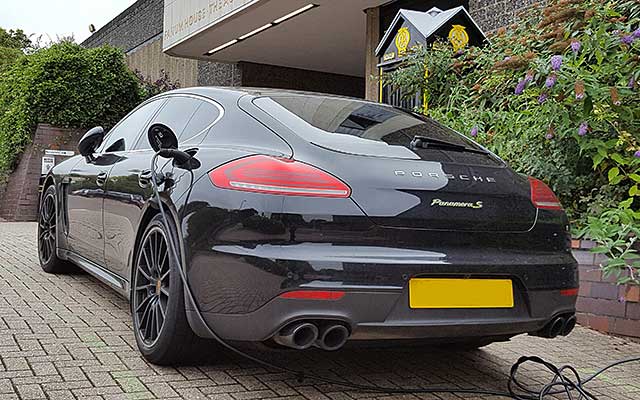 More updates to follow.
Edmund (21 August 2017)
---
Can a plug-in be sporty
Despite the speed of the Tesla or design of the i3 there's still that lingering question for the traditional petrolhead of whether a plug-in can still be sporty? Traditionally early-adopters are slightly nerdy people who will try anything – think G whizz.
Well after testing my latest car I think plug-ins can definitely be sporty. The Porsche Panamera S E-Hybrid I tested is a classy car that also plugs in.
Without being too much of an anorak it's worth looking at some of the stats.
The plug-in system of the Panamera S E-Hybrid adds a 94bhp electric motor to the conventional 3.0-litre V6 petrol engine producing an official combined fuel consumption figure of 91.9mpg.
I've not tested it long enough to get the true figure and it wouldn't be anything like that but I do expect it to be much better than rival executive sports cars.
Official CO2 emissions are just 71g/km which means that this 2016 model (registered before VED was overhauled from April 2017) pays no VED nor London congestion charge.

The Zero emissions, electric-only range is about 22 miles and charging time (from a domestic socket) is about four hours. So if, like me, you can charge at home, this brings great benefits particularly for those shorter, local journeys.
Edmund (18 August 2017)
---
Talk to EV Gurus
If you're not sure whether an EV would be right for you then I would strongly recommend a trip to the Milton Keynes Electric Vehicle Experience Centre.
It's based in the main shopping centre and gives you the chance to talk to a team of highly-trained electric vehicle experts ('EV Gurus') without any sales pressure.
These guys are experts, not car salesman.
They'll cover:
the benefits of electric vehicle ownership
the available vehicle choices
how to charge an EV, and
the savings in running costs that can be achieved
They'll also offer a brief test drive in one of the electric vehicles parked a few steps away from the EVEC.
The EVEC has a fleet of over 50 electric vehicles available for short test drives or longer term 'try before you buy' hire experiences.
The EVEC is operated by Chargemaster and is supported by six car manufacturers; Milton Keynes Council; the Office for Low Emission Vehicles (OLEV), OVO Energy and the AA Trust.
Get down there!
Here's a picture of me together with Roads Minister Jesse Norman MP (left) and Chargemaster CEO David Martell (centre) at the launch of the Milton Keynes Electric Vehicle Experience Centre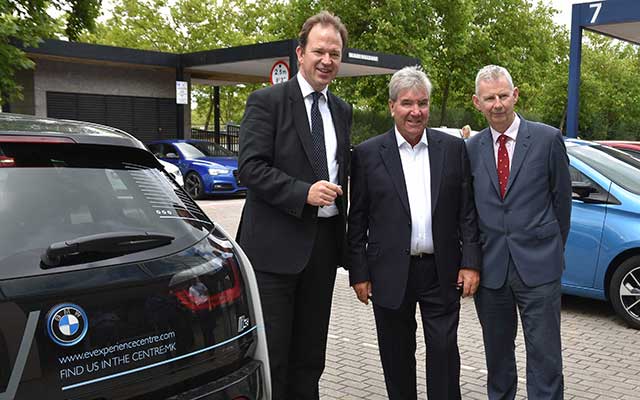 Edmund (23 July 2017)
---
Drive Electric
The AA Trust has already promoted Drive Smart (for new drivers at risk), Drive Confident (for nervous drivers) and Drive Motorway (for those worried about motorways or Smart motorways).
At the last AA Trust meeting we had a bit of a brainwave – as a way of encouraging more people to try EVs, and to get the best out of them, we decided to develop a course or experience called 'Drive Electric'.
We did some research using our Driver Poll which showed that a third of drivers (32%) would be interested in such a course, so we quickly got together a group with experts from DriveTech, AA Driving School and Chargemaster and developed the concept.
We're piloting the course in the Milton Keynes area with a view to rolling it out nationally, and actually announced the new 'Drive Electric' experience at the launch of the Electric Vehicle Experience Centre (EVEC) in Milton Keynes on 20 July 2017.
We want to help drivers understand this exciting new technology at the EV Experience Centre but also want to help them get the most out of their electric cars.
Drive Electric sessions, conducted by AA instructors, can either be carried out in the driver's own electric car, or in one of the EV Experience Centre's test drive fleet. The EV Experience and Drive Electric experiences will really put Milton Keynes on the map as the most go-to EV City in the World.
Drive Electric covers things like:
Checking how to connect and disconnect to a charge point; introduction to controls, energy consumption displays, charge rate and range; eco features including 'B' and 'Eco' modes and remote climate control
On the road driving techniques; early release of accelerator, using regenerative braking; how to most economical use of available energy; feedback from multi-function display
Overcoming range anxiety; finding suitable charge points and how to use them; long journey planning; different types of charging point
Safe driving including compliance of rules of the road and hints at reducing energy consumption
If you're interested in the course, which is free-of-charge, you'll need to contact the Milton Keynes Electric Vehicle Experience Centre to make a booking.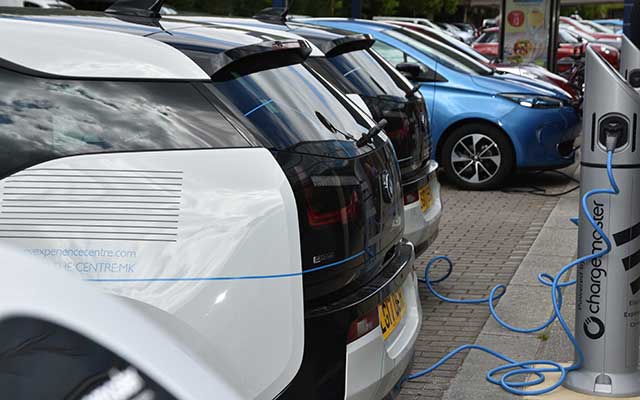 Edmund (22 July 2017)
---
ATTENT!ON
I got pretty worried when driving my teenage daughter to her ice-skating competition in the Model X.
Suddenly a big red square appeared on the dashboard in front of me "ATTENT!ON".
It's not a warning light I had seen before but I do know that if you get a red warning light you should pull over safely and stop as soon as possible.
So I said to my daughter that we better stop because this red light warning has come up on the dash.
"oh come on dad, that's just the album from my Spotify account." Doh I did feel old.
She laughed and then hummed: " Oh-oh, ooh. You've been runnin' round, runnin' round, runnin' round throwin' that dirt all on my name."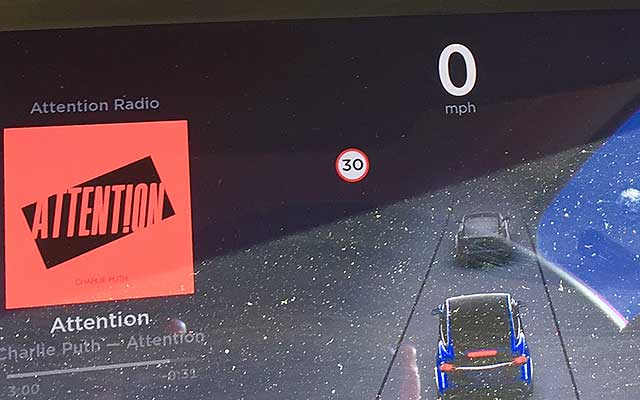 Of course I knew it was Charlie Puth.
Edmund (30 June 2017)
---
Admiring glances
Driving a Model X is a bit like owning a dog. Everyone stops to look at it and complete strangers stop to talk to you. Others just smile.
Passing a cafe in a rundown part of London, a father demonstrates to his ten year old twin daughters that the doors do a 'back to the future', and smiles. I crawl past in the traffic.
Groups of urban professionals outside the London pubs I pass all seem to smile, point or wave.
A passenger in the outside lane in a MINI gives me the thumbs up.
A Tesla Model S driver glides past me in the car park and pretends not to look.
At AA HQ in Basingstoke I couldn't get away from the Chargemaster charging point as everyone wanted a look, from the receptionist to the technical director.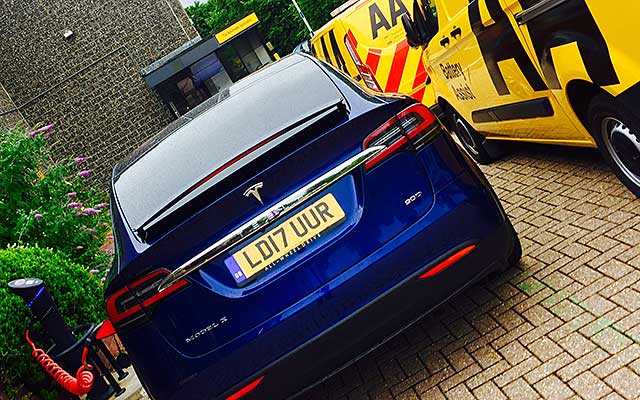 Some love the shape and the grill-less front, but others hate it.
It's the future, Edmund. I am told on numerous occasions. Reminds me of my favourite film The Graduate:
Mr. McGuire: I just want to say one word to you. Just one word.
Benjamin: Yes, sir.
Mr. McGuire: Are you listening?
Benjamin: Yes, I am.
Mr. McGuire: Plastics.
Benjamin: Exactly how do you mean?
Well this is the future and I am thoroughly enjoying it so far.
Edmund (28 June 2017)
---
Tesla Model X
First thing you notice about the Tesla Model X is its size. It's quite deceptive, looking small in some colours and massive in others, but either way, the good people at Chargemaster warned me that it is wide and might not fit in the garage.
Actually, the only thing that fits in my garage these days is teenagers, as it's long been converted to their gaming room. The Model X did fit on the drive though and was easily plugged into the Chargemaster post hidden behind the hedge. I've even learnt to programme the charging for after midnight when tariffs are lower.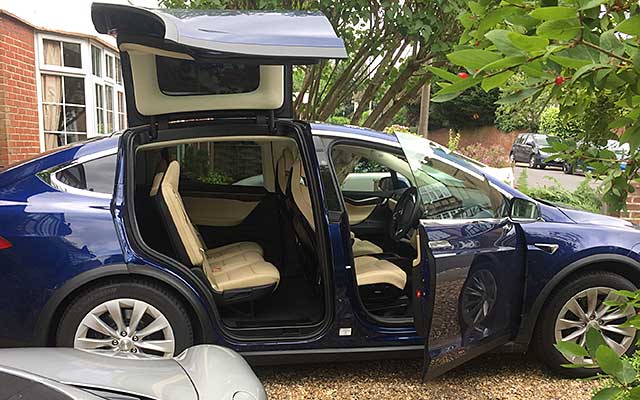 It still feels weird not having to go to a petrol station though. I miss the smell.
My first journey wasn't actually very enjoyable. It took me a while to get comfortable despite - or because of - the numerous lumber seat controls. I also had to move the steering wheel several times. Eventually though I was very comfortable as should drivers of all shapes and sizes be, given the numerous driver settings available.
Even once I'd got comfortable there was something else bugging me as I drove down the motorway. The ride floated and bounced a bit, reminding me of Cadillacs I had driven up and down the 405 in LA. It even made me feel a little sea sick, though this was quickly fixed once I'd found the ride settings and changed from 'comfortable' to 'normal'. Now the ride's a bit firmer and much more comfortable.
The dashboard display includes Lane Control lines which I've found really useful, particularly on the narrow lanes through the M3 roadworks. You can easily see if you're too close to the edge.
I was also reassured to find that the indicated 250 mile range is realistic, so I haven't suffered any range anxiety. Yet.
Edmund (27 June 2017)
---
Easy EV run to mark a significant milestone
Our head of PR Ian Crowder has taken to the road again in his wife's Nissan LEAF, this time to mark an important milestone in the development of electric cars in the UK. Here's his account of a triumphant day organised by Chargemaster.
It seemed appropriate somehow that a 'silent run' on 19 June, to mark the 100,000th UK registration of a plug-in electric vehicle (EV), should start almost exactly on Greenwich Meridian, against the historic backdrop of the Queen's House at Greenwich.
Perhaps symbolically linking the driving past with the driving future, the latest EV and plug-in hybrid electric vehicle (PHEV) models silently slipped into London's Sunday morning traffic on a 100km (about 62 miles) journey to Milton Keynes.
Why Milton Keynes? This is a city that is leading the UK in embracing electric vehicles. It boasts around 200 charging points, including 60 rapid chargers, as well as free parking throughout the city for EVs. And, on 22 July, it will see the opening of the UK's first multi-brand electric vehicle experience centre.
David Martell, CEO of Chargemaster, the UK's leading vehicle charger provider, which organised the event, flagged off the silent convoy after pointing out the significance of the occasion – noting that demand for EVs is climbing rapidly as is the charging infrastructure. Latest projections suggest there will be 1m EVs on Britain's roads by 2020, as battery range increases and vehicle prices fall.
A run of 62 miles through north London and the M1 is hardly challenging, and well within the range capacity of current EV models.
But the lack of challenge was made up by the run's symbolism. It placed a marker in the sand of EV technology and its wider acceptance to an increasingly less-sceptical car-buying public, looking for affordable and practical options to petrol or diesel. Electric and plug-in hybrid vehicles are practical, enjoyable to drive and extremely economical.
Hilary and I set off in our Nissan LEAF to enjoy the run to Milton Keynes' Willen Lake and a picnic in the sunshine as the cars quietly assembled on the lake's tranquil shore.
It was an easy journey but, just in case, the AA Patrol of the Year, John Snowling was the tail-ender to sweep up any misfortunes – there were none, although the reassurance of his immaculate bright-yellow van, 999AA, was welcome.
We're looking forward to enjoying a 250km (155-mile) run when the quarter-millionth registration takes place. That's likely to come around much more quickly than many might imagine.
You can find a short video of the event on YouTube.
Edmund (20 June 2017)
---
Do first impressions really count?
Our head of PR, Ian Crowder, recently bought his first electric car, but only after contrasting experiences in a couple of dealers in his home town of Cheltenham. Here's how he got on, in his own words.
We'd been considering for some time buying an electric car to replace my wife Hilary's ageing Mini One that rarely does more than 30 miles a day and had narrowed our choice down to either the Nissan Leaf or the BMW i3.
With its 30kw battery the extended range version of the Nissan offered up to a claimed 155 miles range and BMW were about to increase the range of the i3 to something similar.
The Nissan dealer in Cheltenham had a rather utilitarian feel. We could see see two Leafs on display but there appeared to be only one sales person and he was showing a family a Qashqai.
Then Frank appeared.
'We'd like to see a Leaf and perhaps have a test drive,' I say.
'Oh, well, OK!' he says, looking slightly surprised. 'I'd better take some details. Sit down! Would you like a coffee?
At Frank's rather battered desk, instant coffee in a plastic cup was produced along with a form that had been photocopied so many times it was grey and difficult to read but that didn't stop him starting to fill it in with a chewed ball point.
Name, address. 'Got a car to trade in? Why go electric? What else are you looking at? Oh. The i3. Well the Leaf is much better, much higher spec if you go for the Tekna. We sell lots of them. Sold one last week as a matter of fact.'
Frank makes some questionable claims about the car with a confidence that belies what turns out is to be his fortnight's experience in the job – having previously been a water-ski instructor in Dubai.
The test drive was actually a triumph. The car is very well equipped, comfortable, sophisticated if slightly dated now, spacious, responsive, and dealt with a 1-in-4 Cotswold hill with considerable lack of fuss.
'If you go down lots of hills you could generate more electricity than you use!' said our enthusiastic water-ski instructor. Could this be the first perpetual motion car, then?
We left impressed and armed with a straightforward 8-page brochure about the Leaf.
The BMW experience
At the local BMW dealer we received a warm welcome from a well-cut member of the team who apologetically said that they have no i3's there, electric vehicles are handled from the Gloucester showroom - would we like to go over?
He made a call, furnished us with some classy literature that explained how the i3 can fit in to our busy lifestyle and sent us off to Gloucester with instructions to 'ask for Helen'.
We may have only come 15 miles but the immaculate showroom could have been in another country. Germany for instance. A receptionist greeted us; 'Ah Helen, is she expecting you? Then I'll take you over.'
Helen, who was extremely knowledgeable about electric cars, smiled and offered a cup of coffee. This was the real deal, served in a cup and saucer. Shortbread, too.
She printed a form from her laptop pre-populated with all our details – after all, we bought the Mini from the group. She filled in the form with similar details that Frank asked for at Nissan, but using a smart BMW-monogrammed pen. Pointedly she didn't ask if we were looking at anything else.
Where the Nissan looks and feels like an ordinary car that happens to be electric, the i3 is something else. It's clearly in the BWM family but is far from conventional. Carbon fibre construction allows the rear doors to be hinged at the rear so that, with both doors open, there's no door pillar.
The interior is funky and vision is good all-round but the airy cabin is more coffee-shop than car with IKEA-birch on the dash. The forward and reverse controls are on a stalk, rather than a kind of golf-ball where a gear lever should be, as on the Leaf.
The i3 feels very different to the Leaf to drive. It accelerates more quickly but has a harder ride – you could really feel the road – and the steering was ultra-sensitive but it was fun.
Like the Leaf, put your foot to the floor and with no evident effort you're catapulted to 70mph – with little more than wind noise. The regenerative braking on the i3 was also much more harsh than on the Leaf.
With only four seats there's less room in the back of the i3. It was a struggle to get into the back seat with a child seat too and there's only a tiny boot that you would struggle to put a pushchair in.
Back at the showroom we went through the usual BMW menu system to 'build' our car. Spec'd to the same level of equipment as the Leaf the £-signs started to ker-ching and i3 finished up £10,000 more than the Leaf.
We left wishing we could have a go in the i8…
Time to choose
Our main considerations were range (both cars tick that box); space (much more in the Leaf), practicality and price.
On most counts the Leaf won, and so, despite the contrasting dealer experiences, we settled on a 30kW Leaf Tekna.
Back at the dealer to sign the deal we found that our water-ski instructor Frank had left.
Asking for the sales manager we were told 'Oh, he's in the toilet, could be a while, ha ha ha!' What happened to Frank? 'Dunno. He was hopeless. Told customers lies.' Hmmm.
It certainly wasn't the dealership that sold the car. The car really sold itself.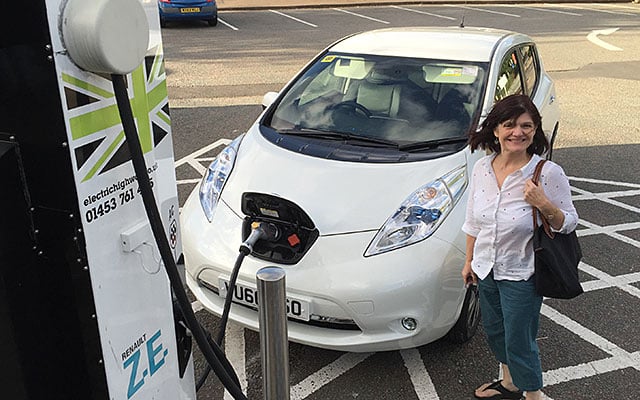 We signed up to a 0% lease arrangement. The government knocked off the £4,500 OLEV discount and the £500 discount for the Chargemaster 7kw charger – although it was supplied by Nissan for free (which, by the way, wouldn't have happened with the BMW).
The home charger was installed before we picked up the car and we subscribed to the POLAR network. We also moved to Ecotricity for our home energy supply – it's a local firm that uses only wind, hydro or solar energy – what's more, electric car users can have access to its electric super highway 50kw 'electricity pumps', free for the first year. These are impressive – whacking in more than 80% charge in less than half an hour.
And there is a £50 cashback for electric car-using customers.
You can set the timer so that is 'fills up' with off-peak electricity costing only about £2.20 to 'fill up' from empty and it's very easy to do.
Our electricity bill is certainly higher – but then, we never buy petrol and there's no car tax.
Nannie's quietly car
For Hilary's purposes, the Leaf's perfect and our grandson Barney – who is coming up to three, calls it 'Nannie's quietly car'.
The car is, frankly, very easy to live with. The dash comes alive with lots of information about the charge level, temperature of the battery, average energy consumption, potential range based on recent driving (we've not seen it higher than 136 miles yet) and more.
On the road, it's extremely responsive and in 'B' (braking) mode, the regenerative braking is positive as soon as you lift your foot from the throttle - it's pretty easy to drive through urban streets with very little application of the brake.
The silence though. That takes some getting used to – especially as my own car is a – um – diesel.
We're often asked by passers-by, curious when we plug it in somewhere, what the car is like – because pure electric cars are still something of a novelty.
Hilary joked 'I'm the only Leaf in the village!' But now we've noticed that there's another one, round the corner.
Edmund (9 June 2017)
---
Are 'Friends' Electric?
"Are 'Friends' Electric?" was an enigmatic song from Gary Numan and Tubeway Army back in 1979.
I always thought it was "our friends electric" and more recently it made me think about our friends electric at Chargemaster who we're working with to provide more charging points.
With all the headlines demonising diesel cars surely now is the time to really push for cleaner, greener, electric vehicles?
Rather than hiking parking charges or ultra-low emission zone charges for diesels, local authorities need to be out there supporting more charging points and encouraging those that can to change their vehicles.
We feel that a scrappage scheme providing extra financial incentives to encourage those with older diesels to scrap them might help. This should be in addition to the current grants for those purchasing EVs. Such a scheme could pay for itself as the Government would gain extra VAT from the sale of new replacement cars.
The government has just announced:
£109 million of government investment into cutting-edge automotive research and development (R&D) projects

Seven low carbon vehicle projects set to receive a share of £62 million funding, safeguarding 2,370 jobs
First winners of connected and autonomous vehicles (CAV2) competition set to receive £31 million
It's good to see the government and industry working together to promote greener, cleaner, more technologically advanced vehicles. The AA supports the "Plan for Britain" and believes that such pilots can help to develop safer, smarter, cleaner cars. Technological advances on the road towards driverless cars should bring benefits in terms of enhancing the economy and the environment, as well as, making cars safer and more sustainable.
The time is right to support technological change and promote the transition to electric, hybrid and connected vehicles, but as Gary Numan also sang:
You know I hate to ask
But are 'friends' electric?
Only mine's broke down
And now I've no-one to love.
Well, Gary, if you have broken down just call the AA because we know about 'Cars'.
Edmund (12 April 2017)
---
The long and winding road
I was in Snowdonia over the weekend and the Mitsubishi Outlander PHEV coped brilliantly with the different roads, terrains and indeed weather conditions we encountered on our cross-country trip.
My only real gripe is that the electric power was gone after the first 30 miles on the motorway and the petrol tank is pretty small. At current prices it only takes about £35 to fill it up which may feel good for the wallet but it does mean stopping more often at the pumps on a long trip.
But on the road everything worked fine. The radio and sat nav take a little time to master but do actually perform well when you know what you are doing. I did read the manual or at least a few pages of it.
Cruising on the motorway is very comfortable and you can use regenerative braking when approaching the numerous variable speed limit sections on the M1 and M6. The Outlander isn't a small car but it was pretty agile on the small Welsh country roads, although the only frustration came when stuck for a considerable distance behind two slower cars towing boats. It was a relief when they turned off to fill up.
Heading home the four-and-a-half-hour journey went by in a comfortable flash. I did have stiff legs the following day but that had more to do with the fact I'd run up a mountain over the weekend rather than with any criticism of the driving position or seat.
Million-dollar question. Would I buy one? I think if I did more local mileage to really benefit from the electric range I would certainly consider it. But as a comfortable, efficient, cost-effective PHEV it really does the business.
Edmund (3 December 2016)
---
PHEV myths
One of the oft quoted myths is that no company car users of the PHEV Outlander every plug it in if they get 'free' company petrol. The tale goes that company car drivers choose the PHEV for the tax benefits but then can't be bothered to plug it in.
I certainly didn't find this to be the case as every time I got to our offices in Basingstoke there were two PHEVs plugged in and often another waiting. I also experienced this at other Chargemaster charging points.
The Outlander PHEV's ultra-low emissions of only 42g/km CO2 means that company car drivers benefit from a relatively low taxable Benefit in Kind (BIK). Only 7% of list price in 2016/17 and though this is set to rise to 13% in 2018/19 it's still well below the 25% of list price that's taxable for a car with the average CO2 emissions of 120g/km.
Of course, the other benefit of buying a new Outlander PHEV is that it comes with the free installation of a Chargemaster charging point at home, which can be used on just about any EV, and six month's free access to the Polar charging network.
Edmund (1 December 2016)
---
On the Road
As with the EVs I've been driving I had to be extra careful pulling out of the driveway as the PHEV Outlander is pretty quiet. Once on the road it feels quite normal.
I did find myself constantly looking at the dial to see how much electricity I was using even though, with ¾ of a tank of petrol, there was no need for range anxiety.
When I got down to zero electric power on the motorway I challenged myself to try to regenerate some. On a few occasions I got back to one mile of electric range, but that was soon used up again.
You can check the efficiency of your driving at any time while the electric and petrol range is right there in front of you. You can even see the history of your recent journeys using the Mitsubishi Multi Communications System (MMCS).
On the sub-zero days the heated seats really worked a treat and the cabin warmed up much faster than most cars. If I'd got clever with the app I could have warmed the car up before I got into it. Perhaps next time.
I quickly got into the habit of plugging in as soon as I got home so that I'd always have at least 20 miles of electric range next time I needed the car.
Edmund (30 November 2016)
---
Controls?
The automatic gear stick is slightly odd at first as it's not the normal Park, Drive, Reverse. There is a P above the main control plus a traditional handbrake but I did feel the need to check that I was in park before letting my foot off the brake.
One great feature of the controls is that you can choose how and when the battery is used. If you're on the motorway but want to save your EV power for the trip into town at the end of your journey, you can. The Outlander PHEV has a host of simple to use features. Activate power saving, eco mode and regenerative braking at the touch of a button.
I did however have to consult the manual or, rather, my 14-year-old for advice on how to use the sat nav.
I didn't particularly like the voice but guess you can probably change that. I'm getting fussy now.
Edmund (29 November 2016)
---
When's an EV not an EV?
Ok so a Plug-In Hybrid Electric Vehicle (PHEV) isn't a pure EV but I thought I'd stretch the blog a little.
Recent statistics show a surge in plug-in car sales in the UK, with close to 60,000 now on the road. The Mitsubishi Outlander PHEV accounts for nearly a third of these so it's well worth a drive.
This SUV has twin electric motors and a highly efficient 2.0 litre petrol engine.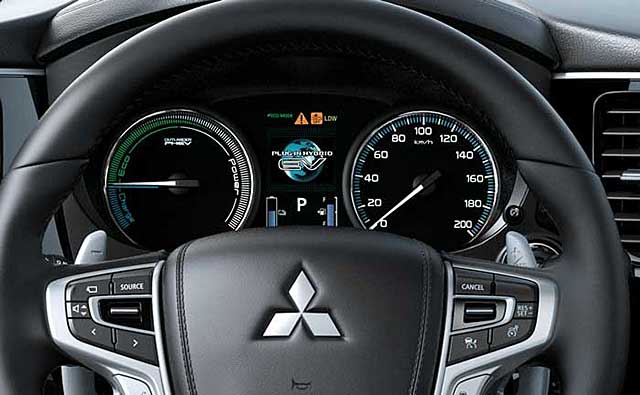 The car knows which to choose to match your driving which helps the fuel efficiency.
It's claimed the vehicle is capable of up to 32 miles in pure EV mode although after a full charge my car showed a maximum of only 22 miles. It can though regenerate some power on the move. This car could cover most average commutes solely on electricity, reducing costs and CO2. It's a good looking car and incredibly quick to plug in to the Chargemaster charging unit which is currently provided free of charge when you buy a new Outlander PHEV.
Edmund (27 November 2016)
---
Focused
I'm very fond of the Focus Electric but for the types of trips I do it's not practical as my main car.
With two cars in a household the Focus Electric seems to me to be an ideal second car. Economical and safe, it can seat five, has a decent boot and is good to drive. So for shopping trips, the school run, and ferrying kids about it's great – all week without ever filling up at the pumps.
The Focus electric may not be ideal for me as a main car but it may well suit you. According to the government's national travel survey, 55% of all car trips are shorter than 5 miles and the average journey by car, either as driver or passenger, is less than 9 miles.
Edmund (19 September 2016)
---
Milton Keynes
On Monday night I needed to be in Milton Keynes, a drive of about 30 miles each way. I didn't feel that I'd got enough experience of driving the car on motorways to be able to trust the range of 70 miles shown on the dashboard, but I was willing to give it a go.
My 15-year-old son however voiced caution. "Dad, it's a school night and I don't want to break down on that section of the M1 without the hard-shoulder." Yes, he had been indoctrinated with my concerns over the lack of hard shoulder so I heeded his wise counsel and we took the hybrid – my wife's car – so we could use some electric power but with petrol to back us up.
Edmund (14 September 2016)
---
Electric rain
On Saturday the roads were very wet and I managed to spin the front wheels a couple of times when pulling away in the Focus Electric. You quickly learn to be a little gentler on the pedal.
I did notice that despite doing several short trips of 2 or 3 miles each way, the indicated range on the dashboard hardly moved at all. Those butterflies on the dashboard must be giving me more range.
My first real test took me on a section of the M25 so called 'Smart' motorway (no hard shoulder if you run out of charge) followed by a meander through north London to find an Astroturf football pitch near the North Circular.
I struggled a bit with the Sat Nav as I didn't have a kid with me this time and was too impatient to read the instructions. On the move the Focus coped extremely well with the mix of roads. It was solid on the motorway and indeed got to to 70mph without me really noticing.
It also coped well in busy urban traffic and was nippy enough to change lanes quickly whenever required.
There's little road noise in the cabin and I really enjoyed driving the Focus. I did get slightly anxious about remaining range on the way back when I saw a sign saying 'M1 closed' but need not have worried as the closure was beyond my junction and I got back home with 20 miles to spare.
Edmund (12 September 2016)
---
On the road
The keyless entry works well on the Focus. I was then looking to see where you put the key but it has a start button so the key stays in my pocket. My son quickly worked out the radio, so with seat belts on, we were away. Backing out of the drive you have to be extra careful that there are no pedestrians around as the car is so silent.
On the road it's nippy yet has the solid feel of a bigger car, probably due to the weight of the battery. Even though the Focus doesn't look a big car from the outside, it's a bit of a Tardis inside. Head and leg room are good and the kids thought it was decent ride in the back too.
Initially I was slightly distracted by a couple of butterflies on the dashboard as I wasn't quite sure what they were. Then I got a third which apparently is pretty good and shows I was driving sensibly.
Charging is simple, using my home Chargemaster charging point, and it took only seconds to grab the lead from the boot and plug in.
When the car was fully charged, the indicated range did move up to the mid-70s.
Edmund (12 September 2016)
---
Focus Electric
OK, so you may be thinking why is EV King only testing the top of the range EVs?
Today I took delivery of a Ford Focus Electric, and it's interesting how you instinctively look for different things on an EV when you use it for the first time. Or maybe not?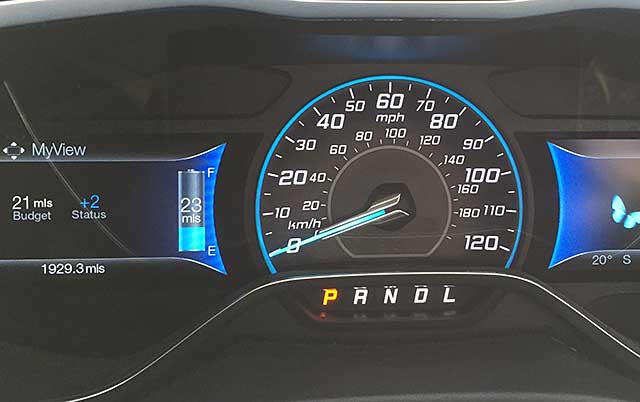 When I rent a car I always check first if it's petrol or diesel. With the Focus the first thing I checked was where the charging point was and does it have a cable. I'd backed onto the driveway but the charging point is at the front, so I should have come in forwards.
I guess the second thing I look for or indeed ask is 'what's the range? That wasn't so easily answered on this car. The dashboard showed me I had 53 miles and it looked like the charge was full. I couldn't find a manual, but on line, I found reference to a range of 76 miles and another to 100 miles.
Not knowing for certain the range does lead to some anxiety as one is unsure whether the dashboard indication of 53 miles is correct or could it be 76 miles, or 100? Either way it made me doubtful that it was safe to try to drive the 60 miles in congested traffic to AA HQ in Basingstoke. Probably not.
On the plus side I was delighted to read that it comes with £0 vehicle excise duty and has a 5-star Euro NCAP safety rating.
Edmund (12 September 2016)
---
Back to petrol
The worst thing about getting back into a petrol car for the first time in two weeks was filling up at the pumps. It somehow felt wrong paying £60 to fill up when I knew there were viable, cheaper alternative ways to run a car.
I also had to adapt my driving style. In the Tesla I prided myself on never braking on some trips as the regenerative braking was so effective. This morning I pulled my foot off the accelerator and expected to slow down but had to brake as the queue of cars ahead got closer.
The thing I did love about getting back into the petrol car was the throaty roar of the engine, particularly with the roof down when I pulled away.
I didn't find the EV particularly quiet on the motorway, mainly because of tyre noise, and in some ways I actually like the sound of the petrol engine going through the gears on the motorway.
But with the Chargemaster post at home gently blinking at me through the bushes I know I'll have to find another EV to charge up soon.
Edmund (29 August 2016)
---
Fast charging
The day before the Model S went back, I set about giving my own charging etiquette a charge-up.
I drove to South Mimms Services, where the A1 crosses the M25. Perhaps not your usual destination for a Sunday afternoon drive, but I had an ulterior motive as South Mimms is the nearest location to home with one of Tesla's own network of fast chargers.
I quickly found the regular charging points but was struggling to find the fast chargers until a 12-year-old boy outside Starbucks clocked me as a lost Tesla driver, flagged me down and helpfully pointed me in the right direction.
I was a little surprised to see ten Tesla charging points, although two were under wraps.
There were three other Teslas 'filling up' so still plenty of room for me and it was all very easy.
Reverse into the space until your tyre hits a small hump which tells you that you're lined up. Plug in you're in business. No cards, locks or delays.
If you're lucky enough to own a Tesla Model S you get this free charging for life.
I wandered off for a coffee, returning 30 minutes later to find the car's estimated range was back up to 260 miles.
It really couldn't have been easier or cheaper, and saved my home electricity too. I did start to wonder what happens when everyone drives a Tesla though?
Edmund (26 August 2016)
---
Charging etiquette
As a relative novice I'm still not really up to speed with EV "charging etiquette".
Arriving early one morning at AA towers in Basingstoke I was slightly miffed to see that, like a German putting a towel on a sun lounger, a plug-in hybrid had already nabbed the charging point.
As it was a plug-in hybrid, I have to admit thinking that mine, a full EV, should have preference. I was annoyed to see it still there after lunch.
I needn't have been annoyed though, as the AA has a way of dealing with the issue. Everyone who wants to charge gets a card from reception and leaves their number so they can be asked to move after 3 or 4 hours. I also learnt that there are actually two Chargemaster charging points there!
After charging, I embarked on my longest journey yet, interested to see if range anxiety would be an issue.
I drove the 60 miles from Basingstoke to Devizes on a combination of motorway and relatively fast single carriageway roads with plenty of hills. When I left I had a range of 260 miles and arrived with 190 miles left so was pretty close to the estimate.
It was a beautiful drive and the Tesla performed as well on the winding, hilly rural roads as it does on main roads.
After Devizes it was a 100-mile drive home, but still found myself studying closely how the estimated 190-mile range was counting down. I found myself doing calculations in my head regarding how many extra miles I'd covered. As darkness began to fall the dashboard changed with brighter displays and I noticed how the charging points in the local area – I was near Reading services by now – were flashed up on the sat nav.
I wasn't really suffering from range anxiety but tracking my mileage and range remaining did encourage me to drive more efficiently, keeping the dial in the green and avoiding braking whenever possible.
I needn't have worried as I still had 73 miles to spare by the time I got home, but it did make me think what if the range had been only 100 miles to start with?
Edmund (23 August 2016)
---
Stuck in the middle with you
I've now got used to using my home Chargemaster unit. The only issue, and it's a minor one, is that I sometimes get scratched because the socket's pretty much hidden behind a hedge.
It's pretty quick to grab the lead from the boot, release the charging point cover on the car – by pressing a button on the screen – and plug the lead into both car and charge point. Turn the key on the charger and you're in action.
If you want cheaper charging, you can set the timer on the car so that charging starts at 1am when electricity tends to be cheaper. This became routine but what happened when I tried using a public charging point for the first time?
I was recently invited to a top secret 'Chatham house plus' policy event at the Royal Automobile Club country club at Epsom. The invitation helpfully said there were charging points.
When I got there the carpark was full but that wasn't a problem for me as the two charging places were still free. I reversed in, next to a Rolls Royce (not an EV), and was pleased to see a Chargemaster charging point as I know how to use these. At least I thought I did.
There was a lead plugged-in already, so I just plugged the other end into the Tesla and it started charging. Wow this is easy. No cards, no additional leads etc.
I've mentioned before how the Tesla turns heads and, later in the day, Professor Phil Blythe, Chief Scientific Adviser at the Department for Transport and Director of the Transport Operations Research Group at Newcastle University, asked to see the car. It was fully-charged by this time so I pressed the button to unlock the charge point and asked Phil to unplug the lead. He couldn't. We tried several times.
There was no switch on the charging point, no card access, nothing, but we couldn't get the plug out of the charging point or the car. I was stuck.
At this point it started to get embarrassing as other members of the seminar were coming outside and were attracted to the car – amongst them, some of the best qualified EV experts in the country.
There was the Director of OLEV, a top Technical Director, the Director of International Vehicle Standards at the Department for Transport (a mechanical engineer with over 30 years' experience), the Director, Energy, Technology & International at the Department for Transport, the Treasury's transport expert and many more.
The plug still wouldn't come out. But the groups advice wasn't too helpful:
"Just put your foot down Edmund and go for it."
The professor then put his mind to it.
"The plug won't disconnect because the car still thinks there's a charge going through it, even though the car is fully charged. There's no switch on the charger but electric current is still present. So we need to stop any power to the charger."
Some unnamed hero spotted a large mains switch further along the wall towards the Clubhouse. It could have knocked-out all the lights in the Clubhouse and set alarms off, but not waiting to find out, he bravely flicked the mains off. Like magic, the charging plug was now easily disengaged from my car and there was no alarm and no uptight porters. Phew!
It had taken the combined efforts of the top automotive brains in Britain but we managed it. As a reward I gave a few of them a lift to the station.
Edmund (15 August 2016)
---
How does it feel?
Living with an EV you do have to get used to a few quirks. I still find it odd just getting into the Tesla, engaging D (Drive) on the small lever and pulling away. There's no need for a key – to get in or start the 'engine' – it's silent, and there's no parking brake to disengage.
Pulling out of the driveway you do have to be extra cautious of pedestrians. They won't hear you coming as the car's almost silent.
My main gripe is with the A-pillars which are quite thick. This affects vision and really does mean having to think once, think twice, think bikes. (I must put some AA #thinkbike stickers on the car).
The rear window isn't the easiest to see out of although you are well supported by rear view cameras and parking beepers. Call me a luddite but I still prefer to reverse using the rear window and mirrors.
A colleague did point out that although the dashboard looks great it sounded a bit hollow when tapped, but hey, we're splitting hairs. This is one super car that I could easily live with… or could I?
Edmund (12 August 2016)
---
Life in the fast lane
Even without engaging 'ludicrous mode', the Tesla Model S is clearly a performance car and there are plenty of YouTube clips showing just how fast it is. Don't try this on the highway.
Accelerating to 60mph in under 3 seconds it beats many super cars.
My first proper drive tested the car in more challenging conditions. Coming back with my son from MK Dons football training the heavens opened when we were on the M1. Torrential rain, spray, wind and low visibility lead to several crashes. The Tesla coped brilliantly and safely. Super-fast automatic wipers kicked in and the weight of the car with batteries low down in the chassis had a real stabilising effect in the rain and strong winds.
From 'filling up' at home using my Chargemaster post, the round trip to MK Dons the car seemed to use up the miles that it said it would – the indicated remaining range dropped by the distance I'd covered. So no exaggerated range boasts here. The model I had seemed to have a top range of 291 miles which is more than adequate.
Edmund (10 August 2016)
---
Tesla Model S
There's no doubt that the Model S is a desirable car. A neighbour who works in the police force commented on how great it looks and the kids took their time to check it out when I was parked up by a local school.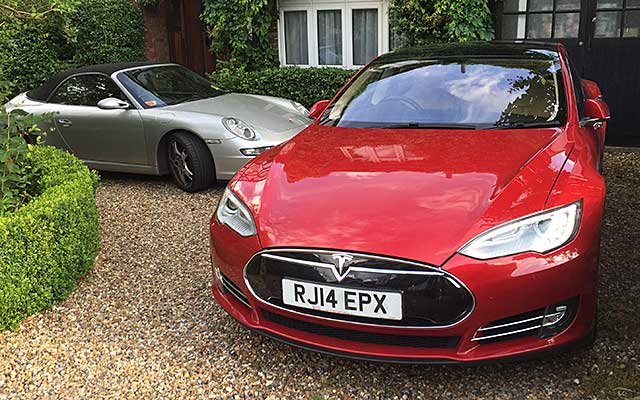 Chargemaster's CEO, David Martel, had parked his own Tesla Model S next to an immaculate Aston Martin at the AA Chargemaster partnership launch and this prompted me to ask him honestly which car he'd really prefer. With no hesitation, David pointed to the Tesla saying that he'd owned all sorts of cars from Ferraris to Fiats but this was the car for him.
Before getting too carried away we do have to make it clear that we're talking top end EVs here, as the Tesla S model range runs from £53,000–£92,000.
But it's worth remembering that you can save thousands of pounds on petrol, vehicle excise duty, parking and congestion charges if you're lucky enough to own one. I feel a spread sheet coming on help me justify getting one…
There are many little things about the car that extol class like the way the door handles pop out of the body as you approach and the 17-inch touch screen that allows control of everything from the sunroof to timed charging at night.
The interior is spacious too. My kids concluded there are three decent, comfortable seats in the back. Must try it out.
Edmund (8 August 2016)
---
Testing times
My first modern EV experience was to come courtesy of our charging partners, Chargemaster, and it just happened to be one of the best on the market. My own interest in Tesla was sparked off some years ago when I heard that they were working with Lotus to develop an electric roadster.
I grew up living next-door-but-one to Colin Chapman in Norfolk, and have been interested in the Lotus story since the age of 5. As kids, we'd hang out with his son and daughters, and I was even flown to my first Grand Prix by Colin Chapman himself.
Anyway, this sparked an interest although I noted later that Tesla were keen to point out that their great roadster was not a converted Lotus Elise.
When Tesla's Model S was launched it became one of the few cars I was truly excited at seeing at motor shows and indeed, one of the few I really wanted to drive.
I did manage to get a brief test drive from the White City Westfield showroom a couple of years ago but being my first drive, and in dense London traffic, I didn't really get to experience all the car could offer!
Now Chargemaster have loaned me one for a couple of weeks…
Edmund (4 August 2016)
---
Charge of the light brigade
I remember being at the What Car? Awards, some eight years ago, and bumping into David Martell who I'd known and worked with during his inspirational time at TrafficMaster. I asked him then what he was up to and he mentioned working on a start-up electric car charging company.
Today Chargemaster has a network of some 4000 charging points and is looking to add another 500 this year.
We're now working with Chargemaster to promote the take-up of EVs and to encourage AA accredited hotels to put in charging points for their customers to use.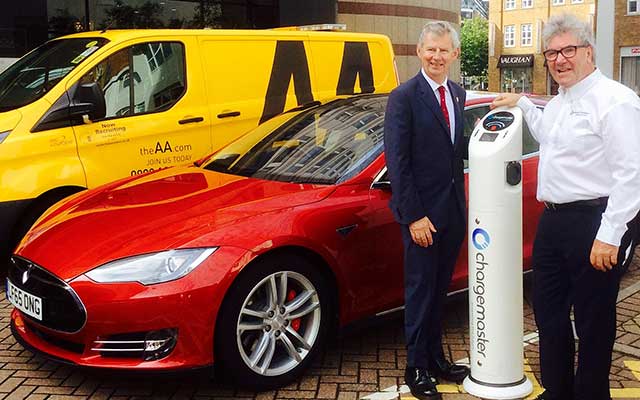 Breakdowns
Sometimes AA members ask if we'll be able to help if they break down in an electric car. Well, the answer's yes. All of our patrols are trained in how to work safely on electric and plug-in hybrid cars and, indeed, we already provide the breakdown service for big EV brands such as Tesla, Ford, Vauxhall and Volkswagen.
Reliable?
Generally, our figures show that electric cars are pretty reliable. On the one hand, EVs have fewer moving parts to go wrong – no gears, oil etc. – but on the other, the most common types of breakdown can occur on any car. We still get many EV call-outs for damaged tyres, punctures, lost keys and sometimes battery problems. Servicing costs also seem to be cheaper as again there really is less to service.
Enough background. I think the time's right for me to get out there and test some cars.
Edmund (2 August 2016)
---
Charge point
To really live with an EV I needed a charging point at home
Generally, our cars spend ten times longer at home than on the road so it's the obvious place to charge an EV, if you can.
When I first used an EV (a TH!NK fifteen years ago) I lived in a first floor flat in the city and had to resort to running an extension lead out of the window to the pavement below. Not ideal.
Luckily I now have a driveway, and we estimate from our AA-Populus surveys that around three quarters of AA members should be able to charge an EV at home.
Installation
When Chargemaster's technician, Thom, arrived to check out my home electrics I was slightly worried. The charge point couldn't go in the garage as that's long been converted into the kids' TV room and I didn't want a Las Vegas style flashing beacon outside the front door.
I didn't need to worry though as Thom assured me the charging unit could go on the front wall of the house, hidden behind a bush. The installation was incredibly neat and professional and what's more I got a government grant for two thirds of the cost.
So for around £300, the cost of 6 tanks of petrol, I was up and running.
With some new EVs you can even get the cost of a home charging point included in the price.
Once the charging point is installed you can sign up to 6 months free use of Chargemaster's public network of charging points.
The charging network helps to give reassurance but in reality most people could probably do most of their charging at home.
Right I am charged up and ready go.
Edmund (25 July 2016)
---
TH!NK
Recalling my first EV experience
Electric cars aren't new. I had my first some 15 years ago.
It was a Th!nk City Car and I was handed the keys by Ken Livingston, the then Mayor of London, in Trafalgar Square. I was part of a fifteen company trial and had the car for six months.
The launch was intended to generate press publicity of course, but fateful events elsewhere on 9/11 in 2001 understandably meant that didn't happen.
The TH!NK City was made of polyethylene – the same plastic used for bottles and plastic bags – so I didn't have to worry about scratches. I had an underground parking place near the Mall where I could plug it in to charge using a standard 13amp plug.
It was quite fun tootling around London and taking advantage of free parking although I did have to put a big sign in the windscreen to remind over-zealous parking attendants that it was exempt.
The long way home
One Friday evening, fed up with over-crowded trains, I decided to drive the 26 miles home. With hindsight I guess this was quite risky as the range was only about 36 miles on a full charge.
What I didn't know was that a colleague had earlier given an MP a spin round Westminster in the car. So I set out believing that I was on a full charge. I hadn't reckoned on having to use the windscreen wipers or lights that night either!
I avoided the motorway as the car could only reach about 50mph and took the back roads, but six miles from home, with the charge dial on zero, I free wheeled into a residential cul-de-sac. I did think about knocking on a door and asking if they had an extension lead but didn't really want to wait all night for a charge.
I called for roadside assistance. "Battery problem, Mr King? No problem." Well, it was a bit of a problem as the car had to be recovered to my home.
I borrowed a new EV last weekend and wow how things have changed.
The old Th!nk had a range of 36 miles (on a good day), a top speed of 50 (downhill), took what felt like minutes rather than seconds to accelerate from a standing start to 50mph, and looked like a pod.
The new model (of which more later) has a range of over 220 miles (on any day), a top speed of 100 plus, does 0–60mph in just over 3 seconds and looks amazing. So is the world ready for proper EVs?
Edmund (22 July 2016)