The London Congestion Charge Scheme affects vehicles used in Central London on weekdays. Transport for London (TfL) runs it and it was introduced on the 17 February 2003.
You pay the charge for the day, and can drive within the charging zone as often as you want within the day.
Emissions surcharge from 23 October 2017
An additional emissions surcharge (also known as a toxicity charge or the'T-charge') will apply from 23 October this year to petrol and diesel vehicles that don't meet the Euro 4 emissions standard.
An additional £10 daily supplement will apply

The T-charge will apply in the same area and for the same operating hours as the Congestion Charge
Pre-Euro 4 vehicles means most vehicles first registered before January 2006
Two-wheeled motorcycles and several other categories of vehicle will be exempt

Residents will receive a 90% discount

The Ultra Low Emission Zone is due to replace the T-Charge in 2019 or 2020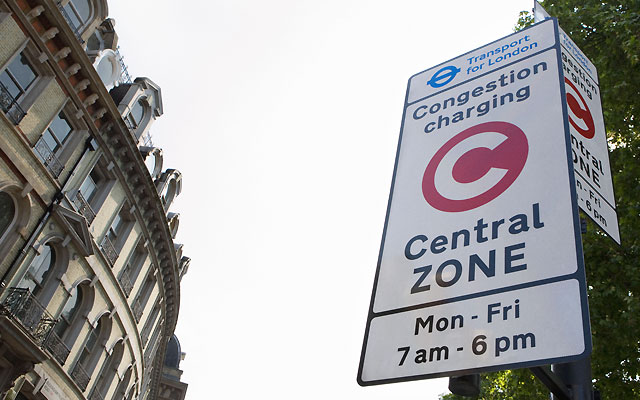 How does the congestion charge work?
If your journey takes you into the charging zone you can either set up automatic payment, pay in advance or before midnight that day, or, for a little extra, pay before midnight the following charging day.
Zone operates: 7am to 6pm on weekdays excluding bank and public holidays
Pay by phone: 0343 222 2222
Cameras read vehicle number plates as you enter, drive around and leave the zone.
Once your number plate has been matched to the database and it's confirmed that you've paid, or don't have to pay the photographic images of your vehicle are automatically wiped from the database.
If a number plate isn't matched to a payment by midnight on the following charging day, a penalty charge must be paid.
Who has to pay?
You'll have to pay if you're responsible for a car, van or lorry using the zone.
There are some exemptions and discounts for example, disabled people who have a blue badge and motorcycles.
Some of those eligible for discounts and exemptions must pre-register even though they pay nothing.
Have the cameras recorded your plate?
If you've driven into the Congestion Charging zone there's no way to find out if your vehicle's number plate was recorded or not, other than wait to see if you get a letter or fine through the post.
What if you get a penalty?
If you don't pay the Congestion Charge within the time limit (before midnight the following charging day) you'll receive a penalty charge notice of £130, reduced to £65 if paid within 14 days.
Congestion charging penalties are civil matters and are in effect debts. If you consider yourself not guilty or a mistake has been made:
Write immediately to the address given on your penalty, quoting the penalty charge number.
Explain in detail why you shouldn't pay.
If your explanation isn't accepted, you can appeal to an independent adjudicator.
---
Changes to the scheme in 2013
After a three-month consultation the Mayor of London confirmed the following changes to the Congestion Charge scheme.
Ultra Low Emission Discount
A new Ultra Low Emission Discount (ULED) replaced the Greener Vehicle and Electric Vehicle discounts.
A single 100 per cent discount for electric vehicles and ultra low emission cars and vans.
Qualifying vehicles will have to be pure electric vehicles, or cars/vans emitting 75g/km or less of CO2 and meeting the Euro 5 emission standard.
Penalty Charge
The penalty charge increased from £120 to £130 bringing it in line with other moving traffic, bus lane and parking penalty charges within London.
Changes to the scheme in 2014/2015
Following a 10-week consultation the following changes were confirmed:
Daily charges were increased from £10 to £11.50 (or £10.50 if paid using CC Auto Pay or £14 if paid the next charging day).
CC Auto Pay users can pay by Direct Debit
Customers eligible for discounts, including blue badge holders, can apply for these online
Customers who've paid in advance, but can't travel on the pre-paid date, can amend the date for a small admin fee.
23 October 2017