To the East of London, the M25 crosses the river Thames at the Dartford-Thurrock river crossing.
Southbound (clockwise) traffic uses the Queen Elizabeth II bridge.
Northbound traffic uses the two, two-lane road tunnels known as the Dartford Tunnel.
The tunnel was the only means of crossing before the bridge opened in 1991.
A charge (toll) is payable in both directions.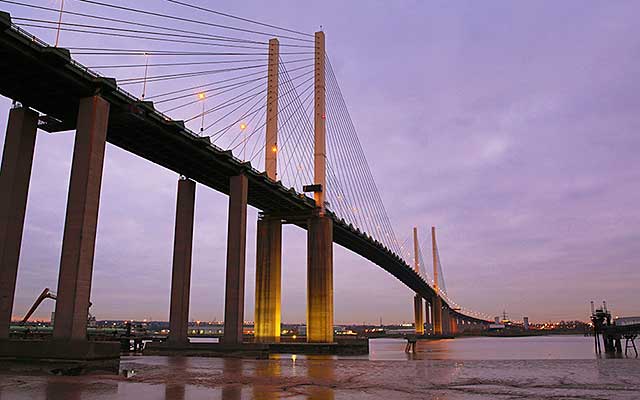 Dartford crossing carries around 160,000 vehicles a day and is a frequent cause of congestion and delay.
Toll booths were removed and free flow (remote payment) introduced in November 2014 to try to reduce delay.
There are no facilities at all to pay as you approach or leave the crossing.
Ways to pay
You can pay in advance if you know you're going to use the crossing, or by midnight the following day if your crossing was unplanned or you forgot to pay in advance.
It's free to use the crossing between 22:00 and 06:00.
The cheapest way to pay is using a pre-pay account
You can make one-off payments:
online at www.gov.uk/dart-charge
over the phone by calling: 0300 300 0120
via a Payzone retail outlet (find your nearest Payzone retailer)
by post (in advance only) – Dart Charge Customer Services PO Box 842 Leeds LS1 9QF
Pay as You Go – register your vehicle and payment details in advance and automatically pay when you use the crossing
Non-payment and penalties
When the free flow scheme was introduced, the official impact assessment estimated overall payment rates of 93% for UK drivers and 86% for foreign registered vehicles, expected to make up around 3% of all vehicles using the crossing.
If you don't pay, expect a penalty charge notice of £35 (if paid within 14 days) plus the original road user charge). Penalties for non-UK-registered vehicles are issued via a European debt recovery agency.
---
Our view
The M25 at Dartford is a strategic national road and is also part of the trans-European road network – as such it has to be expected that many drivers won't know about Dart Charge, the penalties for non-payment, operating hours or have the luxury of timing their journeys to coincide with the non-charging hours. The AA expressed concerns about this to the Highways Agency.
This is one of the most important motorways in Europe and it needs more capacity, not easier ways to pay
There was a 33% hike in charges in 2012 and a further 25% increase when free flow charging was introduced.
By 2003, toll charges had effectively paid for the Dartford bridge and should have come to an end.
A regime of road user charging to 'manage high demand' has become a nice little earner, raising around £70m a year.
Responding to the increase in charges in October 2012, we said that long distance travellers from UK and Europe, freight, business and regional users have all been sold down the river through the unnecessary perpetuation of charges and a lack of investment in future capacity at Dartford.
A facility for foreign drivers to pay by credit card – like some other 'free flow' toll plazas in Europe – might have been very helpful at Dartford had there been space and capacity.
It would also have been useful for Dartford's charging system to be 'interoperable' so that EU drivers with an account would find it easier to pay.
updated 2 August 2023