Motorways have changed a lot in the past 50 years – the first opened in 1958 and was a dual carriageway.
We got variable speed limits on the western side of the M25 in 1995 but things really started to change in 2006 when a stretch of the M42 became a fully flexible 'controlled' motorway.
In 2013 the predecessor of Highways England (then know as the Highways Agency) started using the term, 'smart motorway', to describe a range of different designs of actively controlled motorway.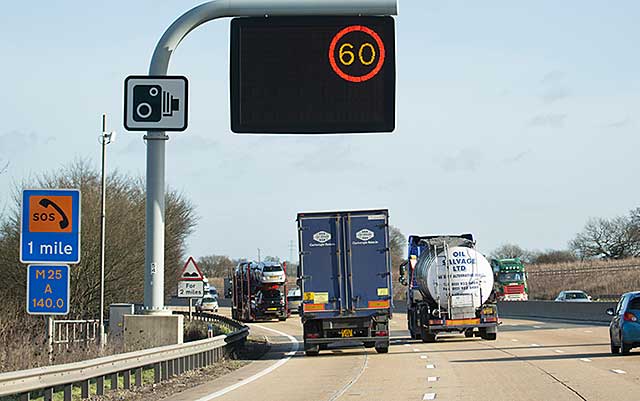 Features of the M42 controlled motorway:
A hard shoulder which can be opened and closed.
Variable speed limits.
Lane control by overhead gantries.
Emergency refuge areas every 500m which detect broken-down vehicles.
Intensively signed with 50 gantries, 250 variable signs.
CCTV.
The M42 scheme has proved very successful and has reduced congestion, improved journey times, and provided a more comfortable driving experience.
Different types of 'smart motorway':
Controlled motorway – multiple lanes, variable speed limits and a hard shoulder for use in emergencies only. (western section of M25)
Hard shoulder running – variable speed limits and a hard shoulder that can be opened as a running lane at busy times. Overhead signs tell you when you may drive on the 'hard shoulder' (M42 J7-9, M4 J19-20, M5 J15-17).
All lanes running – variable speed limits, no hard shoulder, and emergency refuge areas every 2.5km. (M25 J23-27, M25 J5-6/7).
All lanes running has been the standard for all new smart motorway schemes since 2013.
Regional control centres use CCTV and variable message signs to manage smart motorways.
Depending on the type of motorway, speed restrictions can be set and lanes closed if there's an incident or congestion.
Overhead and large nearside information signs are used to warn you about queuing traffic and speed limits as well as to close lanes and divert traffic in the event of an incident.
The most important feature of the new smart motorways is the Red X sign used to show when a lane is closed due to an incident or obstruction.
If a red X is displayed, you must not proceed further in the lane indicated – driving in a red X lane is dangerous and can lead to a penalty or prosecution.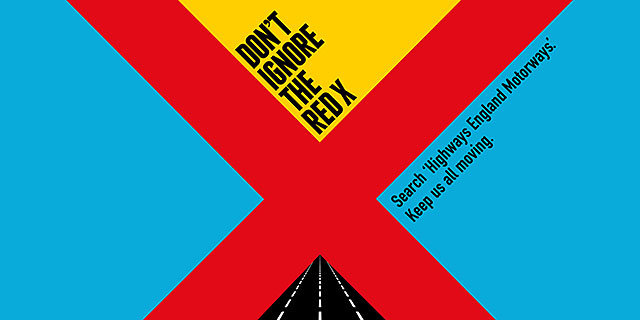 If a red X is displayed, you must not proceed further in the lane indicated – driving in a red X lane is dangerous and can lead to a penalty or prosecution.
Variable speed limits
Variable speed limits (70, 60, 50, 40) are used to try to keep traffic flowing at peak times or for safety reasons – anything from a breakdown or crash to staff working at the roadside, debris in the road, or to allow a vehicle to re-join lane 1 from an Emergency Area (EA).
New digital speed cameras are widely used to enforce variable speed limits.
Cameras are clearly signed but smaller and less visible than the more familiar 'yellow box' cameras.
Mounted discreetly to the side of the road cameras can monitor all four lanes.
Some incidents will be cleared very quickly so you may come across a lower speed limit but see no obvious reason for it.
We'd like to see more use of variable message signs to explain the reason for reduced speed limits, both before and after any incident.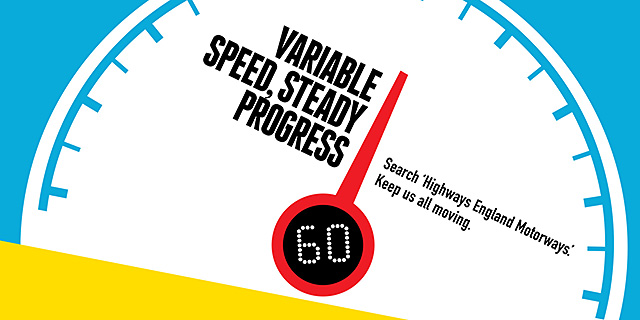 Emergency Areas (EA)
On a smart motorway you'll find 'Emergency Areas' at regular intervals.
The initial specification for smart motorways was for a maximum of 2.5km between 'places of relative safety' but, under persistent pressure from the AA and the Transport Select Committee, Highways England have reduced this to 1.6km for new designs from May 2018.
'Places of relative safety' include Emergency Areas, motorway service areas and short stretches of hard shoulder on exit slips.
If you have to stop you'll see signs in the EA telling you to contact the Regional Control Centre (using the SOS phone) when you stop and before you leave. Operators can monitor your vehicle using CCTV.
EA's are only short lay-bys, not long enough to allow you to build up sufficient speed before re-joining the motorway, so before leaving you must contact the Regional Control Centre. They'll either dispatch a Highways England Traffic Officer and/or set signs and signals (red X) to assist your safe exit.
If you're driving and a red X appears above lane 1 it could simply be to let a slow moving vehicle re-join the motorway from an ERA.
Other names for smart motorways
Before the introduction of the name smart motorways, the M42 scheme of hard shoulder running was referred to as Active Traffic Management or Managed Motorway 1 (MM1).
The design for All Lanes Running was initially referred to as Managed motorway 2 (MM2)
---
Our view
Active Traffic Management
As the M42 scheme has gained drivers' support, eased congestion and improved journey reliability, we support active traffic management through hard shoulder running:
There haven't been any operational problems for AA patrols
Capacity is better and driving more comfortable in peak traffic
It has major potential to provide relief at specific peak hour hot-spots
But
Over development in the area could dilute the benefit by adding more traffic
Active traffic management isn't the answer everywhere and more robust, traditional widening with hard shoulders is still needed on some overloaded sections of motorway
Active traffic management was five times cheaper than widening the M42 so there should be no reason to simplify controls to save money if it's to be used elsewhere. Drivers deserve the most robust solutions to motorway congestion.
All Lanes Running
Highways Agency (now Highways England) risk prediction for All Lanes Running showed it to be less safe than Active Traffic Management but no less safe than a conventional three lane motorway with hard shoulder and incident detection.
When the design for All Lanes Running was announced we expressed serious reservations pointing out that it was a very much pruned back version of Active Traffic Management. We're very happy to see congestion reduction effected quickly, but still have serious doubts about the resilience of a motorway with no permanent hard shoulder, and mandatory traffic management but with less signage, gantries and emergency refuge areas.
There will only be gantries at the start and finish of the managed section.
Key signing will only be on the nearside at greater spacing.
Emergency refuges will be spaced at 2.5km (1.6km for new designs from May 2018) not 0.8 km as on M42.
All Lanes Running makes a motorway hugely vulnerable when accidents and breakdowns occur – any unavoidable stop in lane 1 may well require a full police/traffic officer managed lane closure to resolve.
All Lanes Running makes a motorway hugely vulnerable when accidents and breakdowns occur
Anyone broken down at night with a full electrical failure (who couldn't make it to the emergency refuge) will be in a very dangerous situation.
updated 2 July 2019