New Motion, Smoov, Stromleden, Sodetrel, KiWhi, ESB, Lemnet, Polyfazer … names that perhaps suggest dodgy nightclubs, unless you have ever ventured beyond the UK in an electric car.
Add to that Plug Surfing, Chargemap, Enel.E, X-Recharge and dozens of others and you'll quickly come to realise that the EV charging infrastructure in Europe is even more frangmented than the UK, although fortunately, there are aggregators that offer cards and/or apps that work on several charging networks.
Most owners of plug-in cars are pretty tuned in to the need for an app or RFID card/key fob to both start the charge and debit your account which is likely to be linked to your bank account. It you are a Tesla driver then you will be aware of the pan-European network of super- and destination-chargers but there will be times when you need to top up the battery from a public charger.
Of course, most EV owners would like it to be as easy to take a charge as it is to fill up the tank of a conventional motor, and some chargers do enable you to touch in and out with a contactless credit or debit card, but most aren't as straightforward as that.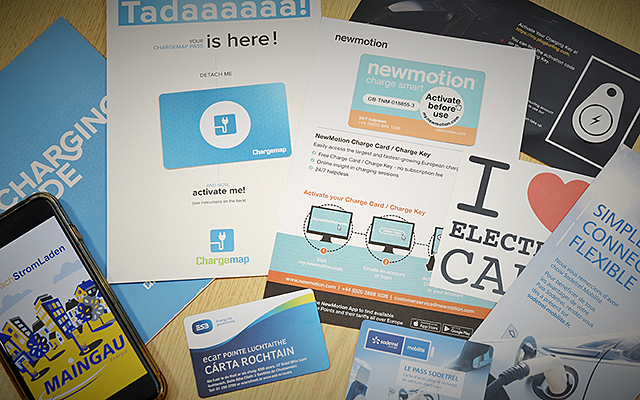 I bet there's many an EV owner who has at some time found themselves at a charger in the UK for which they don't have the right app or card – and then go through the hassle of setting up an account and possibly pre-loading it with cash before being able to plug in.
Translating that to another country in an unfamiliar language would be an entirely different ball game, so a little homework in advance of your European EV adventure really is important.
Naturally providers have an interest in encouraging drivers to use their chargers and to recover their costs, so require you to use their own app or card. Often these networks are either local or if they cover a large geographic area, sporadic. So as a result, there are possibly hundreds of charging networks across mainland Europe.
Fortunately aggregators such as New Motion, Plug Surfing and Chargemap have been set up to work across several networks and more than one country, so that just a couple of cards or apps will give access to tens of thousands of chargers.
It is becoming ever easier to drive an EV in Europe, not least because the number of chargers is rising extremely quickly; and most will be linked to one of the main networks.
If you are visiting more than one country though, you'll need more than one app or RFID card. Our guide to charging in Europe will point you in the right direction.
We'd be interested to hear about your own experiences of driving through Europe in an EV too. Drop an email to [email protected].
Crossing the channel in an EV might be regarded as a brave decision now but it won't be long before it becomes the norm – especially as the practical range of even modest EVs becomes ever greater.
Drive safely.
---
Edmund (28 November 2018)