A road trip into Europe can be a pleasure compared with driving at home, not least because of the quieter and pothole-free roads. But if you're thinking about a European trip in an electric car, you'll need to do a bit more planning:
Are there suitable charge points within range on your route? and
Do you have the means to pay for charging?
Like the UK there are different companies providing chargers – but the market is much more fragmented and there is a bewildering number of providers.
In most cases, you need to log-in using a network RFID card, a key-fob or an App, some of which need to be pre-loaded with funds. Chargers that accept a contactless debit or credit card are few and far between.
Thankfully, there are aggregators who can provide an RFID card that works on several different networks, reducing the number of cards or apps you need to obtain.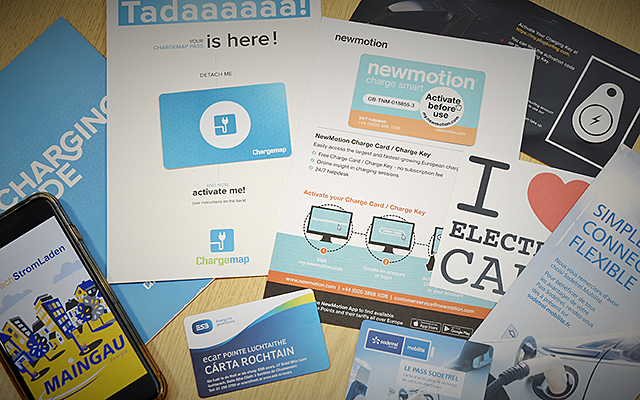 How many electric vehicle chargers are there in Europe?
The number of chargers is growing rapidly in most European countries.
According to the European Alternative Fuels Observatory, there are well over 150,000 chargers available for public use across Europe and The Netherlands tops the table:
Netherlands, 37,000 chargers
Germany 26,200
France 24,770 and
UK 18,200
Read our guide to electric car charging points.
How can I find EV chargers in Europe?
A look at a European charger app such as Plug Share or Chargemap will immediately show:
where charge points are
what type of connectors they have (you can filter results by connector or car type), including Tesla connectors
charge speed and, in most cases
how to pay and
whether the charger is being used or out of order
Resources such as this provide an opportunity for users to provide information about their visits such as precise location ('behind the building, on the left'), nearby facilities, whether there are any issues or faults and to upload photographs.
Like the UK, chargers are generally found where cars are likely to be parked for a while:
car parks
on-street parking
shopping centres
restaurants
hotels
tourist attractions
You're increasingly likely to find fast chargers at conventional fuel stations and, of course, at most motorway service areas.
What about Tesla chargers?
If you drive a Tesla, the number of destination and super chargers specifically for Tesla drivers is growing rapidly and can be found throughout Europe (and certainly in all the following countries). Teslas can charge from other networks too.
Tesla destination chargers with a white rather than red sign on the charger allow access to other vehicle makes with a 'Type 2' connector. You'll generally find Tesla chargers at hotels, restaurants, service areas and shopping centres as well as superchargers at motorway service areas and of course, Tesla dealers.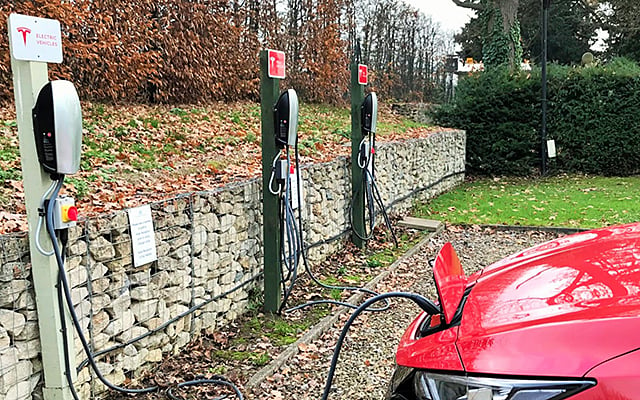 Europe-wide charging networks
There are at least three international networks: Plug Surfing, New Motion, and Chargemap which offer access to chargers in several European countries.
All offer access to a range of operators using an RFID 'charge key' or card or App with payment via Pay Pal or credit or debit card at the point of use. Most accessible chargers are in France, Germany, Belgium, Luxembourg and the Netherlands.
Chargemap's website and App show pretty much all charging points throughout Europe regardless of provider; but a filter can be applied to show just those that can be accessed using the Chargemap Pass RFID card, in France, the Netherlands, Germany, Luxembourg, Denmark and the Czech Republic.
Other networks are country-specific but increasingly spill over borders such as the French Izivia network which covers France, Belgium, some in the Netherlands; the ESB network in Ireland and even Genie-Point chargers in the UK.
Regional or national networks
This list of providers isn't exhaustive but we've tried to include most of the more widely used aggregators each of which covers a range of operators. Most chargers will have a telephone help line number in case of difficulty and operators can usually connect a charger for you remotely.
France
The EV charging network is expanding very quickly.
Principal card or app providers include Izivia (formerly Sodetrel), part of the EDF energy group; and KiWhi pass both of which cover charging networks within and beyond France, as well as Plug Surfing, Chargemap Pass and New Motion.
For non-card holders Ivizia also provides access to its 'Corri-Door' motorway charger network. When at a charge-point, a charging code is required to pay for energy in 5 minute units. The code can be obtained either through the Sodetrel Mobile App or online (both are in French). Otherwise buy a prepaid pass for two 30-minute charges at the motorway service area. However these are expensive options compared with obtaining a network RFID card linked to a debit or credit card.
Over 100 Auchan supermarkets have fast chargers that are either free to use or accept a wide range of network cards.
Germany, Belgium, Luxembourg, The Netherlands and Austria
New Motion and Plug Surfing offer the largest networks covering several operators, as has Chargemap Pass (but it doesn't operate in Belgium or Austria).
Another comprehensive network covering over 34,000 chargers in these countries as well as Switzerland, is Maingau which has a free to download App called EinfachStromLaden and also offers a free RFID card and key fob. Charging costs only a few cents per kW, charged to a linked internet bank account (you need your account's IBAN and BIC numbers). The interactive map provides filters and information about whether chargers are available or if they have a fault as well as directions to your chosen charger.
In the Netherlands, Belgium and parts of Germany, Allego offers access through its Smoov App linked to your debit or credit card. It covers some charging networks in other countries too including Shell in the UK.
Networks such as Ladenetz (which has its own app or can be accessed through New Motion) in Germany and the Netherlands are growing rapidly. There are new kids on the block too, such as Telekom which plans to install 12,000 charging points throughout Germany.
Aldi is installing free-to-use fast chargers, powered by solar energy, at many of its supermarkets in Germany.
The national fast charging network in Austria is Smatrics accessible through its App, although other networks can be accessed through New Motion and Plug Surfing.
Spain
Spain has just over 5,000 charging points.
Iberdrola (IBIL) aims to have 25,000 charge points by the end of 2021. You'll either need to get an IBIL prepaid card ahead of your trip (you need to pre-load cash from a linked bank account or some garages will both provide a card and allow you to load it) or you can use the IBIL app which links to a bank account. The App has a 'reservation' feature in advance of reaching a charger.
A small number of chargers are covered by the Plug Surfing and New Motion apps.
Portugal
Portugal has been slow to join the green driving revolution and has around 1,600 chargers, of which a quarter are fast chargers.
The main provider, Mobi.E provides its own network card but the application process is in Portugese and requires a Portugese address.
Access cards can be obtained from one of the 'Electric Mobility Electricity Dealers' (CEME) which offer RFID cards:
Essentially these are aggregators and cards can be obtained at various addresses in person or by applying in advance – the last two are the easiest to apply for – both ask for a NIF (Fiscal number) but you can either leave this blank or say 'not available' and they cover the whole Mobi.E network.
Ireland
ESB (Electricity Supply Board) is the national provider operating over 1,000 electric car charging points across the country, which are accessible through an RFID card that you can apply for in advance, or you can use an Ivizia card.
All chargers on the ESB network are free of charge to use at least until mid-2019 when it is expected that payment will be needed to use fast chargers. In addition, a growing number of Lidl supermarkets have free-to-use chargers.
Irish Ferries have free-to-use charging points on board their ships.
Italy
There are about 3,500 chargers of which 600 are fast chargers.
The nationwide provider, ENEL-X has an App and an RFID card and is building an 'electric highway' of chargers. There's a fast charger every 60km or so between Milan and Rome and they expect to have 14,000 chargers across the country by 2022.
The App's in English but applying requires an Italian numeric post code. You can enter a five-digit number to register and change it later to a UK postcode or add it elsewhere in the address lines. The App links to a credit card or PayPal account and chargers are activated using a QR code.
Switzerland and Liechtenstein
Maingau provides access to several hundred chargers throughout Switzerland and Liechtenstein (as well as Germany, Belgium and Austria) using its free to download and very good EinfachStromLaden App or apply for a free RFID card and keyfob. Charging costs are low. Payment is to a credit card or your internet bank account for which you will need your bank's IBAN and BIC numbers.
Green Motion's EV Pass provides access to half a dozen operators with over 1,000 chargers, rising to around 5,000 by 2022 (including those in Liechtenstein).
If you're only an occasional user you can join for free, but if you plan to stay in the country for a while, you can pay to become a member which reduces the amount you're then charged per kWh.
The EV Pass can be provided either as an RFID card (for members) or via an App which needs to be pre-loaded with cash from a linked credit or debit card.
Czech Republic
There are around 800 chargers of which only 22 are fast chargers and around 12% are in and around Prague.
Chargemap Pass give access to chargers in Prague and a very few in outlying towns.
Electromobilita has better regional coverage and operates chargers which can be accessed by applying for an RFID card or through their Polyfazer Direct App.
Denmark
About half of the 3,000 EV chargers in Denmark are provided by supply company e-on which offers two ways of paying for electricity.
The costliest is to call them on + 45 70 27 05 77. They will connect the charger for a high fixed fee regardless of how much energy you take.
More economical is to use e-on's EasyPark App – many of the chargers are located in Easy Park's national car parking network – the equivalent charge per kWh is much lower and includes the cost of car parking. The App links to your debit/credit card or to PayPal.
Plug Surfing, New Motion, and Chargemap also operate in Denmark.
Norway and Sweden
Norway leads the world in terms of electric vehicle use with more than half of annual new car registrations now being plug-ins. There are also nearly 12,000 chargers in Norway, more per head of population than any other country.
If you have an EV then Norway is a great place to go:
EVs (including foreign registered ones) are exempt from toll road charges (but you need to apply for an Autopass)
EVs can use most bus lanes (but not all so check signs)
They benefit from free parking in most places (but check signs – and note that time restrictions also apply to EVs), and
There's a 50% discount on most car ferries for electric car drivers
The many on-street slow chargers in Oslo are free to use but need a key which is obtainable in person from Låshuset Sikkerhetssenter AS in Oslo.
Fast chargers throughout Norway, Sweden and Finland are operated by Fortum ChargeDrive (it also covers some UK chargers) and by Grønn Kontakt. Both use an App linked to a debit or credit card.
A few hundred of the country's chargers are accessible through Plug Surfing. In addition, several chargers, mainly in Oslo, can be accessed through New Motion which also covers networks in Sweden and Finland.
---
(27 November 2018)