If you're driving in Europe for the first time, it's normal to feel a little bit nervous before you set off. You could be driving on the right for the first time, to different road rules and kilometre speed limits among other things. So here's what you need to know to feel confident behind the wheel.
Driving in the EU after Brexit
The UK stopped being a member of the EU on 31 January 2020. However, until the end of 2020 the previous rules on travel for the UK and the EU continue to apply.
New rules on travel in the EU may take effect on 1 January 2021, including the documents you'll need to carry when driving in Europe.
Top tips for driving on the right
Driving in your own car – Although you're already familiar with your own set up, you'll have to adapt to your new position on the road and get familiar with the road rules too.
Driving in a hire car – You'll need to get used to a new vehicle before you set off. Pedals will be in the same order, but gear stick and handbrake will be on your right.
If you're off to Malta, Cyprus or the Republic or Ireland, you'll be driving on the left, as in the UK. All you'll need to do is learn the rules of the road. Here's the full list of European countries which drive on the left.
It can take some getting used to driving on the right. Here's how to master it quickly:
If you're driving down a narrow lane, pull over to the right to let oncoming vehicles pass.
On motorways and dual carriageways, the overtaking lane is on your left side.
Go easy when overtaking. If you need to overtake and you're driving a left-hand drive car, you may find you can't see the traffic around you properly. If you need to, wait for a stretch of dual carriageway.
On roundabouts, give way to the left and drive anti-clockwise. In some countries, such as Holland, look out for bikes – their roundabouts are structured to include bike lanes.
Look at the signs. The best way to check you're on the correct side of the road is looking at road signs – if they're facing you, you're doing OK.
Give yourself space. Keep a greater distance than you normally would between you and the car in front to make sure you have the time and space to react if you need to.
Take extra care when you've just finished a familiar task, such as filling up at a petrol station where you could unconsciously slip back into UK driving mode.
Bring a friend to chat to. If you can, take someone along with you who's familiar with driving on the right, so you have the comfort of someone talking you through manouvers like crossing traffic.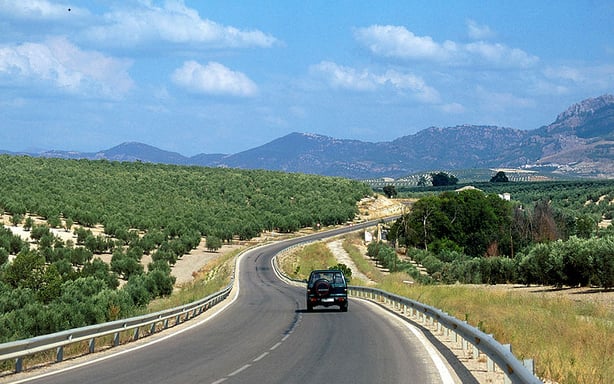 Know the laws and speed limits
Driving laws vary widely across Europe, even between neighbouring countries. For example, there's no speed limit on Germany's autobahn (motorway network), and in France, the motorway speed limit is reduced from 80mph to 68mph when the road is wet.
Here are some of the main differences between UK and European laws you should know:
In many European countries, such as Poland, Bulgaria and Serbia, you need to have your headlights on at all times.
Some countries allow you to turn right on a red signal – there will be a sign or flashing light to show you it's allowed.
Many European countries ask you to carry essential kit at all times, such as headlamp beam converters and a reflective jacket.
If you wear prescription driving glasses, carry a spare set with you.
In France, you must carry a breathalyser at all times.
As if driving on the other side of the road wasn't confusing enough, you may have to learn some unusual laws. For example, it's illegal to drive a dirty car in Romania. Or that parking in some Spanish cities depends on the day of the week.
Some rules are the same across Europe. Drivers must carry a full licence, vehicle registration documents and car insurance details. Speeding tickets and fines can follow you home, so don't take chances.
Our country guides for driving in Europe are essential reading, so you'll know the speed limits and driving rules for the country you're going to before you set off.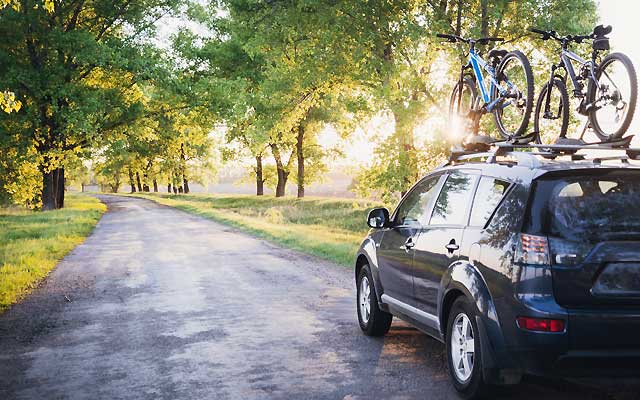 What to do if you're pulled over by the police
The most important rule here is to stay calm. If you're flagged down, slow down, indicate, and find a safe space to pull over.
The police may ask to look at your travel documents – if you don't have them on you, it could mean a fine, or having your licence temporarily taken away until you take them to the local police station.
You only need your UK driving licence for European countries, but if you're heading beyond Europe, you may need an International Driving Permit, too.
Keep the following documents in a plastic folder in your car at all times:
Full UK valid driving licence (plastic card only – the paper forms have been discontinued).
Your car insurance details and your vehicle's V5c (registration document).
Passport (and your visa if you're in a country that needs one).
If you're hiring a car, you'll need all the relevant paperwork you were given by the rental company.
Here's a full list of the documents you'll need (and the essentials you'll need to check) before you set off.
Never hand over your visa, passport or any money on the roadside (more details below).
Keeping safe on the road
It's unlikely, but if someone tries to flag you down while you're driving and suggests there's an issue for your car, don't pull over and stop.
The issue could be genuine, but the safest thing to do is to drive to a populated area and wait until you're in a brightly lit, busy place before checking your car.
If you're stopped by the police and you feel something isn't quite right, keep your door locked, open your window slightly so you can talk, and ask to see their badge. A genuine police officer will be happy to prove they're who they say they are.
In order to get the latest advice, check out the FCO website before you travel, and see if there have been any issues about the country you're travelling to.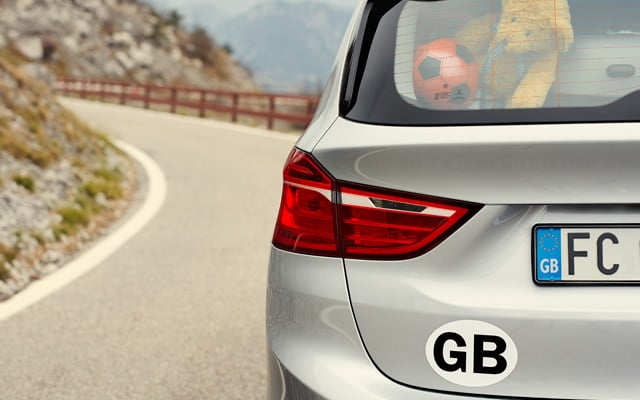 The importance of knowing where you're going
There's nothing more frustrating than getting lost, so make sure you have an up-to-date satnav (which includes maps of Europe) with its charging cable and mount) in your car. Or you can use and print our Route planner – if you're somewhere with no signal, you've got a hard copy of your directions.
It's illegal to use satnavs to detect speed cameras in any European nation except the UK and Hungary.
Make life easy and plan ahead
If you're driving around Europe, you'll sometimes need to pay a toll to use the road. The payments can add up, especially if you're taking a long trip, so research your route before you go. You can pay by card in some countries, but always carry plenty of notes and coins to get you through the tolls just in case.
Some countries may need you to pre-pay tolls, such as Portugal, where you must buy a DEM card to pay for tolls.
Long drives can tire you out sooner than you might think. Take regular breaks and stay hydrated, make sure you're protected against the sun (you can still get sunburned while driving), and drive at a speed which suits you. If you wear glasses, you might like to get some prescription sunglasses to make long hot drives easier on your eyes, as contacts can get scratchy when your eyes dry out.
Lots of European motorways can get congested, especially in the summer. To avoid stressing out in long traffic jams, allow yourself a little more time and plan your journey around A and B roads. It might take a little bit longer but you'll be off the motorway and you'll get to see more of the country you're travelling through.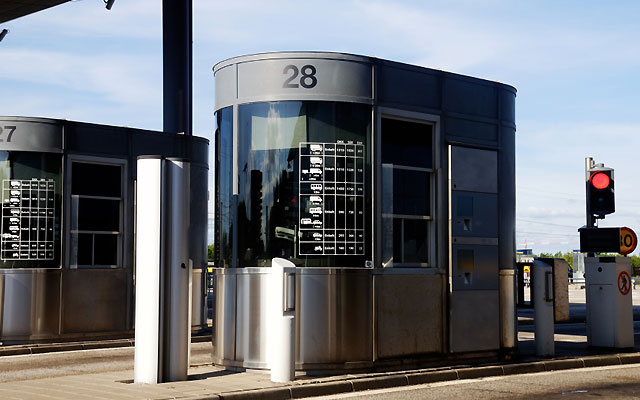 The perils of parking
Before you leave home, double check with your accommodation if they provide parking. If they don't, ask what the best plan of action is. Will you be able to park locally? How much will it cost? Can you pay with your card, or with change? Are there any limits on how long you can park there, or when you can return?
It's sometimes easier (and far cheaper) to park outside of the city centre and catch public transport to your hotel or to begin your sightseeing. In Bruges and Amsterdam, there are long-term park and ride sites outside the city centres.
In some historical cities, such as Pisa and Rome, you might find vehicles aren't allowed in the centre. In Italy, this is shown by a sign with a red circle on a white background. Here's an introduction to traffic restrictions in Europe.
Relax and enjoy the ride!
This is your holiday, and it's time to leave your worries at home and focus on enjoying your break. Your road trip can be a huge part of that. When you're used to driving abroad, you'll suddenly realise that you're having a lot of fun and that Europe's a lot more accessible than you previously thought.
European Breakdown Cover lets you fully focus on what's important – having fun. It's tailored for travellers, with access to over 40,000 quality-assured garages across Europe, so you can carry on enjoying your holiday with no fuss if your car decides to misbehave.
---
updated 3 March 2020