Before you venture across the channel in your own car, or hire one further afield, get to know the rules of the road in the countries you're visiting so you don't get caught out.
Wherever you're heading, you'll find our general advice below, but first some advice on what Brexit might mean for UK drivers venturing across the channel.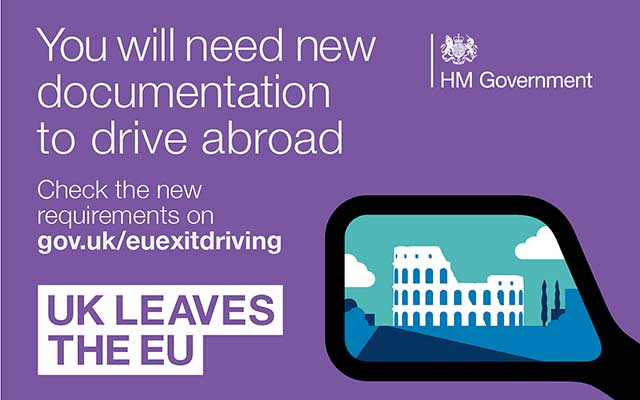 Driving in the EU after Brexit
The documents you must carry if driving in the EU after Brexit will change if we leave without a deal.
The UK and EU have agreed an extension to Article 50 until 31 October at the latest, with the option to leave earlier as soon as a deal has been ratified.
So while no deal remains the legal default at the end of this extension period, it's now unlikely that there will be any changes affecting European travel this summer e.g. you will not need to carry an IDP or insurance green card to drive in an EU country.
Driving licence
Deal – No change. If we leave with a deal then mutual recognition of driving licences is likely to continue.
No deal – if there is no EU exit deal then it's very likely that you will have to apply for an International Driving Permit(IDP) and carry it as well as your UK driving licence. In fact you may need two different IDPs depending on the countries you're going to be driving in.
If you have a UK Photocard licence, then for shorter visits you won't need an IDP to drive in Austria, Belgium, Denmark, Estonia, Finland, Germany, Greece, Hungary, Ireland, Iceland, Latvia, Lithuania, Luxembourg, Malta, Norway, Poland, Portugal, Romania, Slovenia, Spain, or Switzerland.
If you only have a UK paper licence, then for shorter visits you won't need an IDP to drive in Belgium, Denmark, Finland, Hungary, Ireland, Iceland, Luxembourg, Portugal, Slovenia, Spain, Switzerland
Passports
Deal – no change
No deal – Travel to Ireland is unaffected, but otherwise, if there is no EU exit deal and you are travelling to one of the Schengen area countries, passports will have to have a minimum of six months left on them from the date you arrive. Extra months over 10 years (added if you renewed your passport early) may not count towards the six months. Bulgaria, Croatia, Cyprus and Romania may have different entry requirements.
Vehicle registration documents
Deal or no deal, if you're taking a vehicle into an EU country for less than 12 months you will still have to carry your V5c vehicle registration document or a VE103 if the vehicle's hired or leased.
Insurance
Deal – no change
No deal – it's likely that you will have to carry a motor insurance green card as evidence of cover when driving abroad. If you're towing any caravan or a registered trailer you will need two green cards, one for the towing vehicle and one for the caravan/trailer.
European Health Insurance Card (EHIC)
Deal – no change, at least until the end of the transition period.
No deal – EHIC cards issued in the UK will no longer be valid and you will lose the right to access state-provided healthcare for free or at a reduced rate during a temporary visit.
Number plates and GB stickers
Deal or No deal – the Government's advice is that you should display a GB sticker on the rear of your vehicle, irrespective of whether you currently have a number plate which includes the GB identifier.
If you're travelling via Dover or Eurotunnel
Contingency plans to manage freight traffic on major roads leading to the Port of Dover and Eurotunnel are known as Operation Brock
If the UK leaves the EU without a deal, Operation Brock may be activated if there are significant delays at the border between Dover and Calais
Before you travel, check if Operation Brock is active and whether delays are possible, check online for advice and plan ahead.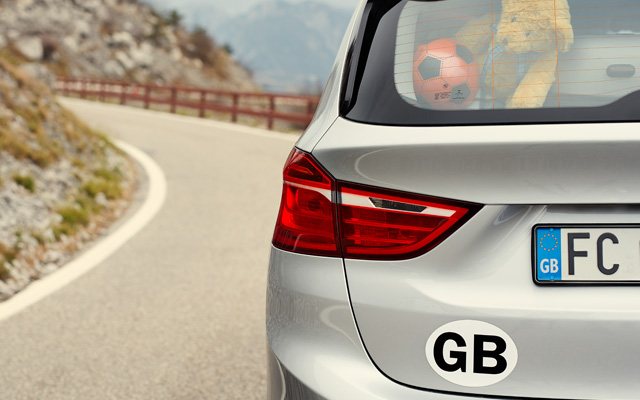 General Advice
Documents
You may be asked to show your documents at any time and could be fined or even have your car taken away if they're not in order.
You must carry:
Your valid full (not provisional) driving licence
A copy of your DVLA driver record and a licence check code if needed.
An International Driving Permit (when necessary)
Your vehicle's registration document (V5c) (the original not a copy)
Your motor insurance certificate (Your insurer may ask to be told when you're going abroad and only provide third party cover when you do.)
Your passport(s)
Your travel insurance documents
You may need a visa for certain countries too
If you're taking a boat or going in a vehicle other than a car or motorcycle you may need additional documents.
Borrowed, hired or leased
If you're taking a company-owned, hired or borrowed vehicle you'll need a letter of authorisation from the registered keeper as well as the original vehicle registration document (V5c) or a Vehicle on Hire Certificate (VE103).
The VE103 is the only legal alternative to the V5c and you can get one from BVRLA/All fleet services on 01452 881037.
Low emission zones and urban restrictions
Many cities across Europe now operate low emission zones, congestion charge schemes and other restricted access schemes, many of which affect foreign-registered vehicles. Some require registration before you travel.
Travel insurance
It's always a good idea to take out travel insurance so that you're covered for accidents and emergencies.
European Health Insurance Card (EHIC)
If you're going to a European Economic Area (EEA) country or Switzerland, make sure you've got a free EHIC card.
The EHIC entitles you to reduced-cost (sometimes free) medical treatment in most European countries but the cover provided is not always comprehensive.
The cost of bringing you home in the event of illness or death is never covered so you should make sure you have adequate travel insurance as well.
Credit cards
UK-issued credit cards aren't always accepted at stores or petrol stations in other countries, so it's wise to check with the card company before you go, particularly if you're going to rely on using the card.
Pets
If you're planning to travel with a pet, make sure you're familiar with official rules and advice.
Your safety
Wherever you're headed, check the latest crime and personal safety advice from the Foreign Office Travel Unit before you go.
Emergency number
You can call 112 anywhere in the European Union in case of an accident, assault or any other distress situation.
Drinking and driving
Legal limits do vary and are explained in our country-by-country guides but there's only one safe rule – if you drink, don't drive. Laws are strict and penalties severe.
Mobile phones
Using a hand-held mobile while driving is against the law in most countries.
Glasses for driving
If you need glasses for driving take a spare pair with you, especially if you're the only driver.
Think right
It's easy to forget to drive on the right, particularly after doing something familiar, such as leaving a petrol station or car park. Roundabouts can be tricky too, and some drivers find it helpful to stick something on the dashboard or windscreen as a reminder.
Rules of the road, country by country
Your Vehicle
GB sticker
You must display a GB sign and could be fined if you don't.
The GB letters must be black on a white, elliptical background. They must be at least 80mm high with a stroke width of 10mm.
If you've got euro-plates (number plates including the GB euro-symbol) you don't have to display a conventional GB sticker within the EU.
Outside the EU, some countries still require a GB sticker even if you have euro-plates, so it is always safer to display one.
You can buy your GB sticker here.
Reflective jackets
Many countries require all drivers, including visitors, to carry reflective jackets and wear them as soon as anyone gets out of a vehicle in an emergency or break down. We recommend carrying at least two in the passenger compartment of your car, one for the driver and one for a passenger.
Our country-specific guides include national requirements.
Bear in mind that car hire companies don't always provide reflective jackets, or other compulsory equipment, as standard.
You can buy reflective jackets here.
Headlights
The legal requirement is to 'not cause dazzle to oncoming drivers' rather than specifically to adjust or convert your headlamp beam pattern to suit driving on the right.
You can't always predict delays and bad weather so even if you're only going for a short trip and don't expect to drive at night it's a good idea to carry a set of headlamp beam converters with you – unless your lights can be adapted without them.
Don't leave it to the last minute to find out what you need to do – you might need to get a dealer to make an adjustment for you.
Beam converter kits may not be suitable for all types of headlight so check carefully.
Make sure you remove headlamp converters as soon as you return to the UK.
You can buy headlamp beam converters here.
Warning triangle
Whether compulsory or not we recommend carrying a warning triangle wherever you're heading. You can buy a warning triangle here.
Rear-view mirrors
A door or wing-mirror on the left-hand side is very helpful when driving on the right. We recommend getting one fitted if your vehicle doesn't have one.
Servicing and tyres
Get your vehicle serviced well in advance to reduce the chance of a breakdown while you're away.
If you've got a long road trip ahead of you and drive a new diesel that uses diesel exhaust fluid (AdBlue), it's a good idea to carry a top-up can with you.
Check your tyres for condition, pressure and tread before you go.
Most countries have the same (1.6mm) minimum tread depth requirement as the UK but tyres do wear out quickly when they get down to 3mm so if they're this worn think about new tyres before you go.
Depending on the time of year and where you're going, you might have to get winter tyres fitted.
Snow chains
Snow chains are important for any winter trip and are compulsory in some countries even if you've got winter tyres fitted.
Radar detectors
Using or carrying a police speed trap detection device is illegal in most European countries and penalties can include a fine, driving ban, or even imprisonment.
Some countries also ban you from using a sat nav system that can show fixed speed camera locations so you might have to disable the function before you go.
---
updated 23 July 2019