Think you've seen snow? Think again. Driving across Europe in winter you need to be prepared for road conditions more severe than anything at home, especially if you're heading for winter sports resorts.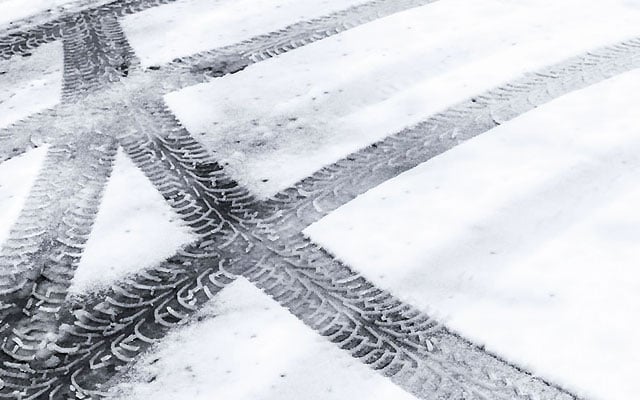 You have to make sure your car, van or camper is equipped for the weather and road conditions. You could be fined if you hold up traffic and aren't using tyres or chains suited to the conditions.
Although some countries require residents to use winter tyres in certain months, they may allow visitors to use summer tyres with snow chains. Our advice, though, is to fit winter tyres for all European road trips during the winter months.
Winter tyre and snow chain rules, by country
Why winter tyres?
They improve handling and stopping distances in cold (below 7C) and wet weather as well as when roads are covered in snow and ice.
Driving abroad in winter you can expect:
More time in wintry conditions.
Worse road conditions.
More challenging roads.
Most other vehicles fitted with winter tyres
They may seem an extravagance, but remember that winter tyres will also come in useful at home in the winter.
Snow chains
Check with your travel company or holiday rep for any local rules about using snow chains before you go. Check your car insurance policy, too, as there may be specific restrictions for winter resorts.
If you're going to use snow chains, it's a really good idea to practice fitting them at home. It'll be much easier to do it with cold hands and wheel arches packed with snow if you already know what you're doing.
If you're hiring a car, check with the hire company to make sure it's suitably equipped for your trip.
Fuel issues in winter
When it gets very cold, wax crystals can form in diesel and stop the engine running so fuel standards set temperature limits for different countries depending on the climate. Diesel sold in the popular winter resort areas of Europe will be ok down to at least -20C but winter diesel sold in the UK is protected only to - 15C. So it's not a good idea to carry a spare can of diesel from the UK. 'Cold flow' additives aren't required and aren't recommended
19 January 2017