The UK stopped being a member of the EU on 31 January 2020. Post-Brexit, there could be new rules in the future which will change the way you drive in Europe.
Until the end of 2020, the old rules on travel for the UK and the EU still apply. New rules on travel in the EU may take effect on 1 January 2021, including the documents you'll need to carry when driving in Europe.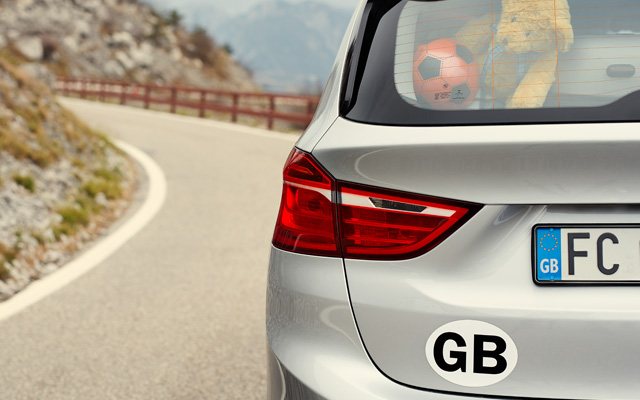 Documents for driving abroad in Europe
The rules for driving abroad may change from 2021, including driving in France after Brexit. Find out what you need to take now, and what you might need in the future.
Until 31 December 2020
What you'll need:
Your Certificate of Motor Insurance if you drive in the EU. This has details of your insurance cover that you'll need to provide if you have an accident.
At least 6 months on your passport (excluding months over 10 years added if you renewed it early)
What you don't need:
Read the latest Government advice.
From 1 January 2021
What you might need:
A Green Card.
Your Certificate of Motor Insurance.
The log book (V5C) for the vehicle.
Whether hiring a car or driving your own, it's likely that you'll need an International Driving Permit.
What is a Green Card?
The Green Card (or International Motor Insurance Card) is an internationally recognised document that shows that you have the minimum insurance cover needed by law in the country you're visiting.
If you're visiting a European country after 31 December 2020, for up to 90 days, then you may need a Green Card. Contact us at least 14 days before you travel, and we'll sort it for you free of charge.
Please call 0370 060 0137.
Lines are open Monday to Friday 8am to 8pm, Saturday 9am to 5pm.
What is an International Driving Permit?
An International Driving Permit (IDP) is an official, multi-language translation of your driving licence. It's currently required in certain countries outside the EU but it might also be needed within the EU from 2021.
You can apply for an IDP at your local Post Office.
To apply for an IDP you must be 18 years or over and have a valid UK driving licence.
An IDP can't be issued to a provisional licence holder.
Find out more about International Driving Permits.
---
Published: 10 September 2020 | Updated: 10 September 2020 | Author: The AA