Most trips to Europe by road involve some driving in France. Find out what the rules are for drivers in France and how they might differ from those at home.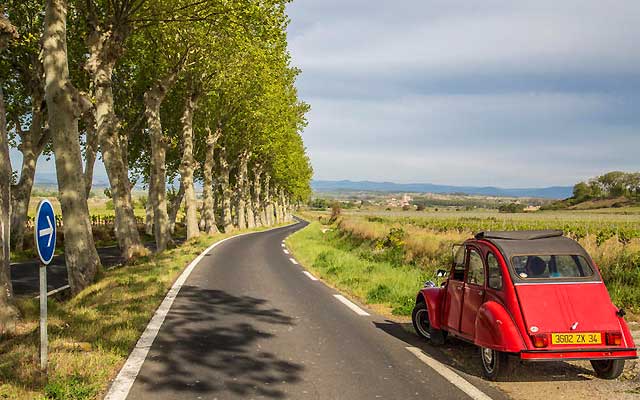 Documents for driving abroad in Europe
From 2 August 2021, a Green Card (or International Motor Insurance Card) is no longer required for travel in France.
The latest rules:
The drink drive limit for new drivers (less than 3 years) has gone down from 0.05% to 0.02%, the same as for bus and coach drivers.
Drivers and riders mustn't use headphones and headsets (any device attached to your ear). This covers devices used for phone calls as well as for listening to music, but you're allowed to use a Bluetooth or integrated systems in a motorcycle helmet.
Low Emission Zones in Paris, Lyon and Grenoble affect UK-registered vehicles too and ban access for older vehicles. (Full details)
Speed limits on single carriageway roads without a separating guard rail were reduced from 90km/h to 80km/h (50 mph) across France in 2018.
Low emission zones
A growing number of French cities have low emission zones, including Paris, Lyon, Lille, Marseille, Toulouse, Chambery, and Grenoble. These affect UK-registered vehicles in Europe.
Drivers within the restricted area in one of these cities have to display the appropriate vignette (sticker) in their windscreen or face a fine. In Paris, for example, cars are banned on weekdays between 8am and 8pm unless they have at least a CRIT'Air 3 sticker.
If you're heading to France by car, we'd advise applying for the sticker so that you're covered, just in case you pass through one of these areas. But don't leave applying to the last minute as there can be delays to the estimated 30-day delivery time.

Low emission zones affect all types of vehicle including cars and motorcycles.
Vehicles in restricted areas have to display a CRIT'Air sticker (Air Quality Certificate).
If you don't buy and display the sticker you could be fined between €68 and €135.
There are 6 different types of sticker depending on the your vehicle's emissions.
Get the sticker from the official source for the fee of €4.41 including postage.
'Emergency' low emission zones are used when air pollution's high, which could be any time.
Speed limits
In response to a big rise in the number of road deaths in France, speed limits on two-lane (single carriageway) highways were cut from 90km/h (56mph) to 80km/h (50mph) in July 2018.
This national speed limit change has since been reversed though the French Government has said that it is up to Mayors to decide whether or not to return to a 90km/h limit in their local area.
Satnav and speed camera alerts
It's long been the case that you're not allowed to carry or use a speed camera detector in France.
You could be fined up to €1,500 or even have your vehicle taken away.
The law was extended to cover satnav and any other GPS-based system in 2012.
If your satnav can show fixed speed cameras, then you'll have to disable alerts before you drive in France.
You may need to contact the satnav manufacturer for a software or database update to remove French camera data.
Reflective clothing for motorcyclists
In 2012 the French said that riders would have to wear reflective clothing when riding and if they break down. This was to come in in 2013 but the law was scrapped in January 2013.
Since January 2016 though, riders on two or three wheels must carry reflective jackets and wear them in an emergency or break down.
Eating at the wheel
Stories in the press about a new law against eating or applying make-up at the wheel are misleading. These have always been covered under the more general French equivalent of our 'Driving without due care and attention'.
Our driving tips for France, in full
Published: 5 October 2016 | Updated: 26 January 2020 | Author: The AA