Over the last few years the things customers ask for at hotels has changed.
Is breakfast included? Is there free parking? Do you have WiFi?
The next development and indeed question on the horizon will be: "Do you have electric car charging points?"
The Government has deemed that virtually all new cars should be zero emissions by 2040 so the race is on to increase the number of charging points including those at destinations like hotels.
As part of the strategic partnership between the AA and Chargemaster, all 4,000 or so AA rated hotels and B&Bs are being offered the opportunity to have electric vehicle charging points installed at no cost and integrated into the UK's largest public network.
The first hotel to benefit from the offer was the four-star Sandford Springs Hotel and Golf Club in Kingsclere, Hampshire, which now has a Chargemaster 50kW rapid charger on the POLAR network for guests and EV drivers.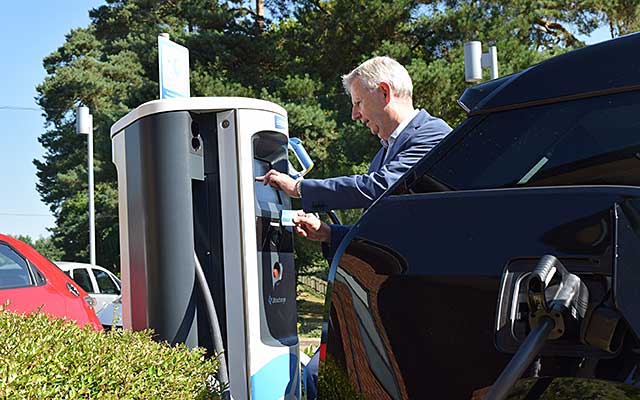 I recently officially 'opened' the charging point at Sandford Springs, which is sister hotel to Dale Hill in Wadhurst and The Oxfordshire in Thame. When I say 'opened' I guess I mean I was photographed plugging-in. No Champagne bottles were smashed in the process.
Chargemaster will work with any AA-inspected establishments interested in taking up the offer to determine the best charging points for their location. Rapid chargers are perfect for hotels along high-traffic routes to encourage visitors to stop for a charge on a longer journey, while destination chargers are more suitable for guests charging overnight.
Chargemaster's research shows that 90% of EV drivers will seek out destinations that have charging points over those that don't, meaning that having a charging point provides an additional draw for hotels as the EV market continues to develop.
Alongside our automotive heritage, the AA has been involved in the hospitality industry since 1908. We know that when EV drivers are looking for hotels, they will actively seek out those with charging points. We have witnessed enormous changes in both the automotive and hotel sectors over the last 110 years, and we are delighted that our AA recognised hospitality businesses can benefit from this tremendous offer.
Any AA hotels or B&B can find details of the offer here.
The charge of the light brigade continues.
Drive safely.
---
Edmund (10 August 2018)