Road users now have many more ways to motor around than by a car or motorbike. Quad bikes, e-bikes, Segways, Go-Peds, Hoverboards – each has their fans, who drive them either on the road or the pavement.
But where can you legally drive them? And do you need insurance?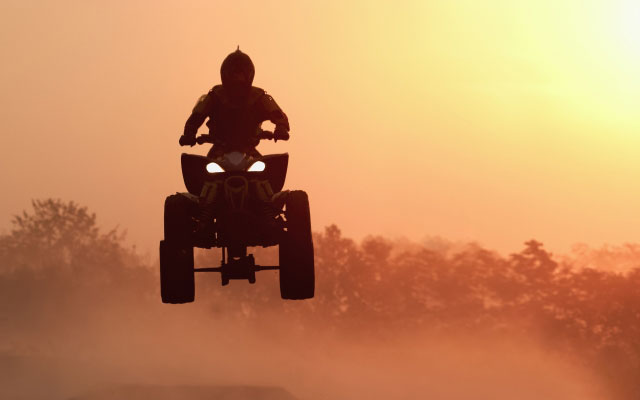 What does road legal mean?
For a vehicle to be considered road legal, it must be registered with the DVLA, and have the valid Vehicle Excise Duty (VED, or vehicle tax) and an MOT certificate. If it isn't road legal, the vehicle can only be used on private land with the landowners' permission.
In accordance with the Road Traffic Act 1988, users of motor vehicles must have a minimum of third party insurance to drive on the road. There are a few exceptions to the law, such as for police and emergency vehicles.
So do I need insurance for a Hoverboard?
No, simply because you can't legally ride them on the road or on a public footpath. After these misleadingly titled devices bothered sufficient numbers of people back in 2015, the Crown Prosecution Service made it clear that it was illegal to ride them on pavements or roads.
The same is true of Segways, powered scooters and self-balancing unicycles. As much as you may want to ride them on public thoroughfares, you'll be breaking the law if you do.
Class 3 mobility scooters and powered wheelchairs are notable exceptions. They have to be registered with DVLA, but don't need VED or an MOT test.
So you don't need a driving licence to drive either kind of mobility scooter, and it's permissible to drive them on the road as well as the pavement. (Class 2 mobility scooters can only be driven on the pavement, not the road.) There's no legal requirement to insure them, but it's probably wise to take out some kind of cover.
Does my road-legal quad need insurance?
Yes. Quad bikes can be made road legal, but they must be registered, taxed, have an MOT and, of course, be insured. They'll need a minimum of third party insurance, but given the high cost of repairs or replacement for road-legal quad bikes, it might be wise to consider comprehensive cover. This might be difficult to find because of the specialist nature of the vehicles.
The majority of quad bikes are intended for off-road use only, such as for agriculture, horticulture and forestry work. But you'll probably need to take to the road at some point. For instance, you might wish to drive your lawnmower over the public highway to get to your allotment. Most agricultural vehicles are allowed to access public highways for short distances – but they must still be insured.
Do I need insurance for an electric bike ?
E-bikes are traditional bicycles with a small electric motor that gives a little extra propulsion when needed. Because they have pedals, and as long as they're limited to 15.5mph under battery power, e-bikes don't need to be taxed or insured to be used on the road.
They've been around for a while, and have benefited from the advances seen in the development of electric cars, such as improved battery size and power. They're relatively rare on British streets, but not so in Europe, where e-bikes outsell regular bicycles. This is somewhat ironic as many pedal cycles can easily travel above the battery speed.
Many insurers provide specialist cover for pedal cycles – including theft, accidental damage, personal accident and public liability cover. Your home contents insurance may even cover your bike. But e-bikes are often more expensive than regular bicycles and more likely to be stolen, so probably won't be covered by your insurance. Ask your insurer if you're not sure.
Do I need to insure my Batmobile?
A surprising number of people have an enthusiasm for strange vehicles. One company has made a road legal Batmobile, while a Formula 1 fan created a car he could legally drive. Two US motoring enthusiasts even built themselves a road-legal shopping trolley.
If you want to build a car and put it on the road, then, just like any other car, you'll have to put it through the vehicle approval process to ensure that it's road legal.
While we probably couldn't help you with the insurance of your very own Batmobile, we do offer comprehensive car insurance that has been awarded a 5 Star Rating from Defaqto. And if you do prefer two wheels, we also offer motorbike insurance.