While some of us struggle with flat-pack furniture, others can put together their own car. And whether it's a hobby you've recently picked up or a lifelong passion project, building your own motor is a real sense of achievement.
But before all that hard work, you'll need to find the right insurance provider to ensure your newly made machine can go on the road.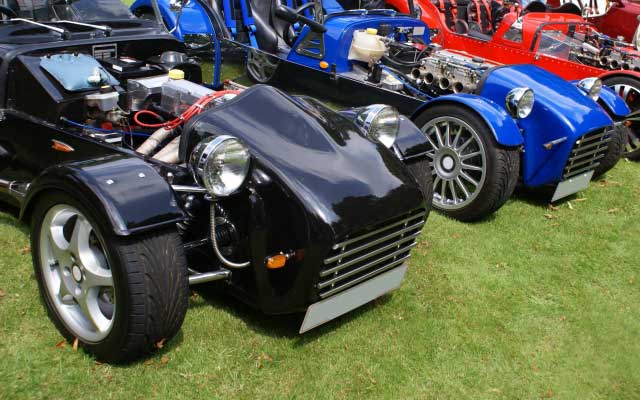 What is a Q plate car?
Where the age or identity of a vehicle is unknown, it'll be given a Q plate on registration (that's a reg number starting with the letter Q). It can apply to the following vehicles.
A self-built kit car – If all the parts are supplied new by the manufacturer, then you can get a current registration number. But if the parts are from various sources or more than one donor vehicle then you'll need a Q reg.
Radically altered vehicles – Unlike a kit car, this is where an existing vehicle has been altered from its original specification. Though some insurers will cover a few car modifications, a car that has no longer has a certain number of original parts will need a Q plate, and it could be harder to insure.
Former military vehicles – A Q plate may be required for an ex-Ministry of Defence (MOD) car that is still deemed classified (so information about the car can't be provided) or if there have been modifications.
Imported vehicles – The process for registering vehicles imported from outside the EU or without a European certificate of conformity is the same for new registration, but those whose age or identity is in doubt or have been radically altered will get a Q reg.
Cars without a Vehicle identification number (VIN) – You'll need the VIN when applying for registration, but it may be missing if the car's been rebuilt, modified or even reconstructed following a write-off. If you can't prove the vehicle's original VIN, you'll have to apply for a replacement number, and this could result in a Q reg.
What's a kit car?
The official description of a kit-built vehicle is 'one where all the parts are supplied new by the manufacturer'.
However, there are kit cars you make yourself, from donor vehicles and spare parts sourced elsewhere. To legally drive a kit car, it must first pass an Individual Vehicle Approval (IVA), which costs around £199. This IVA test is carried out at approved sites by the Driver and Vehicle Standards Agency.
Once passed, your kit car will need to be registered, taxed and insured, and then you're ready to drive your creation.
Getting kit car insurance
It's harder to get insurance for kit cars and vehicles with a Q plate registration because the risk for them is more tricky to calculate. Luckily there are specialist insurers who understand the culture of kit cars. Here's what you'll need to include when looking for insurance:
Build up cover – The parts needed to build your kit car may be valuable, so this cover could save you from losing out due to theft or damage.
Agreed value – You and your insurer must agree on the value of your car, which is what they'll pay out if the car is written off or stolen.
Salvage retention rights – Specialist insurers will discuss the chance of saving any expensive parts after a crash.
Parts only – Considering the skill needed to make the kit car in the first place, you might be happy to repair any accident damage yourself too. If so, look for a policy that will offer parts only cover. They'll pay out to replace any necessary parts and this will help to keep the premium down.
---
We're happy to offer an online quote for any cars which have had up to 2 modifications (excluding tow bars and parking sensors), but if you're looking to insure your kit car, you may need to seek a specialist insurer.