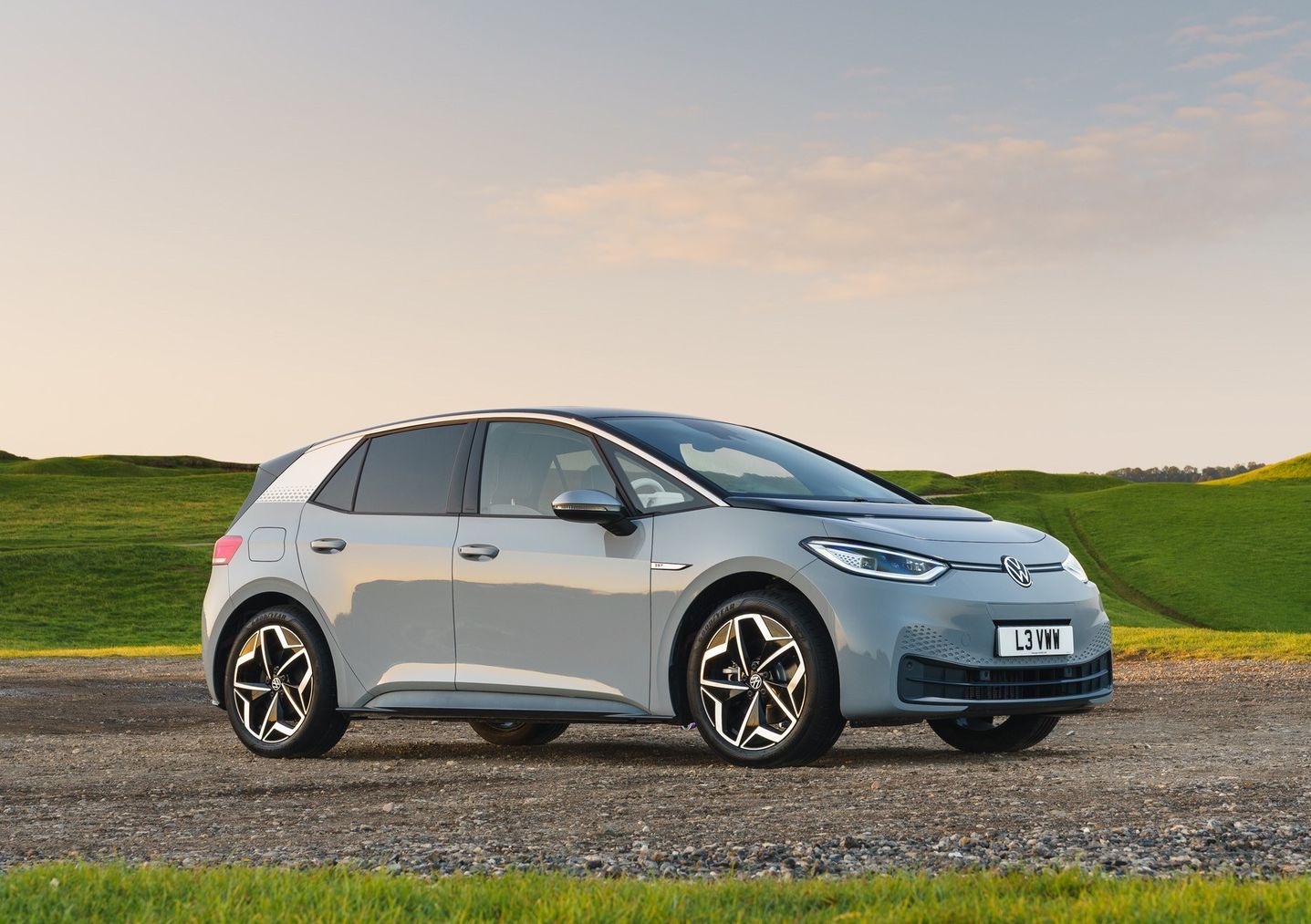 Summary 
With a growing range of manufacturers launching EVs, Volkswagen is making sure that it's leading the way – launching its ID.3 as the brand's first bespoke electric car. But is it worth choosing?
Pros 
Good to drive

Spacious interior

Plenty of technology
Cons
Styling won't please everyone

Cheap interior plastics

Fiddly infotainment system
Introduction
Volkswagen is no stranger to the world of battery-powered models, having a range of plug-in hybrids and the e-Golf and e-Up! as electric versions of 2 of its more popular cars. 
But the German manufacturer is now moving into new territory as it launches its new 'ID' nameplate for EVs. First up is the ID.3 – the '3', Volkswagen says, signals the third era of the brand. The first was the original Beetle and the second was the Golf, which is still its best-selling model. That gives an indication of just how important this ID.3 is for Volkswagen. 
Latest model
There's no 'latest' here, the ID.3 is a new car designed from the ground up to be an EV – rather than just converting a standard car to be an EV, as was the case with the e-Golf. 
So the ID.3 sits on a brand new platform known as 'MEB'. It'll underpin a range of electric VWs going forward, along with those from Seat, Skoda and Audi. Its powertrain is new as well, while the styling is a bit different to what we're used to from Volkswagen. But there's a familiarity to the interior layout, as it adopts various elements seen on the latest-generation Volkswagen Golf. 
Driving feel
Volkswagen has aimed not to scare anyone with the ID.3 – this will be many buyers' first EV – so it's ease of use that shines through. Approach the car with the key in your bag and it'll unlock, while once you're inside, you don't even need to use the starter button – just engage 'drive' in the selector and it's ready to go. 
With power being sent to the rear wheels, it's also surprisingly fun to drive. The power delivery is also seamless, across all speeds – whether you're setting off from traffic lights or performing a quick overtake. 
Looks and image
Volkswagens aren't known for their outlandish styling but the ID.3 has a bolder look than its petrol-powered siblings. 
For starters there's a jazzy colour palette, no noticeable front grille (EVs don't need 'cooling' in the same way a combustion-powered car does), and a cool LED front light bar that stretches between the headlights and badge. It's a neat touch – not least by night when it looks the most impressive. 
If you're familiar with the interior of the new Volkswagen Golf, the minimalist cabin of the ID.3 won't feel too different, though it is compared to the majority of EVs available today. With a large touchscreen and digital dials fitted across the range, it helps to bring a modern feel to the cabin, while a range of colours and textures add to the appeal. The quality isn't always consistent, though, which is a bit disappointing in a premium electric car. 
Space
Making the ID.3 as spacious as possible was always one of Volkswagen's aims, and it's certainly succeeded. 
In terms of size, the ID.3 is slightly smaller than a Golf, but it's roomier inside. There's plenty of space for adults to sit in the back seats comfortably, while the overall cabin feels light and airy. Clever packaging means the batteries are placed low to the floor, and the 385-litre boot is a generous size as well. Folding the rear seats increases the room on offer to 1,267 litres. 
Powertrains and running costs
Volkswagen will rapidly expand the ID.3's powertrain choice over the coming years, but currently there's only one electric motor option – one that produces 201bhp and 310Nm of torque. That allows for a rapid 0-60mph time of 7 seconds, and flat out it will reach 99mph. 
In standard form the ID.3 features a 62kWh battery pack, which allows for a good electric range of 260 miles, or 4.48 miles per kWh. Using a 100kW rapid charger (the fastest rate this Volkswagen can accept) the battery can be charged from flat to 80 per cent in 30 minutes, while if you plug it in at home it'll take 9 and a half hours with a 7.2kW wallbox. 
On top-spec 'Tour' models, Volkswagen equips the ID.3 with a larger 77kWh battery – enabling a seriously impressive range of 336 miles (4.36 miles per kWh)
Running costs should also be very affordable, with the price of charging being much less than the cost of running a petrol or diesel car. EV charging firm Pod Point says the ID.3 would cost less than £6 to charge at home (based on a 14p per kWh tariff), though be wary of using the fastest rapid chargers as these can be quite costly to use. With the ID.3 you're also exempt from paying car tax and you won't have to pay for any emissions-based road charges, either. 
Battery options
Electric motor with 62kWh battery (201bhp)

Electric motor with 77kWh battery (201bhp)
Rivals
BMW i3

Citroen e-C4

Kia e-Niro

Nissan Leaf
Trims 
A huge range of trims are available on the ID.3. Here we've detailed them all, along with what you get as standard on each. 
LED headlights

Digital dashboard

Ambient lighting

Keyless start

Adaptive cruise control

Front and rear parking sensors

Heated front seats 

Heated steering wheel

10-inch touchscreen

Satellite navigation
Business (in addition to Life)
Advanced LED headlights

Keyless entry

Reversing camera

Tinted rear glass 

Illuminated LED front light strip
Family (in addition to Business) 
Panoramic sunroof

2-zone climate control

Variable boot floor
Style (in addition to Life)
Advanced LED headlights

Panoramic sunroof

Tinted rear glass
Tech (in addition to Style) 
Head-up display

Upgraded sound system

Keyless entry

Reversing camera

Side assist

Travel assist

Illuminated door handles
Max (in addition to Tech)
2-zone climate control

Dynamic chassis control

Progressive steering wheel
Tour (in addition to Max)
19-inch alloy wheels

Larger 77kWh battery that allows for longer range
The Volkswagen ID.3 is now available in the Smart Lease range for a limited time. Find out more about leasing a VW ID.3.