Moving house can be just as chaotic as it is exciting, whether you're moving with a partner or buying your own place. And in the chaos you'd be forgiven for forgetting that you need to insure the new property the moment contracts swap hands, and not when you move in.
That's why we've put together a handy guide to protecting your home, and the important belongings you keep inside it – from a valuable piece of furniture to a shiny new laptop.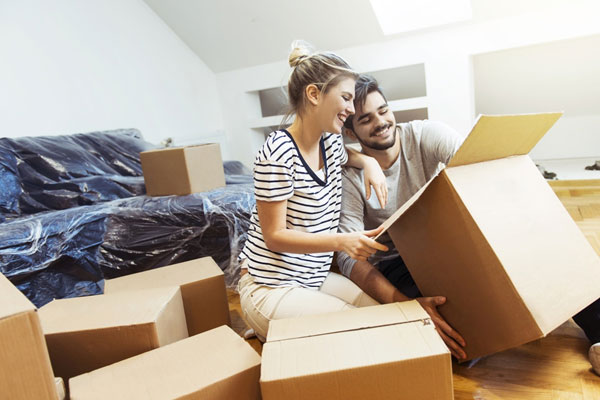 Keeping your stuff safe while you're on the move
Goods in transit cover
Some home insurance policies cover your belongings against damage or loss while they're being moved from the current property to the next. If yours does, it may be called household removal cover, or 'goods in transit' or 'property in transit' insurance.
Yet even if you do have goods in transit cover, you still need to follow certain steps to keep your belongings protected. So most policies require delicate or breakable items to be packed by a professional firm. If you do have any fragile or expensive items, then tell the removals firm so that they can pack and transport them appropriately.
Be aware that a DIY move could void your goods in transit cover, so check if you need to use a professional removal contractor.
Storage
If you need to keep some of your stuff in storage during your move, you might be covered by your current contents policy, and there could be some insurance offered by the storage provider too.
Many policies only offer insurance for belongings in storage for a few days at most. If you plan on leaving some of your belongings there for longer than that, then tell your insurance provider.
Getting settled in your new home
At least 7 days before you exchange and your belongings arrive at your new home, tell your insurer the new address so the buildings and contents insurance can be updated. Sometimes an existing insurer may not be able to provide cover for the new property, so be prepared to find buildings and contents cover elsewhere.
What if I'm part way through my policy?
Cancelling or changing your insurance part way through a policy year could mean you have to pay a fee. But it may be worth it if you shop around and find an insurance provider offering a much better rate for your new circumstances.
When will I need cover for my new home?
Once you exchange contracts you take legal responsibility for your new home. There's usually an overlap when you exchange and you're still legally responsible for your old home, so make sure both properties are insured during that period.
Moving house checklist
Other than sorting out your insurance when moving home, you should also remember to:
Tell your bank the new address.
Sort out the old and new council tax.
Organise your new landline and broadband.
We've put together a full homebuyer's property checklist to make sure you don't forget anything.
---
Avoiding expensive repairs or replacements when moving in will get your house move off to the best start – so you can start making happy memories inside it. Our Defaqto rated home insurance will protect everything special which makes your house a home.
---
Author:The AA
Published 5 March 2019. Updated 6 November 2020.