Whether yours is kept meticulously organised, or has so much crammed in it could give Mary Poppins a run for her money, handbags are important.
They usually hold everything valuable to us – from phones and house keys to bank cards and cash. So if they're stolen or misplaced, it can be a huge inconvenience and financial drain.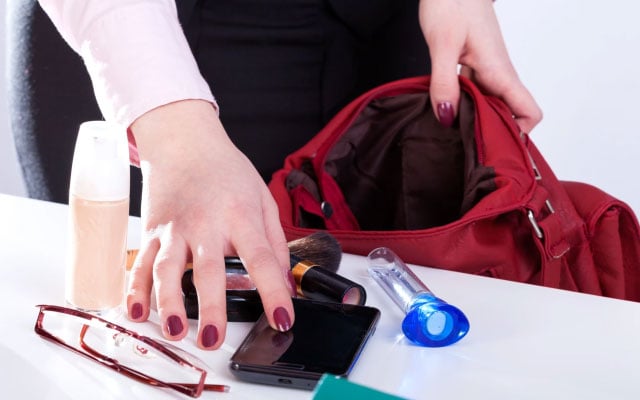 Is my handbag and its contents covered by my home insurance?
Content policies typically cover household goods, including your personal belongings and valuables, up to a limit shown in the statement of insurance. Personal belongings will include the bag itself, while your smart phone or laptop could be considered a valuable.
Individual items will usually be insured up to a certain limit – roughly from £1,000 to £3,000 each – and up to a specified limit for an overall claim.
As long as your bag and its contents don't exceed these limits, they'll be insured when they're inside your home.
How do you insure your handbag outside your home?
Handbags are more likely to be stolen when you're out and about. Our Home Insurance Plus covers your valuables and personal belongings – up to £5,000 anywhere in the world – as long as you're handling your bag, and you've not checked it in somewhere.
So we can offer some peace of mind if it's lost or stolen. Standard policies give you the option of adding protection away from home for certain belongings – if it's not already included.
But it's not a guarantee that everything will be covered. Check the cover limit for individual items – with the average cover going up to around £1,500, more valuable items should be listed on a policy.
Another solution is to insure gadgets like your phone or laptop separately. Specialist companies offer cover starting at just a few pounds a month. And some banks offer it as a freebie or a benefit for upgrading your account.
Can I claim for the money that was in my bag?
With the rise of tap-and-go contactless payments, it's clear that cash is no longer king. If you do need to carry cash, try not to take large amounts with you. If your bag gets stolen or goes missing, most insurance policies set a strict limit for how much cash is covered.
What if my handbag is stolen from my car?
If you add accidental loss or damage cover to our standard contents insurance, you'll be insured for personal belongings and valuables up to a maximum of £1,000 if they're stolen from a car, for any one claim. Otherwise our Home Insurance Plus covers you for up to £2,000 for any one claim.
If your home insurance policy doesn't include that level of cover, check your car insurance. Some policies will include handbag insurance, or cover for wallets and phones up to a specified value that are taken from or damaged in a car.
If you can prove that your car was locked, and your items were stored in the boot or the glove compartment, you'll be able to claim. Most policies will have a limit on what you can claim.
What about the handbag itself?
If you have a particular weakness for designer labels and fancy handbags, you'll know that the bag itself might be worth more than anything you keep inside it. It's possible to shop around for specialist designer handbag insurance which offers a higher limit of cover.
What should I do if my handbag gets lost or stolen?
Cancel or freeze your bank cards.
If your phone was in there, get in touch with your provider to see if they can track your device and freeze your account to keep your personal information safe.
If you lose any forms of ID, such as your passport, get in touch with the relevant authorities to report it as lost and begin the process of replacing it.
Contact the police on 101, their non-emergency number. Your insurance might ask you for a police case number if you believe it's been stolen.
Get in touch with your insurance provider to make a claim.
---
We're proud to offer Defaqto rated contents cover that can protect your handbag, and everything you keep in it, to keep your days running smoothly. Whether it's Hermes or H&M, if you couldn't bear to lose your bag, get in touch with us today.