The dream of working from home is certainly an appealing one. No more dreary meetings, or expensive commutes to the office. Wouldn't it be so much better to just roll out of bed at a civil hour, have a leisurely breakfast and take the working day at your own pace – in your pyjamas?
But the reality of home working is more complex, because as the boss you're responsible for everything. Does your existing home insurance cover working from home or starting a business? Will it cover a photocopier? And what if you hire someone to help you out?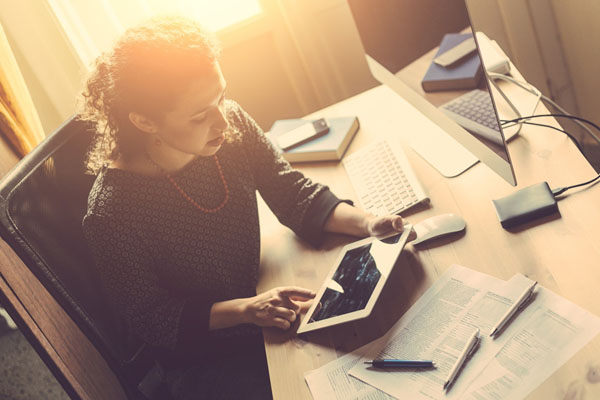 Do I need insurance for working from home?
At the least, most insurers will want to know if your home has become a place of business. Our buildings insurance policy asks you to notify us within 7 days if you have:
'registered your home as a business address or use your home in any part for business, trade or a profession, unless it is just for clerical work and no clients or customers visit'
This is not an unusual clause. So regardless of who your provider is, there's a risk that a claim could be rejected if you don't keep them in the loop. If you're not self-employed and just working remotely at home, this could be less of a priority.
Do I need insurance for business equipment?
It's certainly possible to run a business with little more than a laptop and a phone. Or if you're working remotely from the office, you'll probably just need a computer and an internet connection. So your contents insurance may cover most of what you need, depending on the kind of work you're doing.
In the case of our contents insurance, for example, we'll pay up to £5,000 in total for loss or damage to business equipment within your home. That includes cover of up to £2,000 for any single item. If your start-up needs more expensive equipment, then you should seek out specialist business equipment insurance.
Do I need public liability insurance?
When your business involves interacting with customers or members of the public, you should consider taking out public liability insurance. Because if someone suffers an injury arising out of your work, you may be ordered to pay damages. Public liability insurance will cover such costs and also any associated hospital or legal fees. It's not compulsory, but it's worth looking into.
What about employers' liability insurance?
Should your home business go really well and you need to hire people to work for you, you'll be legally obliged to take out employers' liability insurance. This is to help you pay compensation if an employee is injured or becomes ill because of the work they do for you.
The policy will need to cover you for at least £5 million, and come from an authorised insurer. Best to get that sorted fairly quickly, as you can be fined £2,500 every day you're not insured. You may not have to take out employers' liability insurance if you employ a family member or someone who is based overseas.
You can check the government's website for more information about employers' liability insurance.
---
If you're thinking about ditching the office, your provider will be more than happy to discuss any insurance implications of working from home .
Meanwhile, our home insurance covers some of your home working needs, and we'd be happy to help you out with a quote. We also offer public liability insurance, should the dream ever become a reality.