What's yours called?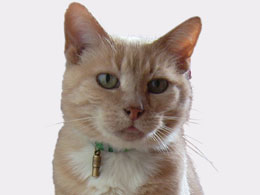 The names our pets put up with are extraordinary. From celebrities to television idols and alcohol, Britain seems to have gone barking mad in the choice of pet names. An exploration of pet names from AA Pet Insurance files shows that it's definitely all over for Rover. Names inspired by drinks and troubled stars like Britney and Amy feature prominently in the name stakes.
AA Insurance examined the policies of over 6,500 insurance customers to establish the inspiration behind the names of British dogs and cats. Although children's names are a big influence with Jack, Jess, Charlie and Max all top canine and feline choices, the research revealed a myriad of unusual trends for names.
Some confused pet owners are perhaps confusing their pets even more by naming them after other animals including Pig, Frog, Horse, Lion, Wolf, Mouse, Donkey, Tortoise, Koala and even Cobra.
Celebrities have also found themselves having to share their names with pets. Besides Britney and Amy, stars such as Tyson, Lennox, Posh, Jordan, Misteeq, Elvis, Bono and Mika have also made appearances.
British booze culture is also seeping in, with Irish tipples Guinness and Baileys being common favourites for dogs, whilst Brandy and Gin are high in the charts for cats. Scrumpy, Cider, Sherry, Vodka, Tequila, Whisky, Champagne, Metaxa (Greek brandy) and just plain Booze are other alcoholic pet monikers.
Our love affair with motors even extends to pets. Not just car or motorcycle brands such as Lexus, Rolls, Beemer (BMW), Bentley, Kia, Honda, Harley, Triumph and Saab (although no Rovers, it seems!) but car parts as well - Dynamo, Turbo, Flasher and Dipstick have been pet name inspirations.
Classic 1960s cartoon, the Flintstones, is a rocking source of inspiration, with Bam Bam, Pebbles, Fred and Barney all appearing in the top 100. Classic television series, Only Fools and Horses also sparked some ideas with Del Boy and Rodney featuring in the top cat names. Harry Potter offers magical inspiration with Hogwarts, Harry, Hermione, Muggle, Magic, Wizard, Mystery and of course Quidditch!
Brits are known for their sweet tooth, so perhaps it is no surprise that sugary snacks and biscuits are a big inspiration for pet owners with Chocolate, Fudge, Toffee, Chips, Toast, Cookie, Candy, Rolo, Biscuit, Muffin and Custard high in both cat and dog charts.
Karen Jakes of AA Pet Insurance says: "The names we give our pets really does show that Brits have imagination so maybe we shouldn't be surprised at some of the strange choices we see in our files. Who would think of naming their pets after other animals? Mind you, we haven't found a dog called 'cat' yet!"
"But no matter what crazy name you choose to give your pet, it's important to make sure you protect your companions. Cats may have nine lives but you can't rely on that myth if your pet falls ill or gets injured - you'll want the best care possible and vets' fees can run into hundreds of pounds."
Find out more about insurance for your dog or cat from the AA and get a pet insurance quote.