Travel on two wheels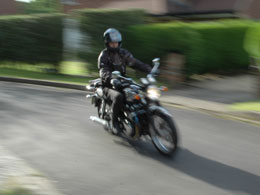 Petrol prices might be falling at long last but they are still way ahead of what they were last year. The cost of entering the London congestion charge area has risen and the boundary extended. Car tax is becoming more expensive for most drivers. Car insurance too, has resumed its upward trend* after levelling off during the first quarter of the year. Perhaps it's time to consider two wheels instead of four!
There's no doubt that biking is popular. There are around 1.6 million motorcycles registered in the UK travelling over 3.2 million miles per year**. Around 3 million people hold a motorcycle licence. According to the Motor Cycle Industry Association (MCIA) new registrations are holding up well, with just under 15,000 brand new bikes hitting the road in June (latest figures) ­ almost exactly the same as in June 2007, compared with a fall of over 6 per cent in car registrations.
So what is this telling us? Simon Douglas, director of AA Insurance, thinks that economic pressure and traffic congestion are two key factors. "Bikers enjoy cheaper annual tax rates - just £15 for a bike of 150cc or less and even for the biggest bikes you won't pay more than £66 for a year. London's bikers don't pay for the congestion charge and many cities allow motorcycles to use bus lanes. Once you get to your destination you'll find a bike easier to park. And to top it all, a bike will deliver up to 100mpg with all the green credentials that go with it."
Even the AA has taken to two wheels once again in London, Birmingham and Manchester, he points out. "That's because typically a third is sliced off the time to get to vehicle breakdowns through congested streets and the bikes are capable of carrying enough equipment for the most common breakdowns."
Bike insurance is a lot cheaper than for cars, too. Insurance is of course vital and AA Insurance is one of the most competitive providers in the market.
If you get a motorcycle insurance quote from the AA you have a chance to win a year's free motorbike insurance. All you need to do is get a motorcycle insurance quote and we'll enter you into our monthly prize draw. If you're picked as a winner, you'll receive a year's free motorcycle insurance based on your quote which qualified for entry to the prize draw.
The prize draw is open to new motorcycle insurance customers, who are 18 or over.
* According to the AA's British Insurance Premium Index
** Department for Transport statistics, 2006