Raising the roof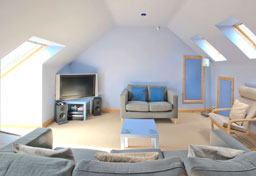 Homeowners are extending upwards and outwards rather than move house, a study of over 2,000 AA home insurance customers has found.
In fact, the findings suggest that Brits are spending over £90m on things like loft or cellar conversions, and even converting their garages into living space.
A fifth say they have expanded their home by using such 'dead' space and over a quarter (27 per cent) said that their motivation was to improve the value of their home. With growing difficulties in the housing market, it seems that this is a great way to make the most of your home.
Making new space in the loft or attic is the most popular option for canny converters, with over half (52 per cent) choosing this option. Almost a fifth say that they are creating such space for adult children.
Even sheds are being converted. 15 per cent of AA home insurance customers said that they were pitching out the garden tools and making a 'home office'. Nearly a third have put the car out in the rain to make room for sprawling family space.
So what does it cost to convert your dead space? The most expensive option seems to be converting the loft and homeowners doing this seem to be spending on average just over £10,000. But overall, savvy spenders are investing less than £5,000 on conversions and say it is enhancing the value of their home by much more than that.
Janet Pell, head of AA home insurance, says that it's important to make sure you get appropriate building regulations approval before going ahead. "Don't forget to tell your insurer. Adding an extra bedroom along with all the furnishings, such as curtains, carpets and bed, will increase the value not just of your home but your contents too."
She points out that according to the Association of British Insurers, up to two-thirds of householders are under-insured. So why not check what your contents are worth? Use our Home Insurance Contents Calculator to make sure you're properly covered!