Holidaymakers to hit the road this summer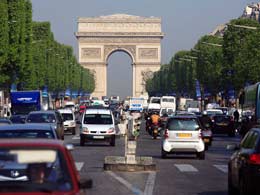 New research from AA Insurance shows that many people are thinking twice before setting off on holiday by aeroplane. With concerns about the environment, travel costs and airport baggage disasters never far from the headlines, 46% of Britons surveyed say they are taking their car on holiday this year.*

But before you take your car to Europe there a few things you should check first, like your insurance.

It seems that many travellers set off for the ferry assuming they are covered wherever they go. While this will certainly be true if they they have car insurance from the AA, as our policies provide up to 90 days' cover in EU countries, this isn't the case with all insurance policies, so it's worth checking your policy.
To help you prepare for you holiday, here's a checklist of some of the things you need to take with you:
passport and tickets (of course)
driving licence (both parts) and vehicle registration document
GB sticker for your car (or an appropriate GB Euro-symbol registration plate)
car insurance, travel insurance and European breakdown cover documents, including translations (with AA car insurance we provide a leaflet containing an explanation of your Certificate of Motor Insurance in European languages)
EHIC (European Health Insurance Card) which ensures you will benefit from reciprocal health care within the EU. This card is free and you can apply online from the Department of Health. But it's no substitue for travel insurance. Public health care facilities and what you can expect to receive with an EHIC will vary from country to country
See our European driving pages to learn more about equipment you may need to take with you when driving in Europe. For instance, spare bulbs, a warning triangle, a first aid kit and a high-visibility jacket are required for driving in some countries.
Once you are driving outside the UK, respect the local driving laws: any offences may well follow you home. Pay attention to the speed limit, remember speed cameras are not just a British phenomenon. Some countries, France for instance, have different speed limits depending on weather and visibility. And remember which side of the road you are supposed to be on. It's easy to make a mistake, especially if you are turning left at a T-junction.
Remember too that in most countries, the alcohol limit is lower than in the UK, so don't drink anything alcoholic if you are driving. Penalties can be very harsh and unpleasant.
If you are going to a hot area, take hats, high-factor sun protection cream, and always keep plenty of drinking water in the car. Dehydration can be a serious problem if you break down on a motorway or get stuck in a jam.
Most of this of course is common sense, but worth keeping in mind, so that you can have a carefree time enjoying the relatively traffic-free roads of mainland Europe. Oh, and who to call in the unlikely event of your needing the emergency services? You'll find that calling 112 from a mobile or landline anywhere in Europe, including the UK, will put you through to the equivalent number to the UK's 999.
And it's not just car insurance you need to consider: arrange European breakdown cover and travel insurance too and you can sleep at night knowing you're covered if either you or your car falls ill!
If you're an AA car insurance policy holder or you're looking for a policy which provides cover for driving abroad, learn more about our car insurance cover for driving in Europe.
* YouGov research for AA Personal Loans.