Caravan of love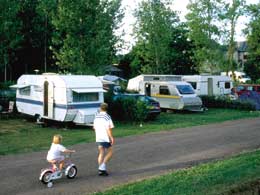 Caravans – love 'em or hate 'em, they are a fact of life on our roads as summer approaches – and they are growing in popularity. There are now over half a million touring caravans in the UK – and around 120,000 motor caravans.

At a time of increasing motoring and travel costs, caravanning can be a very cost-effective and flexible way to spend your leisure time – whether it's a short break in the UK or a longer trip to Europe.

But while caravanning will give you greater freedom and flexibility when you make your holiday plans, it does have its risks and there are plenty of traps for the unwary.

For instance, misjudging a gate or jack-knifing while reversing can cause a surprising amount of damage. More seriously, if you end up scattering your holiday home and its contents all over the motorway you need to know you have decent insurance cover behind you.
Remember too, that towing a caravan can be tiring, according to the Department for Transport, a staggering 20% of caravan accidents can be attributed to driver fatigue.
Although theft is less of an issue than it was, it remains a sobering fact that, according to AA Caravan Insurance, around 4,000 caravans disappear each year, often stolen to order: especially those with a high market value. Only about a quarter are ever recovered.
A common tactic criminals use is to watch a selected caravan and wait for that unguarded moment: for instance, just as you pack the last few essentials before setting off. You pop indoors for a final cuppa and come out to find the caravan has vanished into thin air.
Making sure your caravan is secure should also help you to keep your insurance premiums down. With that in mind, we've put together a list of things you can do to keep your caravan secure.
Wheel clamps and chassis locks
These are the minimum insurance requirement and they should always be used – even if you're away for only 10 minutes. Use equipment with the 'Sold Secure' mark.
Hitch locks
Some come with an alarm, while corner steady locks will prevent the front of the van from being lifted on to a thief's vehicle.
Electronic tags
If you have a high-value caravan your insurer may insist on an electronic tag or tracking device being fitted - in any case, such protection should attract insurance discounts.
Secure storage
Make sure that your caravan is safe out of season. Choose a site operated by the Caravan Storage Site Owners' Association (CaSSOA) which will offer good security including ground anchors.
If you're looking for caravan insurance, you could find all the policy benefits you need with the AA.