Britons get on their bikes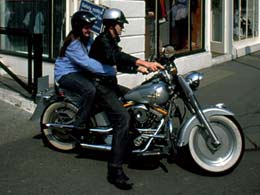 What is it with motorbikes that makes men of a certain age go all misty-eyed and yearn for the open road? Does it have something to do with re-capturing the rebelliousness of lost youth? Is it more to do with the freedom of going where you want, when you want, man and machine as one?

Whatever the reasons, motorbikes are growing in popularity and not just among fifty-something males. Bikes offer an economic and quick way of getting around, especially in congested areas like London or Birmingham, and they're easy to park!
Even the AA recognises the worth of putting city patrols on bikes. We've re-introduced two-wheeled transport in London, slashing the time it takes to reach a stranded motorist.
There are around three million motorcycle licence holders in the UK, but unfortunately the number and cost of accidents with bikes is going up. The insurance industry forked out £22 million on motorcycle insurance claims last year, compared with £19 million in 2006.*
If you're planning to buy a bike to beat traffic jams on the way to work or save on your transport costs, make sure that you're both well-trained and well-insured.
Training is vital if you aim to ride a powerful bike. Make sure you are competent and confident on a small bike before fulfilling your true ambition. Good training, which helps you to become a responsible rider, can also help you save on your insurance. If you are in control of your bike you can reduce your chances of being involved in collision and having to make an insurance claim.
Insurance is of course vital and AA Insurance is one of the most competitive providers in the market. We search our extensive panel of insurers to find the best deal we can, and policy benefits include up to 60 days' free cover in Europe, multi-bike cover under the same policy and options such as uninsured loss recovery and personal accident cover.
You will qualify for insurance savings if you have good security for your motorbike. Bike theft is a real issue, particularly at the top end of the market where machines are often stolen to order.
Immobilisers and wheel locks are vital equipment, and it pays to keep your bike in a locked garage overnight, because insurers will take this into account when giving you a motorcycle insurance quote.
If you're looking for motorcycle insurance you can get a quote with the AA.
* Source: The Association of British Insurers.