You protect your home against theft, but how many of us have a burglar-proof garden? According to the Office for National Statistics, theft from outside a dwelling has risen by 23% in 2018 due to an additional 112,000 recorded offences.*
We polled AA Members who have a garden to find out if they included garden items in the value of their contents. Half of them said they didn't include anything from the garden.**
Of the rest, 2% included about half of the items, nearly a quarter (23%) just thought of the expensive or big stuff, and just a fifth (21%) included everything.
Garden items can cost more than you'd think – 75% of our Members said it would cost up to £5,000 to replace their items.
So, if your pride and joy is your well-tended lawn and gleaming BBQ, here's how to ensure they're protected.
Are my garden and its contents covered by my home insurance?
It varies from insurer to insurer. Most will provide some cover for your garden and the items in it, but their limits vary. Don't assume that your home insurance will cover everything in your garden, especially items which can't be locked away.
You also need to be aware that if you don't follow your insurer's guidelines – for example expensive items are kept in a locked shed – you may not be able to claim.
Items like furniture, BBQs, paddling pools and lawnmowers are normally classed as 'contents in the open'. This means they'll be covered by your policy to a limit, but it's probably best to keep movable items, like a lawnmower, secure in a locked shed.
Our advice is to read through your policy booklet and be aware of limitations and exclusions.
Do I need special garden insurance?
It depends on what's in your garden. If you're fond of bonsai trees, have expensive garden tools or a collection of rare garden gnomes, your contents insurance may not cover them and you may need specialist garden insurance.
Most people will just need standard home insurance, but compare policies carefully when you buy to make sure you get the right cover for your garden.
Which items in my garden are covered by my home insurance?
The following items should be covered by your buildings insurance, as they form part of the property:
sheds
patios
garden walls and fences
decking
conservatories
hedges
gates
Items which you can move – such as tools, plants in pots, furniture and equipment – are covered by your contents insurance.
It's normal for insurers to class separately the items covered by buildings insurance and contents insurance, with different limits for each.
Our home contents insurance covers items in a locked shed up to a value of £3,000.
As for hedges, lawns, trees, shrubs and plants, which are within the boundaries of your property, our contents insurance covers you for up to £1,000 for loss or damage. Bear in mind that damage caused by natural ageing, animals, frost, smoke, climatic conditions, plus a few others won't be covered.
Garden items such as garden furniture and ornaments are classed as contents in the open, and are covered up to £1,000. There are some exclusions though – contents in the open are not covered for storm or flood damage.
Again, check your insurance policy booklet for a full list of conditions and exclusions.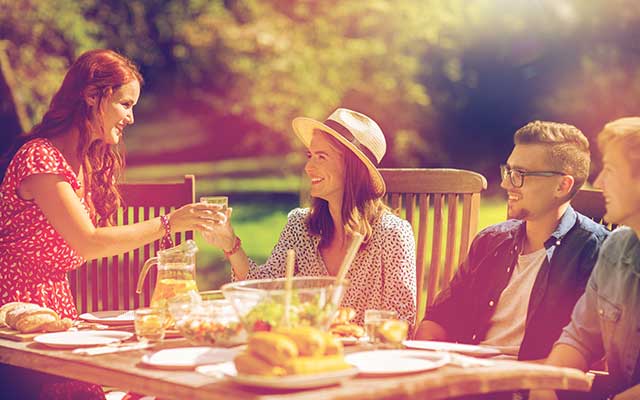 Which garden items aren't covered by my home and contents insurance?
If you've a specific item you want to insure, ask your insurer whether it's covered by your policy.
Some may provide unlimited cover for plants, others may not. Some insurers might cover garden livestock such as chickens or koi carp, whereas others would class these as pets, and they'd only be covered under a pet insurance policy.
How can I keep my garden safe and deter thieves?
Make sure fences, gates and hedges are in good condition – especially after bad weather and high winds.
Check that all locks on gates and sheds work, and keep them locked when you're not using the garden.
If you can't lock your garden furniture away, cover it with a tarpaulin to deter thieves. According to the Office for National Statistics, garden furniture is consistently the most-stolen item in thefts from outside homes.
If you can, fix ornaments into the ground to make them harder to steal. You'll also reduce the risk of them being damaged during bad weather.
Consider investing in motion-activated floodlights or a home security system.
Thorny bushes and high fences will put off thieves hoping for easy access to your garden.
---
* ONS, Crime in England and Wales: year ending December 2018.
** AA-Populus online poll of 18,200 AA Members in May 2018. Populus is a founder member of the British Polling Council and abides by its rules.