Heave and subsidence are a real concern if they happen on your property, and you could be in for a moving experience. That's why it's important to recognise the signs and act quickly to limit the damage to your home's structure – and your insurance claims.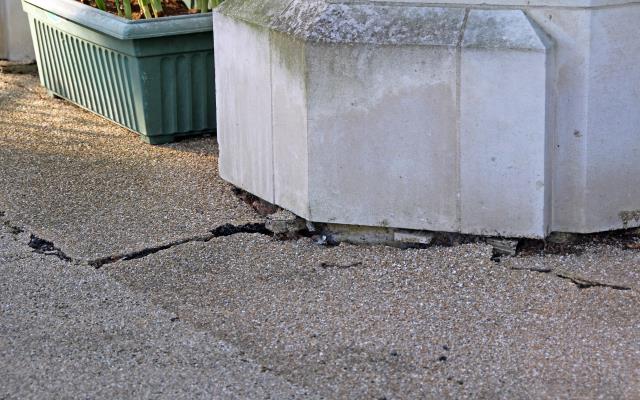 What's subsidence?
The Financial Ombudsman defines it as "the downward movement of the ground beneath buildings other than by settlement". It can happen when the foundations contract or shrink due to a lack of water. This can make a building's structure crack and shift which causes damage in the long run.
What's heave?
It's the opposite to subsidence in that it's the "upward movement of the ground beneath the buildings as a result of the soil expanding". One possible cause is when the ground on which the building sits absorbs too much water and expands. The extra water usually comes from flooding or the removal of nearby trees which hold large amounts of water during their lifespan. Similar to subsidence, heave causes the foundation to crack and eventually move unevenly.
Is subsidence the same as structural settlement?
No. While often confused with each other, they're indeed different. For peace of mind and for insurance purposes it's good to know how they differ. Settlement is common in new builds and structures that use materials such as timber. It's defined as "downward movement as a result of the soil being compressed by the weight of the buildings within ten years of construction". Building constructions companies often reassess new builds every year to check for and fix structural settlements. Generally speaking, most home insurance policies don't provide cover for settlement but check your insurance documents if you're unsure.
How to spot heave and subsidence
Indications of heave and signs of subsidence aren't limited to jolting or sinking feelings at home. Luckily there are some tell-tale signs we should look out for:
Cracks in brickwork and windows. Cracks that move up the brickwork are usually a sign of heave, whereas sideways cracks may be an indication of subsidence.
Doors and windows sticking as their frames become out of place.
Evidence of rising damp in the walls. If you've had damp-proof courses (DPC) installed in the past, you might need to bring in a professional to check them again. DPC is a plastic or slate layer put in your walls to prevent moisture from moving upwards (rising damp). Any cracks going through the DPC is usually a sign of subsidence.
External cracking reflected internally in the same area of wall.
Crumpling of wallpaper between the wall and ceiling.
Cracks appearing after a long period of dry weather.
When the seasons change, the opening and closing of existing cracks.
Preventing subsidence
If you feel that your home may be affected by either heave or subsidence, don't hit the panic button. First things first, call a professional to handle any damage caused. This will hopefully put a stop to it and show your insurance company you took the right action.

Having said that, there are a few steps you can take yourself to protect your property from the causes of subsidence such as trees, new builds and disused underground tunnels or drainage. These include:
Planting trees and shrubs a safe distance from your property. A tree surgeon (or arborist) should be able to advise you on the best place to put the type of tree you have.
Trimming trees and shrubs regularly.
Checking and taking care on any leaking or blocked drains.
Clearing dirt and leaf build up from gutters.
Inspecting for cracks and splits in pipes.
How to prevent heave
Prevention isn't always possible, your best bet is often to try and reduce the damage it can cause. If you're about to buy a house, a complete survey of the property should flag up any signs of heave.
However, if you suspect it's happening at home, professional treatments such as repairing leaking drains, removing vegetation and underpinning are good ways to combat the effects of heave and prevent any damage being caused.
Likewise, installing a cavity under the buildings should help to accommodate future movements of the clay soils below.
How does heave and subsidence affect my home insurance?
Considering you usually have no control over them, heave and subsidence damage can put a strain on any homeowner. If you see subsidence cracks or signs of ground heave on your property, you should let your insurer know and to see what's covered by your policy. Your home insurance may cover the cost of repairing the loss or damage but not the excess which can be costly.
Similarly, if you live in an area that's a flood risk, you should consider taking out comprehensive contents cover. This may not be included in your buildings policy so it's best to check and avoid being left to stump up the cash for replacing your belongings.
You'll probably end up paying the excess and losing your no claims bonus. You may also find that your premiums increase and your property becomes harder to insure or sell in the future.