When things around the house need fixing, it's easy to spot a stiff handle or peeling paint. But when it comes to structural problems, would you know the signs to look for?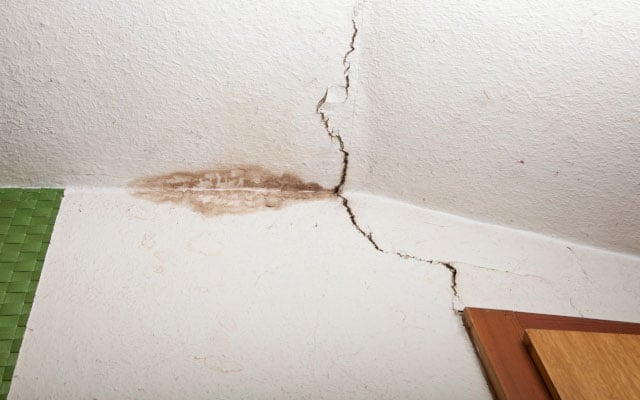 What is structural damage?
When your home has structural damage or movement, it means either the roof, floors, walls, frames, or foundations have been compromised and might not be stable. Problems like settlement, ground heave or subsidence can especially affect foundations and walls.
Warning signs of structure damage
Bulging or bowed wall
This could be a sign that the wall is losing its strength or stability.
Gap between an external wall and the floor
If you notice a gap, contact a surveyor as soon as possible. Depending on the age of the house, especially newer builds, it could be due to the foundations and may get worse.
Cracks in a window sill or lintel
A crack in a concrete or stone lintel above a door or window might indicate movement in the structure, and the lintel may no longer fully support the masonry above. Always take cracks like this seriously.
Similarly, cracks in masonry window sills can be a sign of movement below. An inspection by a surveyor will discover if you have a bigger problem.
Cracks in walls
Cracking can be due to ground heave or subsidence, so get in touch with a surveyor if you notice any. Multiple cracks or cracks wider than 15mm should be seen to as soon as possible. A smaller crack, up to around 15mm wide, might just need some simple repointing and plastering.
Doors and windows that stick when opening and closing
This can be caused by wooden doors or frames swelling in damp weather, and may be more common in older buildings built before 1914. But even a new hardwood door might expand and stick in winter.
But if the issue occurs all the time, it could be a sign of structural movement. Again, a surveyor can help to find the cause of the problem.
Nail pops
Nail pops are small, cracked circles in walls or ceilings caused by the nail pulling away from the drywall plasterboard. They can be a sign of settlement in your house, but may also be due to natural expansion and shrinkage in the building materials due to their mositure content.
Damage caused by woodworm
They may be small, but these insects can have a massive impact on the structural integrity of your home. Over time, woodworm can severely damage timber, including load-bearing beams, joists, floors and even your furniture.
However, usually only timber with a high moisture content is prone to attack, and modern homes with good ventilation and efficient heating are at low risk. Reducing humdity and dampness in an older building, pre 1914, will also go some way to preventing damage by woodworm from recurring.
Does homeowner's insurance cover structural damage?
You'll have to check your policy. Insurers will likely cover you for accidents like fires and floods, as well as heave and subsidence.
Settlement is not usually covered as standard, nor long-term structural damage that's been developing for some time.
How can I prevent structural damage?
The best thing you can do is to keep on top of maintenance. If you see anything that worries you, contact a surveyor to carry out a professional inspection.
How much does a structural survey cost?
You're looking at cost from about £400 for a HomeBuyer Report of a conventional building. But it could save you money if you nip a potential problem in the bud.
Another reason to consult a professional is you might have a listed building or an older home, which will need a different course of action than a newer build.
---
Home insurance might not prevent damage to a building's structure, but it can help cover any costs that come as a result of the problem. Get in touch with us to find out what our Defaqto rated cover can do for you.
---
Published 18 September 2020.
Author: James Hunt