Britain has such a diverse range of beautiful, quirky and traditional buildings that it's no surprise many of them have been officially listed for their architectural or historic importance. Listed buildings are protected from any development or renovation that could affect their character or appearance, and changes must be approved by the local planning authority.
With some 585,500 listed properties in the UK, you could easily find yourself living in one. But before moving in, you'll need to consider that listed buildings insurance can be more difficult to come by, or it could come with a hefty premium.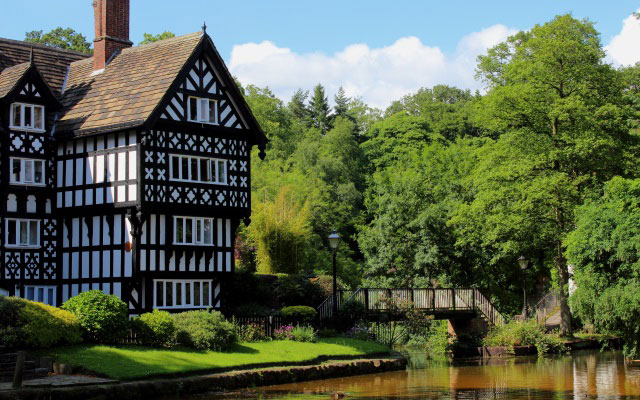 What is a listed building?
Listed buildings encompass many different types of structures, typically built between the Middle Ages and about 1840, the end of the Georgian period. They range from medieval houses to street signs, and pig sties to grand country houses.
A property built later, from the reign of Queen Victoria to the 1990s, is likely to be listed if it has a notable architectural quality, for example if it was designed by a particular architect. This can even include small houses built up to the 1960s. Having an association with someone famous, or an important event, can also lead to a property being listed.
While the majority of small Victorian houses, built up to 1914, are not listed, some may be included within a local conservation area, which also protects the special architectural and historic interest of a place.
Why do I need special listed buildings insurance?
Most listed properties in the UK are Grade II listed (92%), the remainder are Grade II* or Grade I. Listing means the buildings are special enough to prevent any development or renovations that change the significant character of the building. Insurers take this into consideration when calculating the premium for buildings insurance .
Repairing or replacing damaged materials
Any listed building poses a greater risk for insurers, as even the slightest damage could be costly – for example, if the building is damaged by a fire. Structural and decorative repairs should be approved by the local planning authority to make sure they conserve the significant character of the building, or else carefully restore those parts irretrievably lost.
Specialist listed buildings insurance therefore has to allow for replacing special or specific materials like-for-like, and paying for skilled contractors.
For instance, most domestic buildings constructed before 1914 had their walls plastered with a lime mix. If your walls need replastering due to damage, the materials will not be readily available at the local DIY store, and the work will not be done in a day by a local plasterer.
What issues do listed properties face?
As many listed buildings are by their nature old, damp and decay can be more of a problem than in modern builds. This, however, can often be due to home improvements in recent times, and highlights the need to use traditional building materials inside and outside.
Many listed properties will also have features that newer buildings often don't, such as thatched roofs. This kind of roof covering will affect your insurance as it's more of a hazard. Once a thatched roof catches fire, it can quickly turn into a blaze.
Not only could this risk affect your premium, you might be required to take additional safety steps, such as keeping a serviced fire extinguisher on your property (and don't forget to check out our other fire prevention tips). You should also get specialist advice before installing a wood-burning stove in a thatched building.
What can I do to reduce the risk of damage?
Keeping up the maintenance of any property – whether it's Grade II listed or not – is always a smart move to keep costs down. You can reduce the need for making a claim by carefully repointing brickwork to avoid damp patches. And regular roof inspections, and checks on your guttering for leaves or other blockages, are also good ways to prevent damage by water.
If you're planning on buying a listed property it's best to get a specialist survey and valuation, which will tell you exactly what level of insurance you'll need.