Despite the popularity of TV house shows like Grand Designs, we Brits aren't as eager to build our own homes as other European countries. Only around 8 to 10% of properties in the UK are self-built, compared to 80% in Austria, while in Germany, France and Italy some 60% of homes are self-built.1
If you're thinking of bucking this trend and building your dream home, read our tips for insuring yourself and your new house.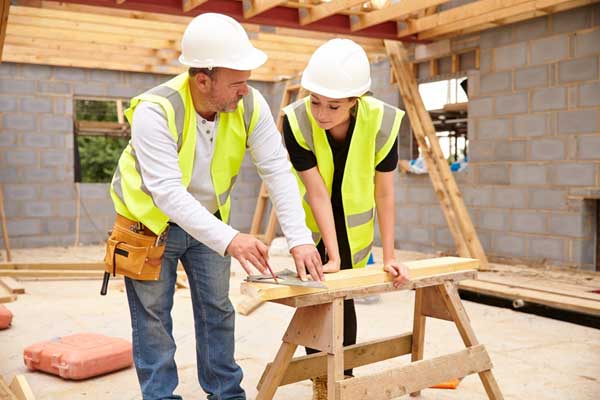 What insurance do I need for a self-build house?
Because most standard home insurance policies cover already built homes, old and new, they won't protect you if you're building your own home. With suppliers coming and going at all times, and maybe contractors working on your property, you'll need to find a policy that includes site insurance, often called contract works.
Contract works insurance covers a range of risks to self-build houses including flood, storm and fire. It usually includes temporary buildings on the site, such as huts and caravans, as well as the property under construction. It's also worth checking whether the site insurance covers professional fees, site clearance and debris removal in the event of a claim.
Most policies for self-build houses protect you if the site is broken into and any equipment is stolen, whether it's your own or hired. And the majority will cover any tools and personal effects belonging to contractors working on the site, up to a set limit.
What else am I responsible for?
As a self builder you must consider your own role in the project, with regard to health and safety legislation and liability.
If you're doing it all yourself, then it's a DIY project, and you'll need to insure the construction materials and tools. You'll also need a self-build insurance that includes public liability cover. This will protect you if someone injures themselves on your property, or if work you're carrying out causes damage to a neighbour's property.
But if you're the project manager, employing individual tradesmen and contractors, then you have to comply with the Construction (Design and Management) Regulations 2015, commonly known as CDM 2015. So as as contractor yourself you must have employer's liability insurance by law. Many policies will offer cover for up to £10 million if one of your employees gets hurt or sick due while working on your site.
Will it be harder to find insurance for self build homes?
Once your labour of love is complete, you shouldn't find it difficult to get home insurance. You'll only be expected to provide the same information as you would when trying to get a quote for an existing property.
What if I'm building a non-standard construction?
The only time you might run into difficulty is if you've chosen to build a unique construction. Non-standard constructions include houses with features like thatched roofs, or those made from eco-friendly materials. Because it's more tricky for insurers to calculate the risks associated with such a property, you might need specialist insurance to cover the costs of repair and rebuilding claims.
Will I need a warranty?
If you're getting a mortgage or borrowing money for a self-build house, you'll probably need to get a structural warranty. Most self-build warranties cover the first 10 years of your home's life, and protect you if there turns out to be defects in the workmanship, design or the materials used.
How to build your own house and get cheaper home insurance
If you're set on building your own home, and you've worked out what you need to insure yourself, there are some other steps that could get you cheaper home insurance once your home is finished:
Building a safe distance from any trees, with suitable foundations.
Checking beforehand that you're not building on land prone to flooding.
Picking a spot that's not subject to coastal or river erosion.
Using standard materials like bricks and mortar, and not choosing a flat roof or thatch.
Installing a burglar alarm or minimum security locks once your home is built.
After the great effort and expense of building your dream home, you'll want to know it's properly protected. Get a quote for our Defaqto rated insurance and let us help protect the things you love.
---
1 Wendy Wilson 2017, Self-build and custom build housing (England).