Every home is different, and it's important to know how different property types can affect your insurance premium and cover.
To make sure your policy fulfls your needs, we explain how owning a bungalow affects home insurance.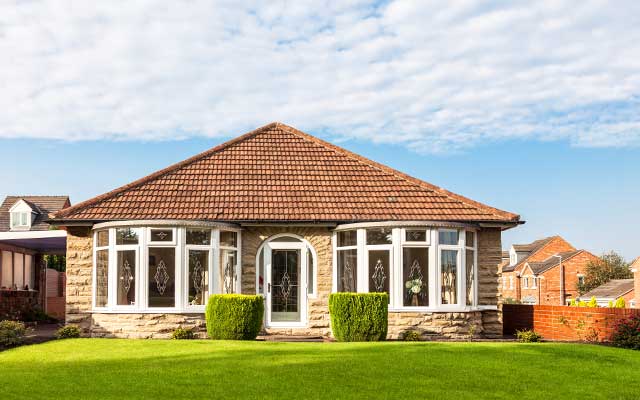 Is bungalow insurance different from other home insurance?
The homes we now know as bungalows were first built in 1869 on the north coast of Kent. Typically single storey and detached on a spacious plot, they are associated with the suburbs or the seaside, and as low maintenance homes for retirement.
There are also many single-storey traditional houses, built throughout the 19th century, and the low profile was used for modernist designs in the mid-20th century and more recently eco-homes. But fewer bungalows are now being built as land becomes scarce.
Yet while a ground-floor lifestyle may be a desirable alternative to properties with stairs, the home insurance for either isn't much different.
You may find that premiums vary more for bungalows due to the risks of insurance. So while their rebuild cost could be lower, extra security is essential with vulnerable patio or bifold doors at the rear. That said, suburban bungalow estates can be less prone to crime.
Essentially, the premium will depend on the location and what your property is like, such as its age, whether detached or not, the number of rooms, and even if it's listed. You shouldn't have to worry about unusual policy requirements, and standard home insurance should protect the building and your possessions.
What home insurance do I need for my bungalow?
As with any home insurance, there are two main types of policy: buildings insurance for the structure and its fittings; and contents insurance to protect your possessions against damage, fire, and theft.
Bungalows often have large gardens, so ask your provider what these policies cover outside of the main building, such as garden furniture and sheds, and even the boundary wall or fence. And as they're usually set well back from the road, check too that accidental damage to pipes and cables is covered.
What does insurance for a bungalow cover?
Depending on your policy, home insurance for a bungalow can include:
accidental damage
theft
movements of ground beneath the building
garden and garage protection
temporary accommodation if your property is too damaged to live in
As with any house or bungalow, home insurance will protect your home and your family should something bad happen – whether that's damage, fire or theft.
---
Author: The AA
Published 25 November 2020