Flat tops aren't just a throwback hairstyle from the '80s; for many UK residents, it's the type of building they call home. A property with a flat roof is classed as a non-standard construction - any building which deviates from walls made of brick, or stone and roofs made of slate and tile. So getting one insured the standard way isn't a given.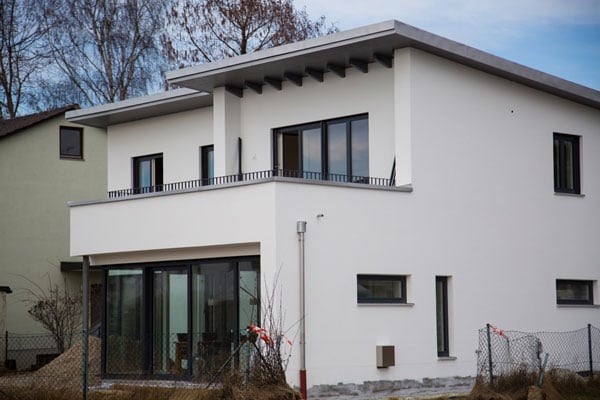 What do I need to know about insuring a property with a flat roof?
The first thing you'll need to do if you're looking to get insurance is to work out just how much of the roof is flat. If less than 30% is flat you probably won't have any difficulty in finding regular insurance. The greater the proportion of your roof that's flat, the higher you can expect your premiums to be and the more restricted your insurance options will be.
Why is a flat roof house harder to insure?
Weathering the storm
A flat roof offers less protection against storms, cold and extreme weather. A flat roof in the British climate - with its high levels of rainfall and occasional strong winds - will tend to collect water and other debris on its surface, rather than it sliding off.
This means that a flat roof surface is more likely to deteriorate quicker, need regular maintenance and spring a leak. And there's a higher chance of you making a claim on your buildings insurance.
Easier access for thieves
Another of the main flat roof issues which could crop up when you're looking for flat roof insurance is the fact that a flat roof is easier to climb on and provides easier access to intruders and thieves. This means that your contents insurance could come with a higher premium as a result.
Are there specialist flat roof insurance providers?
There are insurers who specialise in flat roof cover, who may consider whether the roof has recently been repaired or worked on, and whether it's made from materials that offer better resistance against the elements. If you do get insurance through a specialist provider, it might come with certain conditions, such as having to carry out regular inspections of the roof.
While there are specialist insurers out there, our home insurance can cover non-standard constructions. Give us some of the details and we'll see if we can give you a quote today.